Tweet
At 10am on June 7th 2015, 41 year old Jono Dunnett sailed past Clacton Pier on the start of his bid to become the first person to windsurf around Britain without an on-water support team. 98 days later ("the best 3 months of my life"), he completed his inspiring circumnavigation. This is his story.
Words  Finn Mullen, John Carter. // Photos  Steven MacDougall/The Courier, Jono Dunnett, Gregg Dunnett, Andy Dunnett, Mark London & John Carter.
WS – When and why did you decide to windsurf around Britain?
JD – I'd had the ambition since being a teenager. I thought it would be a great adventure – a fantastic way to explore 'our' island. I considered it the most natural and reasonable of ambitions. Apparently I used to hassle my friend Clyde Waite about it (trying to convince him to come along too), to the point that he would avoid me! But as a younger man I didn't have the plan or the resources to make it happen, and eventually I tried to bury my ambition and focus instead on 'real life'. As a long term strategy, ignoring your true self is a bad idea, and – perhaps partly as a result of this – at around age 40 I didn't really have a lot on. This blank canvas gave an opportunity for a good inward look and I started being more honest with myself. The plan to windsurf round Britain at least injected some life into me, and the opportunity – in a life of finite opportunities – was there. Despite it being a difficult decision, deep down I knew it was the time to go.
WS – Had you any experience of coastal passage planning from yachting or expedition planning to draw on?
JD – Not much! As a kid with my family we had made a few yacht passages – I remember going around the Lizard peninsula in a yacht once and crashing through the overfalls which I found very exhilarating. On another occasion we'd misjudged the tide in the Alderney race and were going backwards, despite doing over 8 knots through the water. So although I hadn't been involved in the planning, I had an idea that sea conditions, tides and swell can get complicated! In the planning stages and throughout the expedition, I was very concerned about and respectful of the numerous headlands and tricky bits around our coastline.
WS – Where did you start and how long did you estimate it would take?
JD – Start and finish was at Clacton Pier, close to where I'd sailed as a kid. I estimated 3 months to myself but told people 2 months as I thought that would sound 'better' and make it easier for people to think I was taking on something more achievable. I was concerned about the summer 'finishing' before I'd got around the top of Scotland, so part of me was in a hurry, but wiser folk told me to take the time required to enjoy the experience, so I also tried to heed their advice – and I am glad I did.
" I was very concerned about and respectful of the numerous headlands and tricky bits around our coastline "
WS – What board/ sails were you riding and what extra items did you carry with you?
JD – Rig was supplied by Tushingham: sail – a 9.5m Bolt, boom – a nice Aeron carbon number and mast – a Tush 100% carbon. Originally I was interested in sailing with the full on Tushingham XR race sail, but I am glad I was persuaded to take the Bolt – which for its size was very manageable in the stronger winds.
I kitted the rig out with adjustable outhaul and downhaul so could tune on the go, the 'kill it' settings saw quite a bit of use! I carried a spare UJ (didn't use). I repaired a batten when I passed Tush HQ in Devon, and also picked up some spares there which I kept inside the mast (also didn't use!). Tush sent a replacement fin and masttrack to Mallaig, which was great as these were both very worn. The board was a 2009 Starboard Phantom (my own). I'd designed and made a 'barrel carrier' for the board. Inside the barrel was camping and cooking gear, a few clothes and other bits and pieces.
WS – How did you navigate ?
JD – Before heading on to the water I would try to talk to locals about good places to stop, and look at maps (the road map I carried, and maps on phone) to familiarise myself with the coastline coming up. Knowing your stopping options is really important, so I would try to identify these and plug the coordinates into my (very basic) GPS. I'd know how far to go and the bearing. This worked OK, but sometimes I would go either further or less than planned, and then I would just go by sight. In these situations (particularly if becalmed) I would quite often phone my brother Gregg and ask him to check out decent landing options on Google Earth. On a windsurfer – provided there is wind and you can see – you can be pretty sloppy with your navigation and just GO! Rocks, overfalls, crunching shorebreaks and other hazards you can avoid. I tried very hard to not sail at night, although did have a few close calls into late evening. Fortunately I didn't experience much fog!
---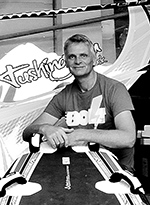 DAVE HACKFORD
Tushingham Director and Britain's first Olympic windsurfer.
"There was something captivating about listening to Jono's tales when he visited our office back in early summer. The problem is that I think all my thoughts are selfishly about believing I could and wanted to do it. When Jono was approaching Devon, I told one of my daughters about him windsurfing past our nearby beach on a trip around the whole of the UK. She said he must be mad. I just wonder whether by the time she got to school and sat down at the desk for registration her mind wandered off to what Jono was experiencing. Because mine did regularly! The thought of waking up every morning to sights and moments that will never be experienced again is hugely attractive. I could not help but click on the GPS tracking website, sitting in my secure, static office wishing I could be beamed out to West Wales to join Jono on some legs of his journey. It was a truly challenging journey for Jono. I'd like to thank him for sharing it with us all. I'm hoping he may pick up the phone and let me know where his next challenge will be, because I do not want to be viewing it from a website next time! Good Luck Jono."

---
WS – What did you use for weather forecasting ?
JD – I started off a Windguru man but ended up more XCWeather. I also made sure I was looking at the bigger picture, so paid attention to the Met Office inshore waters and shipping forecasts, and often checked windyty.com (a nice presentation that lets you see what is actually happening in terms of movement of pressure systems).
When you are sailing around the coast, you appreciate more just how varied it is and how local the wind effects are. When I talked to people who had been following me, they sometimes "told me" the wind I'd had that day or for a particular crossing; they seemed to take the forecast as the reality. It wasn't. Hardly ever! One time I was stuck in the East Coast harr (fog), in a very lumpy sea, completely unable to sail and with no options but to wait for some breeze. I called Gregg. He checked XCweather and told me I had 15 knots of breeze! That was probably the nearest I came to a sense of humour failure with telephone support!
WS – What were the highest and lowest moments of the challenge?
JD – There were many many difficult and nervy times, but I don't remember these as low moments. Just very difficult. The difficulty was mastering my own anxiety about the challenges ahead. When on the water I just got on with the job in hand, always trying to minimise exposure, consolidate position, look after equipment and stay fuelled. If I didn't get a better offer, I slept under my sail, so inevitably I had a few miserable camp spots. Annagassen (Ireland) in howling wind and pouring rain for two days – perched on a tiny bit of sea wall – was probably the worst!
The highs were many. There was always a huge release after negotiating the difficult headland roundings and sea crossings. I sailed round Land's End on what was in retrospect probably not the right day, and it was a particularly intense and frightening 8 hours. I fell into shock after making it into St Ives harbour and was emotionally quite wiped out until I got to South Wales! Is that a high or a low?
WS – Did you have a safety boat or land support for most of the coastline?
JD – No safety boat – I sailed alone. No travelling land support. Instead, the power of the internet and the niceness of people came together for this expedition. Lots of folk signed up on the website to volunteer as local contacts (some of these I knew previously, others were strangers). I'd typically get in touch with very little notice and people would go out of their way to help in whatever way they could, usually by providing food, bed and shower/bath. It was a most 'goodness of humanity' affirming experience to be part of.
WS – What back up safety measures did you have?
JD – A handheld VHF; a mobile phone in waterproof pouch and  a tracker that took position every 10 minutes and uploaded it to a website every 30 minutes (I assumed my brother was keeping an eye on this, which he was, apart from when he wasn't!). Finally a personal locator beacon that as a last resort would have popped up my position and distressed state on a screen in Falmouth.
WS – Tell us a bit more on the equipment and technology you used?
JD – All the kit I used full and my full list of sponsors is on my website – www.windsurfroundbritain.co.uk/sponsors
The guys at mobilesolarchargers.co.uk sorted me out with a battery power bank so I could recharge at night when camping. I also used a solar charger from the same people that works really well for a quick top up. With shorter days and shitter weather there was less opportunity to use this once I was heading north though. I couldn't charge on the water, it was best to just turn the phone completely off to make sure I didn't accidentally deplete the battery.
The links for these are below –
www.mobilesolarchargers.co.uk/shop/details/aqua-trek
www.mobilesolarchargers.co.uk/shop/details/portable-solar-charger
The tracker was from YB Tracking. Hardly drained the battery at all. Worked for weeks (probably more than a month) on a single USB charge.
www.ybtracking.com/products-yb3
The PLB was from ACR Artex. I didn't want to mess about with no-brand safety gear, so happy to have a decent one. I kept this on my backpack, so strapped to me at all times. You register it with the coastguard and occasionally run the self test to check it is happy.
www.acrartex.com/products/catalog/personal-locator-beacons/resqlinkplus
The radio was from Standard Horizon and was also USB charged –
www.standardhorizon.co.uk/product_info.php?cPath=174&products_id=100040
I made sure everything was USB chargeable. First phone I took I smashed the screen on, so picked up my old phone in Scotland. Phones were hassle. Better off having stuff that isn't too clever but does its job well I found. Trying to use a phone in a bag when it is wet or bright was unreliable – might work, but often ended up making things more difficult than it should have been. The camera was very good too, I broke my phone but the camera is still going strong!
www.olympus.co.uk/site/en/c/cameras/digital_cameras/tough/tg_3/index.html
WS – What were the gnarliest winds/ conditions you sailed in?
JD – It was pretty windy when I was trying to get past Dover (I eventually got in to Dover port). I was getting flattened every 30 seconds so I guess a good force 6 but that was going downwind which is always much more difficult at the upper wind limit! It was quite lumpy too. I sailed through similar strength winds a few more times, but was always able to head upwind to get to safety. One such occasion was getting hit by a squall just rounding the corner to Larne (Northern Ireland), another was rounding Souter Point (south of Newcastle) where I also got thumped by some really strong offshores. Generally though, when big wind was forecast, I took rest days.
Land's End was gnarly in a different way. Having rounded the headland, the combination of a large swell, very light wind, and dearth of stopping options made this a particularly uncomfortable experience!
---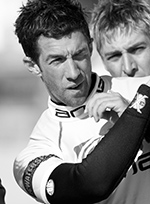 JOHN HIBBARD
Tushingham Export Manager, former British Windsurfing and SUP champion.
"In my first year of windsurfing (some 25 years ago) I was bought a book for my birthday – Tim Batstone's Round Britain Windsurf. For me it captured the passion and excitement I felt towards the sport. It was truly inspirational. I was involved in the beginning of Keith Russell's Round Britain voyage in the late 90's and remember the feeling of seeing him disappear over the horizon. So when I heard of Jono's mission and that he was looking for people to get involved, I immediately signed up….. I received a text the day before saying – "Good Progress these last two days. May settle for a short one tomorrow. Are you around if I turn up at your local beach? Cheers Jono". I spent the next morning "working from home", which basically meant refreshing the tracker every couple of minutes and watching through my binoculars to spot him. As he came into view around Bolt Tail (a large headland in south Devon). I literally dropped everything, ran round in circles for a few seconds like an excited child, before dashing to the car. Balls! I had forgotten it was in the garage for an MOT!! A quick call around the village and I was hoofing it to the beach in a borrowed truck (thanks Kevin!), ready to transport his kit back up the road. He came within 100 meters of the beach before tacking back out to sea and along the coast. I ran, like a mad man, following him along the coast. Here was this lone windsurfer seemingly just out for a sail on a grey day, little did all the dog walkers and ramblers along the coast path know he was on an unsupported voyage around our island – although I told most of them in breathless gasps! When I finally met him on Bigbury beach I was astonished to see how little gear Jono was carrying and how calm he was in his planning. It was a pleasure to soak in his calm enthusiasm and open ended schedule – "it'll take as long as it takes" said Jono. I was jealous of this relaxed approach to covering the miles. The next day I assisted him with a lift to Tushingham to sort out some spares and then dropped him back at his board and waved him off. He was heading out to sea to eat his lunch – that's how comfortable he was with his environment. Checking the tracker for progress became a daily addiction. I even contemplated heading to North Scotland to assist him around there but decided the last thing he needed was some over excitable bloke tripping over himself along the coastline!!"

---
WS – What was the most beautiful stretch of coastline on the journey?
JD – Scotland. Up amongst the islands was magical. Up beyond the Islands (The Minch and Cape Wrath headland) was just awe-inspiring. I was knocking off big distances full planing in the reaching straps, just me and the sea birds and that awesome coastline. That was phenomenal. When the sun came out it was nothing short of breathtaking.
WS – Did you suffer from fatigue at all or any injuries / illness ?
JD – Sailing downwind in light winds and swell is hard going; you have to put in long days and you can't use the harness. I'd notice a bit of tendonitis in the fingers of my right hand in these conditions. A couple of times I had to loosen up my back with some stretching. I felt knackered sometimes. Generally though I got stronger and better able to cope the further I went round. My core got much stronger.
WS – Did you ever feel like giving up?
JD – No. At the beginning I tried not to look at the whole too much and just concentrated on plugging away. Towards the end I felt like continuing, or doing another lap!
WS – Were there any moments you felt worried and in danger?
JD – Yes. I felt in danger at the times when there was a potential for things going wrong quickly. Again, Land's End comes to mind. I could barely balance and the swell was properly large! Ending up near the base of the cliffs would have been very bad news. I was always worried by strong offshore winds as in the event of breakage you probably aren't going to be able to self-rescue in those conditions. I got a lot of these winds coming down the NE coast of England and really didn't want to end up as a rescue statistic. Given that I had reliable means of alerting the rescue services I didn't feel in danger at these times though. Big currents and overfalls certainly get the adrenaline going. Strangford Lough was pretty full on and definitely focussed the mind.
Being out of sight of land and becalmed as a thunderstorm passed close by whilst having to get over an offshore sandbank in the Irish Sea was pretty disconcerting. Sailing into the very strong tidal flow of the Dorus Mor was initially frightening. There were lots of scary moments but I got better at dealing with them as I went round!
WS – What wetsuit did you wear and did you ever get cold?
JD – Gul kitted me out with a very nice drysuit. Under this I wore merino wool thermals and one or two extra layers on my torso to suit the conditions. I tended to slightly overdress under the drysuit (I dressed with the expectation that I might have a problem whilst at sea). The drysuit has a 'relief zipper' which I learned to operate 'on the fly'! I was never cold whilst sailing, save for my hands a few days whilst in Scotland when there was a cold snap from the North. Lugging the loaded board to the water's edge was usually a pretty good warm-up!
WS – Where did you sleep every night?, did you have a plan for accommodation?
JD – On average I stayed with local contacts / friends and family 2 nights out of 3, and camped under the sail 1 night out of 3. Sometimes I made a big effort to link up with people (usually if there was really bad weather forecast or if I really needed a shower) but more often than not I'd just see where I got to and work it out from there.
WS – Any close shaves with any sea life or ships?
JD – I saw thousands of seals and most days from North Cornwall around to South Yorkshire I would see dolphins. I got very familiar with the bird life and indeed would talk with them as if I knew them quite well. I became very attached to my friends at sea – they would really help to lift my mood if I was ever tired, uncomfortable, or worried. The only slight let down of the trip was not seeing any whales. I put this down to a lone windsurfer being small and uninteresting and too 'quiet', and to not sailing in the calm conditions most conducive to whale spotting. I had been a bit worried about hitting basking sharks or whales, so perhaps it was better this way! I accidentally cut across the bows of a ship in the Humber estuary (it was going very slowly). I twice got caught out by unmarked floating line from fishing nets. In the fog I stayed really close in, preferring to take my chances with rocks than get run over by fishing boats.
WS – Where and what did you eat on and off the water?
JD – I filled my drysuit pockets with usually Snickers bars, occasionally Mars bars. If I could find them then I'd sometimes mix it up with a Stoat bar. For the crossings and big days I'd put a Cliff bar in my pocket too – I really looked forward to those.
On the water I'd sail and eat, as I didn't like leaving my sail sloshing around in the sea. At the end of the day I'd often get fed by local contacts, who were very good at correctly predicting I'd be pretty hungry. If I was camping I would try to select somewhere with a pub handy and would usually have fish and chips. If I miscalculated, I'd cook a delicious and nutritious evening meal of packet pasta or couscous. Camp breakfast was cuppa porridge and coffee. Full English/Scottish was on the menu whenever available!
WS – How much money did you raise for charity
JD – The main charity I am raising funds for is Pancreatic Cancer research. It is a horrible disease that takes people who really are too young to go, and leaves gaping holes in families. A personal experience is why I chose this charity, but on my journey I heard from dozens more who have lost siblings, partners, parents or other loved ones to this disease. The alternative charity I chose is for education in Tanzania. I wanted an option to donate to a charity that was less western centric. Cancer is, after all, a very western worry. About £6500 has been donated so far, but the MyDonate pages are still open. Please see windsurfroundbritain.co.uk if you would like to make a donation.
" The absence of the desire to windsurf around Britain is of itself liberating and allows me to focus on other things more easily "
WS – Was it an emotional moment when you made it right round, 98 days after you set off?
JD – Strangely, no. The main emotion at this time was relief at having not cocked it up with a breakage or 'schoolboy error' late on. I also think I find it easier to be emotional when I am not the centre of attention! It was a hugely emotional journey, but the overwhelming emotions came at more private times. I find it emotional (powerful) now when I go for a walk on the beach and look out to sea. I think "I sailed past here" and I feel very much at peace with myself.
WS – Who were your support crew on the land?
JD – My brother Gregg was chief landing options and weather update consultant(!) and I would phone him most days. We are on exactly the same wavelength, so I could have total trust in whatever he told me. He also did a few blog posts when I neglected or was unable to fulfil my social media duties. John Clarke helped with the design and build of barrel carrier, and we had long talks about navigation and how to approach the tricky bits. I'd call John to talk through the plan – which would make me feel better! At key times his advice steadied me.
WS – We hear you are writing a book, was that always your intention?
JD – I didn't think enough would happen to warrant a book, so it definitely wasn't an intention! But lots of people have encouraged me to write, so I will give it a go. I hope I'll come up with something decent. I need to dedicate more time to writing!
WS – What has the transition been like back to normal life?
JD – It has been OK so far. I've not had any major come-down.
WS – Do you feel like the experience has changed you?
JD – Absolutely. The absence of the desire to windsurf around Britain is of itself liberating and allows me to focus on other things more easily. Furthermore, I am happier in my own skin, and I think it is likely I have become a more resilient person. I believe that there has been a very fundamental and positive change.
WS – What advice would you give to anyone inspired for their own windsurf adventure?
JD – Do it, of course! But plan and, most of all – test! There is no substitute for testing. And please, make it safe! Beyond that, the most important thing is to START! After that, the most important thing is to KEEP GOING. That's all there is to it.
WS – Finally what's next for Jono Dunnett? 
JD – I think at some point Frank Dye's epic Wayfarer trip to Norway needs to be recreated. You up for it Clyde?