Tweet
Fanatic have a new all-in-one wave board for 2018, the Grip TE, we asked Fanatic Wave R&D Manager and PWA Pro Klaas Voget for the low-down!

With Klaas Voget //  Photos John Carter.
---
WS: You've replaced the Quad and TriWave Models out of the range for 2018 with one line called the Grip. What's the idea behind this reduction in the range? 
KV: After our TriWave was re-launched two years ago with an incredibly early planing shape, Victor (Fernandez) and I started experimenting with different boards based on the ease of use and planing performance of the TriWave, with the extra turning abilities which we liked in our Quads. With some adjustments to the TriWave's rocker line and bottom shape we've found a combination which loosened the board up – especially when used with a Quad setup – to allow even quicker reactions than with the Quad, but still keeping the incredibly fast and early planing level of our TriWave. It turned out to be that one shape we pulled out of our bags wherever we went – from the Canaries, to the North Sea, Cape Town and even Ho'okipa – even though we had all the options of more specific custom boards for a certain type of conditions. Anyone who tried one of these boards wanted to buy them straight away and called them the best and most complete wave board they've ever tried. After using these boards all around the world for about two years we're confident that it will be loved by both our previous TriWave and Quad customers – plus everyone else who likes to keep it simple and wants the ultimate all-round wave board.
WS: Where do the differences lie between the Stubby and the Grip?
KV: The Stubby is a favourite amongst sailors who want to get the most out of average conditions, but still score that sick day every now and then. Its planing character and turning is unique and the upwind ability is outstanding! The Stubby will blow your mind when you least expect, but still keeps up when the conditions get really good.
The Grip is on the other end of the spectrum. It's a modern version of a classic wave outline with a more nervous feel to it, while the Stubby has this super stable planing through its parallel rails. The Grip wants to turn, it excels in good sideshore conditions, but still delivers all that's needed when the power of the wave fades away and the wind swings onshore.
Both boards are very user-friendly and both shapes have collected trophies in PWA competitions. You can use both boards everywhere, it's a question of the style and conditions you sail more often in.
WS: Why the name Grip?
KV: The name defines the actual amount of grip and drive you want per board size. You can set up the 3 medium sizes (76/82/89) of the Grip with pretty much all fin combinations out there, but we recommend the Quad and Thruster setup depending on the conditions you're sailing in and the amount of grip these conditions require. Our smallest Grip – the 68 – comes with 4 Slot Boxes only, as the Quad setup adds the amount of grip needed for windier and choppier conditions, as well as the turning potential for the lighter rider. The large Grip 99 comes with 3 fin boxes and a thruster fin set for improved planing for lighter winds and lift under the back foot for the heavier and more powerful rider. The Grip 76, 82 and 89 are equipped with 5 slot boxes to ride them as either Quad or Thruster, depending on the riders size, level and conditions. They are supplied with our favourite Quad set and we offer a Thruster set as an accessory.
To put it simply:
Quad = more grip, more control, tight carving turns.
Thruster = less grip, good planing, slashy and more slidy turns.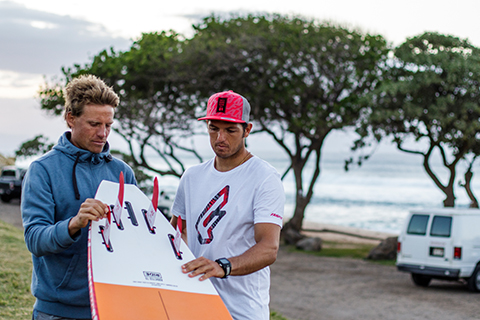 Key Features:
Early planing and fast, adapts easily to the conditions. Snappy and carving surf style for progressive wave action.
Five fin boxes for adaptable multi-fin use according to personal preference (Grip 68 comes with 4 Quad boxes, Grip 99 comes with 3 Thruster boxes).
Innovative rocker line with flat spot concept for maximum planing power, and curved sections for tight snappy turns.
Double concave / V bottom shape for a controlled fast ride over any chop.
Fast rocker line with higher entry for front footed carves and opening V off the tail for responsive snaps.
Backwards oriented trim for direct turning reactions.
Compact outline with a wide swallow tail for snappy turns, tonnes of spray, lots of lift and stability.
Side fins with slight tow for smooth water flow, reduced drag and maximum speeds.
Flat deck for a stable stance and secure feeling even when the wind drops.
High Performance TE construction in Biax Innegra Carbon (BXIC).
Fast and super smooth turning RTM Quad fin setup perfectly matched to board's characteristics (Grip 99 comes with MFC Thruster set).
Lightweight and easy to adjust Slotbox system (Grip 99 comes with US Centre Box).
"It turned out to be that one shape we pulled out of our bags wherever we went."