Tweet
"Head meets heart meets athlete" is the fitting tagline that accompanies Keith Teboul's bio.  A passionate, extremely talented windsurfer and constant developer, the prolific Maui based shaper's work is always at the vanguard of cutting edge wave board design. Whilst especially known for his customs, his production line of Quatro boards has an equally strong reputation with its top of the range Pyramid board blurring the lines between custom and production board performance. We sat down with Keith to learn more about its latest evolution.
Words  Keith Teboul // Photos  Fish Bowl Diaries
---
WS: The Pyramid is your 'purest' wave board in the production range with quite a cult following. In the past, this would have been seen as a 'custom' only type of board, what prompted you to introduce such a progressive shape to the market and who is it for?
KT: I think we saw a need for a more pure wave board on the market as most brands don't have a dedicated side shore board in production. We really worked on the planing to turning ratio to make it the fastest possible without sacrificing turning ability. I think we really achieved this with the new Pyramid. This is a development of a couple years with Levi, Camille and myself. We all have different needs and it was a great project and challenging to meet all these needs in the Pyramid. Drive, quick planing, being able to finish our turns, pivot with thrust and projection, these are all things that come to mind when we were working on the Pyramid.
WS: Where does this leave the custom side of your business when such performance is available 'Off the shelf'?
KT: Custom will always be a huge part of R&D. It's the creative side that pushes design and progression. You know I get most of my new and creative ideas when I'm riding my mountain bike or surfing…these are then put into action through our custom factory. Tested, played with, tweaked, approved and then we see if there is a need in the production market. Then I am always working to get better boards for the team between Levi, Camille, myself and all the surf team – Imaikalani Deavault, Cody Young, Matt Meola and many others. This is what drives the innovation that gets put into production.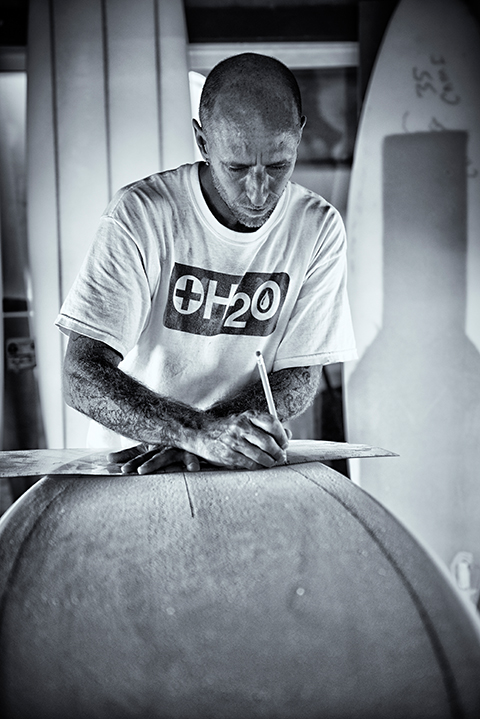 WS: The 2018 Pyramid is shorter in length, slightly narrower in the nose and with a moderately widened tail – what did you see in testing that made you make those changes.
KT: Again a lot of my inspiration comes from surfing. In general surfboards for performance waves tend to be like this. I just brought this concept into windsurfing. I want to stay closer to the wave and the power of the wave. Wider noses are good for longer, more drivey turns while a little narrower allows you to turn more quickly and have less nose in the way. Wider tails compensate for bringing the stance a bit back and allow you to turn more quickly. It's really a combination of all of these attributes that make the whole picture of the Pyramid.
WS: The straps are further back with more thickness through the stance, what was the inspiration to make such a radical change in position.
KT: Since the boards are shorter and the noses narrower, we had to do something to compensate for these changes and this was putting a bit more thickness under the stance and a bit fuller outline. Getting closer to the tail allows you to turn more quickly and complete the turn.
WS: The tail is a swallow and has reworked fin positioning, can you tell us more about its development.
KT: In surfing I've always loved swallow tails, I like the look and I like the feel. To me it gives you the area of a squash tail but the hold of a pin with a fuller tail. So surface area for stability and planing and than the cut of the swallow for more grip and release when turning. The fin positioning always has to be reworked if you are going to move the stance. When moving fins I tend to find the distance apart I like the cluster, then move forward or back with the cluster depending on where the rider is standing.
WS: How does the bottom shape design contribute to performance on the water.
KT: The bottom is actually a full vee bottom with double running through the whole bottom. Then I added channels off the back for more grip in your turns. I haven't found a negative with the channels yet.
I've found that the vee bottom is the quickest to get planing and to hold your plane. It also allows you to go rail to rail more quickly. The double concave then softens the ride and gives more glide through turns. I'm finding that this bottom configuration is really easy to understand and feel when riding. There is no thinking about when to turn, its just intuitive and reactive.
WS: Finally, why thruster?
KT: Thrusters I feel are the most accessible fin configuration when coming from any board. It gives you some of the feeling of a single fin, but the drive, pivot and thrust of a multi fin board.
I think that the thruster suits my style of riding the best so I pushed for the thruster. It allows me to sail front foot drivey for 30% and backfoot 70%, but then Levi pushes more 60% front foot and 40% back and it still supports his drivey, longer bottom turn. Camille I think is more 50/50 in front and back foot and it supports his style of sailing as well. I think the thruster is the most all-round fin configuration of all.
The Pyramid is available in 71, 78, 83, 88 and 96 litres. RRP £1949.
" There is no thinking about when to turn, its just intuitive and reactive. "