Tweet
This summer Ocean Elements is launching foiling for windsurfes at its Porto Heli and Vassiliki resorts.
Learn to foil!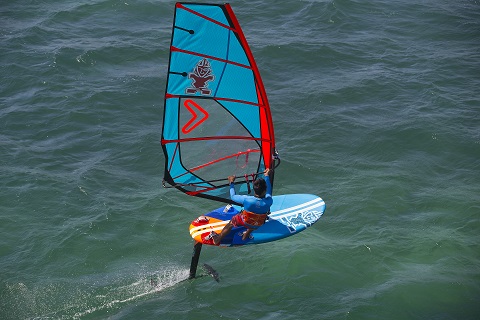 If you thought you'd never master the art of foiling then think again! New for summer 2018 at our Kos and Vassiliki resorts, we are more than delighted to be one of the first tour operators to offer foiling courses for beginner and intermediate sailors. We have a sneaky feeling this is goin to be popular, so make sure you book before you even pack your case!
Windsurf foiling at Surf Hotel and Xenia Apartments in Vassiliki
Hold tight this summer as windsurfing literally takes off! We are one of the first tour operators to offer windsurf foiling and tuition in Greece. Our team of dedicated RYA trained instructors are ready and waiting to teach you the art of foiling. Aimed at the more experienced windsurfer, foiling gives you a real sense of weightlessness and speed as well as the ultimate buzz. You'll be effortlessly flying across the ocean at close to 30 knots – what's not to love?
We have two types of dedicated foil boards for you to try out – the Foil 122 and the Foil 147. The Foil 122 is thin for maximum control with 100% razor sharp rail edges for early planing and clean water release, even when touching down. Designed purely as a foil board it allows easier control of the board, better performance and makes it more forgiving to foil compared to using a classic freeride windsurf board.
The Foil 147 is a balanced, stable foil board with a wider outline and wider tail for more power and stability. The 95cm wide outline coupled with a wide tail gives a super efficient shape that planes early and gives a high degree of control and leverage over the foil. The 241cm long board makes it more forgiving when dropping off the foil helping the board to take off.
Our onsite team of trained RYA foiling windsurf instructors offer two levels of tuition – our 'First Flight' course – a two hour introductory foiling course – and our 'Sustained Flight' course – a two half day foiling course. What are you waiting for?