Tweet
MAUI LIFE : ADAM LEWIS
Top British wave sailor, Adam Lewis, has recently swapped the shores of SW England for Maui's North Shore. From our August 2021 issue of Windsurf, John Carter caught up with Adam to learn more about his new life on Maui. 
PHOTOS – FISH BOWL DIARIES, ADAM LEWIS // WORDS – JOHN CARTER, ADAM LEWIS 
---
JC: So you headed out to Maui last year and basically never came home, tell us what happened? 

AL: Ha-ha, yeah, well that's the short story! I suppose it's a little longer than that in reality, but yes I had a two-month test and photo shoot trip booked to Maui. I arrived at the end of February 2020, kind of before Covid had really turned into a massive pandemic, but a week after I arrived the US closed its borders and it really hit. I stayed at that point because we were testing every day and we wanted to get some of the wave and freewave shots done too. It sort of just fell into place from there really, because soon after I decided to stay, all of the flights got cancelled. I met a girl, fell in love, and the amount of testing I needed to do kept increasing and no one else was able to come out or test, so a lot of the 2021/2 development fell on my shoulders and after working with Kai for the previous six months pretty closely I felt like it was really the right call. Looking back on it, it was the best decision I've ever made. We got married and my testing role has increased and I built a house. I feel really lucky right now! 
JC: Tell us about your house build?

AL: Yeah it was sort of a crazy idea that just snowballed. I'm sure anyone that's been to Maui will tell you how crazy expensive rent is. We were looking for a place to rent in the summer and it was just ridiculous. We somehow stumbled across a tiny house on Craigslist, it was really beautiful (the house we saw actually went on to win awards in Dwell magazine), we joked about building one and the more we looked at awful places that were mega bucks, the less and less it became a joke. It had always been a dream of mine to build a place, so it just seemed like the perfect opportunity. I really didn't have much experience, but it was the perfect beginner house. I worked a bit with a carpenter and he helped us out a lot with this project too. Plus Kai Hopf, the Duotone designer, is an incredible carpenter/engineer, so I could pick his brains on a bunch of stuff. I learnt a lot organising the solar system and setting up the plumbing and electrics. It was an all-consuming few months, but I'm so glad we did it. I'd build another one tomorrow! Logistically ordering all the materials to be shipped to an island in the middle of the Pacific was pretty daunting, especially as it was a lot of money and we hadn't really started building and I wasn't perhaps as confident as I would be now with it. Putting all my savings on a wing and a prayer left a few sleepless nights at the start. It was a pretty crazy project honestly, but I loved it and I really love our little home. It's fully off grid, we have solar and well water, and when Jaws breaks you can hear it from the house, it's a dream.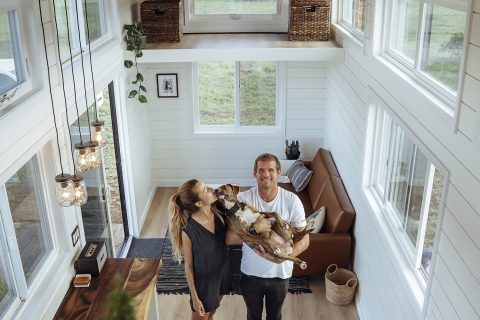 JC: So are you now a full time Maui resident? 
AL: Yeah, I feel really settled here, I love it. The funny thing is I actually wasn't that impressed with Maui the first time I came here, but the more I've travelled around the whole island, rather than just Ho'okipa, the more I've come to love it. It's a small island, but it's really tropical. It can rain a lot, but there are fruit trees in the garden. It's a place you can put on your boardies in the morning and that's all you'll need for the day. The North shore of Maui is easily the most consistently windy place I've ever been to. Having lived in the Canaries, I can tell you it's way way more consistent. I've been here for more than 12 months straight and I think there's been maybe three weeks without 5.0 weather at least. If it's not windy you can fish or surf or foil. It definitely has that island vibe about it; things are slower and if you're in a rush to get things done it can be frustrating. The whole island definitely runs on 'windsurfer time'. The surf is busy and there are places that have a lot of localism, but it's one of the best compromises between living somewhere like Indonesia and the 'real world'. It's winter now and the frequency and power the waves have is mind-blowing. You can pretty much grow anything in the garden here, all our salad and a lot of the veggies we eat come from our veggie patch. You need to grow your own, because food is ridiculously expensive in Maui ha-ha.
JC: How has Covid been there? 
AL: At the start, honestly it was paradise. There was no traffic and you could get anywhere on the island so quickly, and it was easy to park in Paia – it was dreamy. In the week, you would be messaging people to go sail with because it was empty of windsurfers and it was so windy for so long! One day it was epic and it was just Swifty and I out! I would say in the last few months, tourism is definitely back, not internationally, but really a lot from the mainland. It's almost back to what feels like capacity.
JC: Talk us through a typical day in Maui and your work for Duotone. 
AL: The mornings are early here. I normally wake up around 5:30/6 A.M. Some days we have R&D zoom meetings around 6 A.M., otherwise I take the dog for a walk on the beach and jump in the water at Ho'okipa for a surf, have breakfast and then go to the loft. There is always something to do over there, tweaking luff curves etc. I think our record is 4 luff changes in a day! After that the material is stuffed anyway. Then I go to Ho'okipa maybe around noon to sail. If we are testing, I normally sail and then run back to the loft to make changes, then come back to sail and then go through that cycle a lot in a day. Sometimes Kai comes down to the beach to sail and we can do a lot of the tweaking from there too. Then I come home or surf again with the missus, it's quite dreamy honestly. I've still got quite a few things to do with the house and garden, but it's hard when there is so much water time to be had every day!  
Work wise, I think it's a dream come true for Kai because having a rider that can test here full-time makes a huge impact on the testing cycles and the amount of products that can be refined. I think we've tested gear every day apart from Christmas Day. The way the sails start to get refined and improved is really addictive. Kai lives and breathes design, so it's an honour to work with him and I'm sure people will feel the difference in the new sails.
JC: What are your plans if the tour starts up again? 
AL: I'll come back and forth a bit for events, but in the last few years I've been trying to keep my flights to a minimum for environmental reasons. It was a factor in choosing to live here too, as I don't want to be flying loads again. As athletes I feel like we have the opportunity to fly a lot, but environmentally it's very shortsighted.  
JC: Do you miss home?  
AL: I miss Cornwall for sure, I miss the waves and all my friends at home, and I miss the pub and cream teas ha-ha. Nowadays with FaceTime or Skype it's pretty easy to be in contact with everyone, but it's obviously not the same as being there. But I do also feel as though here is my new home. 
JC: Seems like it was an epic big wave season last winter on Maui. Having surfed and windsurfed Jaws, are big waves something you want to build on?  
AL: I love it; it's probably one of the things that I enjoy the most. I've just got a jet ski and we've been paddling and towing a lot recently. It's something that I really love and I like the mental space that it takes you to. It's absolutely something I want to build on, it's been a funny year with training and also I had to invest a lot with the house, but I'm already looking forward to next winter. 
JC: Who are your best friends on Maui and who impresses you on the water? 
AL: Umm I hang out a lot with all the guys in my neighbourhood – Paige Alms, Sean Ordonez, Amanda Beenen, Ricardo Campello, Brawzhino, Levi and Swifty a bit too. Also Victor Fernandez, Arthur Arutkin and Marc Paré when they are here. It's a really awesome little community, I feel really lucky. My heroes growing up were Levi and Polakow, it's nuts to be hanging out with those guys here, really really surreal.
JC: What sort of other training are you doing while in Hawaii?  
AL: I did as much as I could with Sarah Hauser, especially at the start of the winter; she's awesome. We did a load of breathwork and various different training from strength to proprioception work. I'm looking forward to do more! 
JC: Do you see yourself living in Hawaii forever or is this a temporary thing? 
AL: Well all I can say is it feels like home right now. Maybe in the long term with kids it would be nice to bring them back to the UK for a bit to show them how lucky they had it here, but for now Maui is home for sure.
JC: How has your sailing improved with a whole year to focus on starboard tack? Will it be strange to go back to the likes of Tenerife and sail cross-on port tack…do you miss those sessions? 
AL: Yes! I miss those sessions big time. It's so hard being able to go turn for turn against the world's best in port tack and then spend a year being a bit crap in starboard here. Ho'okipa if it was port tack would be easily my favourite place in the world, it has everything I like, powerful fast walls and is side-shore. It is also windy, so you can jump; it's perfect. To improve here though, it was really a case of putting my ego aside for 12 months and just getting on with improving… it's slowly getting there, but it's difficult for sure. We had a few port days recently and its amazing how much more comfortable I feel that way. It's getting there, I surf regular so I think potentially I could be better wave-riding here in the end. 

JC: Having lived on Tenerife and Maui how do the two compare? 
AL: They actually have a lot of similarities, the volcanoes are the same size, the overall island size is the same, and they have the same island vibe. But Maui just feels much more alive to me, it rains more, there is so much growing and it's so tropical. There are parts of the island that have that dry volcanic vibe too, but you can mix it up more. I just love Maui's North Shore, the population is much more spread out and it still has that wild raw feel.