Tweet
The organisers of the Mayo Mayhem wave sailing event in Ireland give us an event wrap up –
Mayo Mayhem 2019 review by Dan Kealy
Storm Lorenzo threatened to wreak havoc on the Irish coastline, atlantic depressions continue to rage on, the memory of a warm, sunny weekend on Achill Island, seems like a distant foreign holiday, but Mayo Mayhem 19 was a celebration of wavsailing and of our highly motivated, fun-loving, wavesailing community.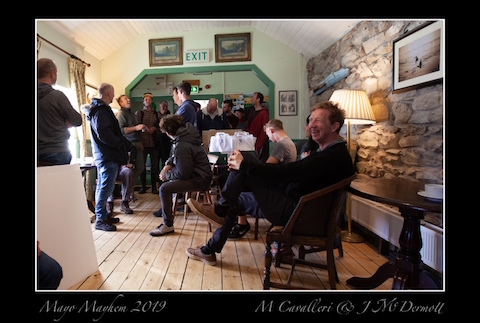 The third year of Mayo Mayhem, wavesailing competition saw many competitors return and many new competitors get a taste of Achill and wave competition. In the build up to the event, the forecast looked incredible with organisers hoping to witness scenes reminiscent of the first year's event. However, as can happen with some forecasts, they can diminish just before the main event.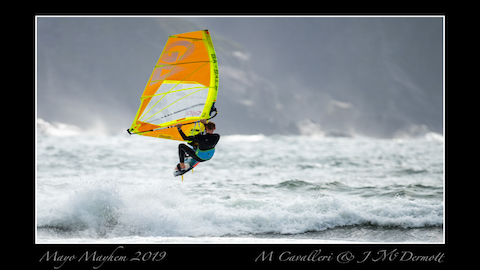 That did not deter the event crew nor the competitors on Friday morning. After a catch up and event briefing at 09:30 at the Pure Magic Lodge, sailors were rigged and ready by 1030. This year Mayo Mayhem enrolled the help of Dave Garvey (ISA Training Development Officer) with competitor safety, his knowledge and expertise was evident from the outset, with a comprehensive safety briefing before the event started. A short waiting period, allowed competitors to refuel on some delicious "Pain au Chocolat" kindly supplied by Tartine Organic Bakery. Sailors were now really keen to get on the water. Ross Gsamelov, ran the gauntlet and was first to test the conditions. Still light as he gauged the conditions but then the winds picked up and the first heat was called to get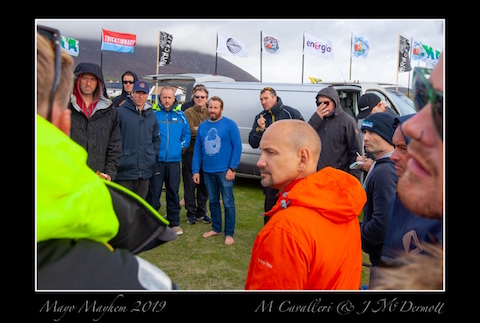 The silver fleet set off first, with both first time competitors and practised sailors testing their skills on Keels renown waves. From the get go, conditions were tricky and finding good waves, certainly upped ones chances of advancing.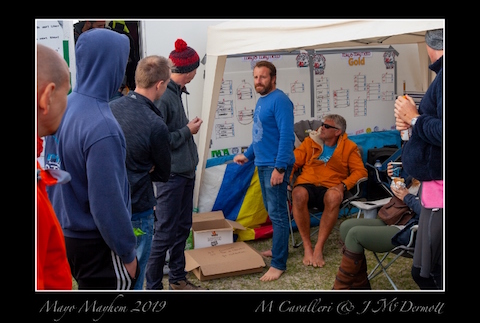 Condensing all your windsurfing skill, knowledge and abilities into a 12 minute heat is no easy task. Those 12 minutes can feel like you've just sailed for 2 hours. With 12 competitors in the silver fleet, each one had to sail their best in order to get through. Even though the forecast was not as strong as predicted, that said, Keel was producing some solid waves. If you got it wrong, the pounding in the white water quickly reminded sailors never to underestimate the power of the ocean. Luka Walshe the event videographer witnessed this first hand and had the arduous task of walking back up the beach with his sail in a number of pieces.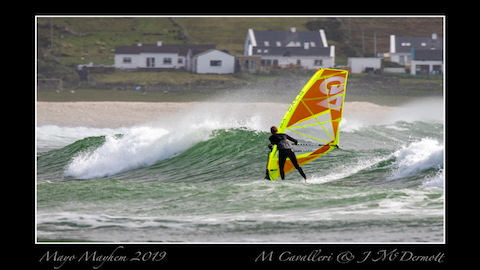 As the heats made their way toward the final, conditions became extremely light, and it took great skill and challenged the other end of the wavesailing spectrum. There are many days when wind is borderline and the waves are pumping. This is when a wavesailor can get some of the best waves rides with silky waves faces and a completely light and neutral sail.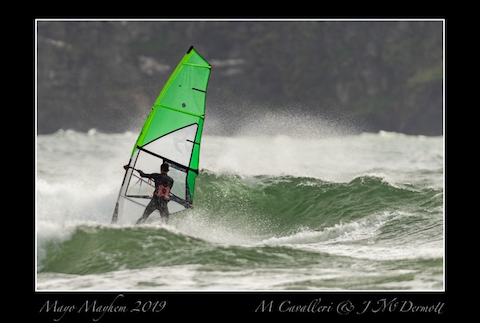 In the mix in the silver fleet finals, we saw a diverse array of sailors Steve Laddiman from Wales, Nick Fletcher from N.Ireland, Adrien Grelon from Canada and Stephen Lawless from Ireland, then in the Gold Fleet, had Alex Dugan, Finn Mellon, Niall Mellon and the only female entrant this year, but what a competitor and sailor, Katie McAnena all corners of the country were represented here too. Atlantic conditions continued to challenge but again wave selection proved vital. With very close heats across both fleets spectators where left guessing and especially so in the Gold Fleet final. This heat saw father versus son, student versus mentor. Neither sailor held anything back and at one point, as each rode a wave toward shore they're movements where almost a mirror image of each other.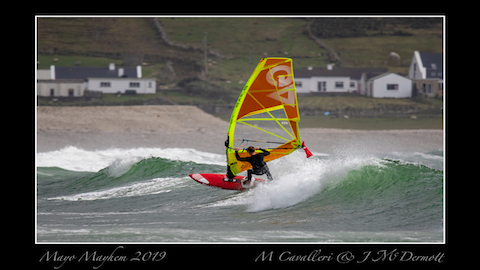 Judges held back results for the award ceremony later that evening at the Festival. The Rockshore tent was taken over by windsurfers and Francis Nogue had the honour announcing the final results.
SLIVER FLEET RESULTS
1 Stephen Laddiman
2 Nick Fletcher
3 Adrien Grelon
4 Stephen Lawless
5 Ross Gsamelov
6 William Revels
7 Luka Walshe
8 John Bedford
9 Kevin Walsh
10 Pawel Bielinski
11 Oleg Antonenko
12 Daniel Streuli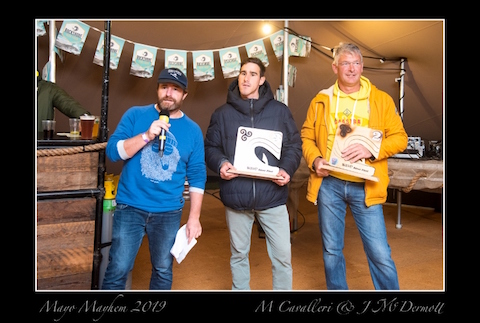 GOLD FLEET RESULTS
1 Niall Mellon
2 Finn Mellon
3 Katie McAnena
4 Alex Dugan
5 Dan Kealy
6 Malcolm Scott
7 Ryan O'Leary
8 Martin Roe
9 Julias Byrne
10 John Adrain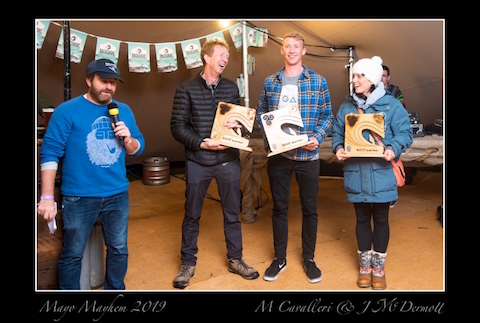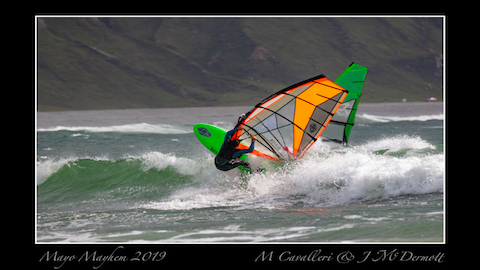 With awards given, competitors where left to enjoy the show put on by Pure Magic and their Team. The next day still held a glimmer of hope for sailable conditions. The plan was to hold a "Tricktionary" inspired expression session but Mother Nature decided otherwise. Competitors then took they're opportunity to give back and for a second year in a row, carried out a beach clean in conjunction with "Clean Coasts Ireland". Next saw a prize giving, with every competitor rewarded for effort with some fantastic prizes received. Now even though the wind was light, the waves still rolled in and competitors were supping and surfing until Pure Magic provided a giant Sup. Sailors were still amped for the expression session so the logical step was to see how many people could fit on it and try and catch a wave. This proved to be as enjoyable for the crew on the water as it did the spectators on land.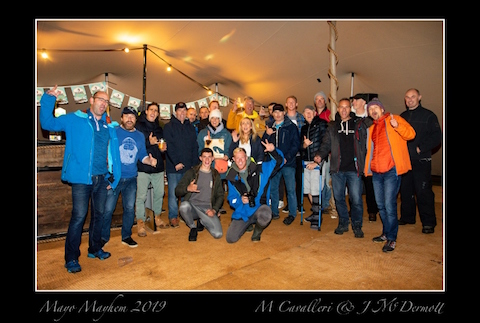 Unfortunately the wind never kicked back in so competition was called off and wavesaliors could catch up and enjoy the craic, brilliant live music, and Sunday was wall to wall sunshine and waves. What more could you ask for from an wavesailing event. Gathering a great bunch of sailors together, for water action, prizes, music and fireworks. I think next year is going to bigger and better than ever.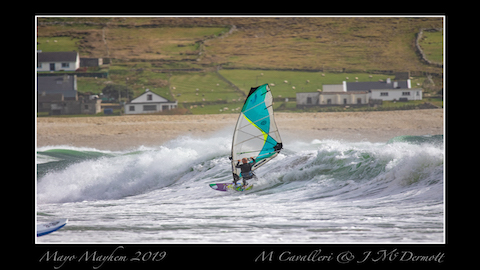 Adrien Grelon. Mayo Mayhem Epicness
When I got asked to write a summary of my time at Mayo Mayhem 2019, I started putting pen to paper, and quickly had the makings of a novel – too much Epicness in a one weekend to recount in high detail, without blowing the word count! So instead of a day by day account, I decided to summarize the heavy hitting points about what made this event so special (and why I can't see any rational reason for not being there again next year):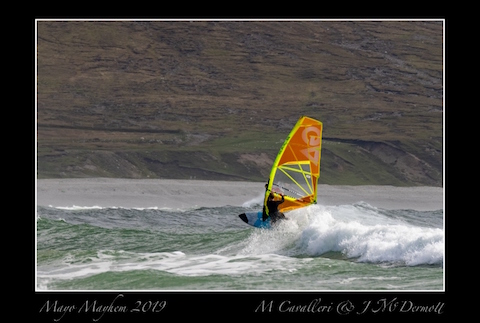 – Achill Island
The first point to note is the venue itself. I've done a bit of travelling in my day, but Achill Island really is a little gem, for its atmosphere and vibe. Free roaming sheep everywhere, an endless supply of rainbows, and plenty of beaches, coves, hills to go wander around and take in. And pubs of course, a solid Guinness can readily be found. For those into a bit more comfort on the accommodation side, you can stay at the Pure Magic lodge and be surrounded by the high stoke and energy crowd there; if you're in a van, you can pretty much park and sleep anywhere on the island; and if you're tenting it for the weekend there's an official campground with amenities, or you wouldn't be hard pressed to find a discrete spot for wild camping if that's your thing.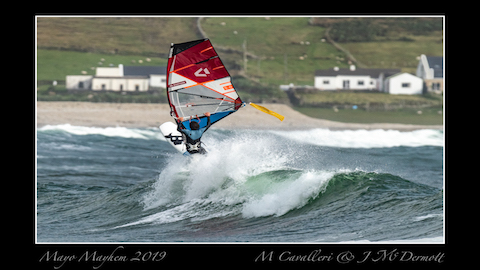 – The Local Crew
I can't fully explain Achill Island's vibe without explaining the local crew that comes with it. If the friendliest bunch of kiters, windsurfers, surfers, SUP'ers and festival goers you can find, combined with non-stop heavy banter "craic" sounds like your scene, look no further. I left the weekend with new windsurfing and non-windsurfing friends from all corners of Ireland, France, Denmark, the list goes on, and I showed up at the start of the week not knowing not a single person on the island!
– The Party
I also can't fully explain the Local Crew without explaining the party aspect of the Mayo Mayhem weekend: "Mayhem" is the appropriate term. These lads and lasses know how to send it on the dance floor and at the pub. Having the Battle of Lake music festival tied into the weekend offers the combination of day time on water fun, night-time on dance floor madness. With different tents set up in the festival to offer pop/house/club music, and other stages going full blown Irish trad music, complete with fire dancers and food stands, you'll probably struggle to find time to "catch and early one" during the weekend.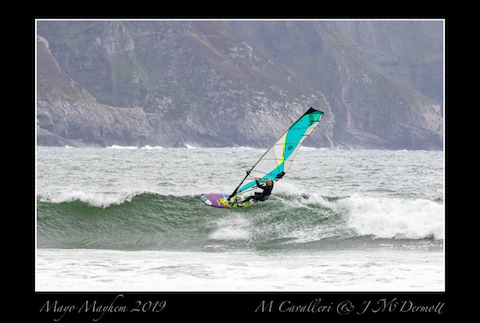 – The Conditions
Right, I haven't talked about windsurfing yet. I'm told the conditions we got for the contested Friday afternoon were poor to mediocre by local standards. If side/side off reasonably clean (at the start), shoulder to mast high (if you're Malcolm, on the wave of the day) waves are "barely contestable/sub par conditions", I'm certainly coming back for a big forecast, as those conditions were still a tonne of fun! I was heavily disappointed that I didn't bring my freestyle board along, as the lake on the island boasts an epic setup for freestyle (knee to waist deep for 200m out, with super flat water). Slalom gear with a <40cm fin would also be a riot there. If the wind angle isn't favorable for Keel Beach right on Achill, Belmullet up the way offers an array of different beaches where the competition can be moved to, so the odds of scoring good conditions for the comp are increased significantly by this fact. If the wind turns off, there can be some really good surfing on offer, and I actually found that Keel Beach can be windsurfed on almost all wind directions (during my week there I got side-on to side-off Starboard tack, and side to side-off port tack).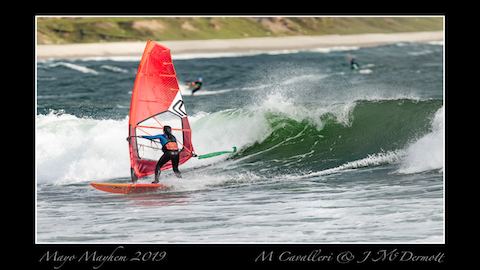 – The Event Itself
On the event itself, it's worth mentioning that the organization is professional, friendly and top notch. Doesn't matter if you're a first time or local legend, all are welcomed and included. I had to drop a friend off at the airport on the morning of the only contestable day, but with the help of Dave (the heat director) I still managed to sneak into a heat and take part at the last minute (literally), despite a very late return to Keel Beach. If prizes and cool trophies are your thing, there are some great ones going around for all competitors (not just podium finishers). I, for one, scored 2 nights in the best BnB in Belmullet which was an epic winning after 3 weeks in the van! During the comp itself, sandwiches, hot coffee, tea, pastries and other snacks are readily available for all competitors, a really nice perk and value add for the registration fee. On the note of the registration fee, if you consider that it gets you 1) all weekend access to the music festival, 2) lunch and snacks during the competition days, 3) your welcome pack with a tee shirt, stickers, and more, 4) and the chance to win an array of prizes, 5) a guaranteed epic weekend, it's probably the furthest you'll ever stretch 60 euros.
I didn't have many expectations for Achill Island and the Mayo Mayhem, but I left more stoked than I have been in a very long time. The conditions weren't world class this year round for the contest period, but the banter, craic, partying, stoke and enthusiasm of the local crew absolutely were! Of the few windsurfing events I've attended in my 12 years in the sport, this was hands down the most memorable. Put this one on your calendar for next year and you won't regret it.
Photos by M Cavalleri & J McDermott
Video by Luka Walshe
Facebook Page – www.facebook.com/MayoMayhem2017