Tweet
Mykonos may be known as a playground for the rich, but it's also famous for its consistent winds. Chris Sammer tells us why it's ideal for a family windsurfing trip.
Words  sammersurf.com  //  Photos  sammersurf.com, Pezi Huber.
---

For windsurfing, Mykonos is famous for its 'Meltemi' winds and appropriately its nickname is 'island of the winds'. Named after its first ruler, Mykonos, who was a descendant of the Greek god Apollo, the island is also said to be the location of a great battle between Zeus and the Titans, and according to mythology is where Hercules is said to have killed the invincible giants.
History aside, today Mykonos is one of the most well known islands of the Cyclades, famous for its lively party scene, beach clubs, private villas and boutique hotels. It has become a meeting point for rich people, high society and those hungry for the party scene. But it's also a perfect location for a family holiday, with lots of quiet beaches and plenty of natural beauty to admire. So we decided to travel there in spring, escaping the main tourist season at a time when the island is just waking up from winter. When we arrive, nature is in full bloom and the blue and white houses are surrounded by flowery meadows. After a period of unusual amounts of rain, the island reminds us more of our last holiday in Ireland than somewhere in the Mediterranean! Everywhere we look and go, people are preparing for the summer season; by the end of May everything should be rebuilt, repaired and painted again. Mykonos town is almost ready; this beautiful old town fulfills every cliché. The narrow alleyways lead to a myriad of small bars and cafés. Souvenir and designer stores line the streets, destined to be crowded in the summer months. Tourist attraction number one, is the area around 'Little Venice', the seaside promenade, built in a Venetian style. The famous ancient windmills right next to the old town are testament to why the Mykonians also call their home, "the island of wind". The wind is also why we came here and packed plenty of windsurf gear! With that in mind, we make our way to the main spot on the island, Kalafati Beach.
---
KALAFATI
Quick guide – rental and storage, flat water to small chop.
Kalafati Beach is in the southeast of Mykonos and has the only professional windsurf centre on the island – www.pezi-huber.com. The spot is known for its sandy beach and crystal clear turquoise water. In the summer months from June to September the wind blows almost all the time. The wind blows side-offshore from the left and gets accelerated by a small hill, making it slightly gusty from time to time. Small sails are absolutely required.
There's a small wind shadow at the launch site which centre owner Pezi Huber and his team use to teach beginners. The sailing is good freeride and freestyle conditions; downwind of the centre the wind gets more constant and the water a bit more choppy, making jumping easier.
The only hazards are two small rocks, known as the "sleeping man", which stick out of the water and are marked during the summer months with buoys. Pezi Huber's station is equipped with about 100 windsurf boards from Tabou and Fanatic, with around 25 of those being brand new 2019 Tabou boards. He also offers about 140 Sails, with around 60 being brand new sails from Gaastra. The centre also offers a small repair facility and shop, drinks and a playground for kids. In front of the centre are also some small trees for shade. When the wind blows super strong, guests can take their equipment to the nearby wave spot, Ftelia. On days without wind the centre offers SUPs and kayaks for their guests.
Kalafati Beach is away from mass tourism, offering a very good location for families. For accommodation, at the entrance of the bay is Villas Kalafati with the snack bar Petrino Aquarius beside it. A few hundred metres further up you can find Hotel Aphrodite for those who like to be close to the beach. There is also a large selection of apartments and hotels close by on the hill, including the beautifully designed hotel Anemoessa.
You can find some restaurants along the beach in Kalafati or walk to the nearby fishermen's village for fresh fish. One of the centre's instructors recommended a typical Greek restaurant 'Kalammmakia' (www.kalammmakia.gr) in the next village Ano Mera. Right on Kalafati Beach you can also find mini-markets, motorbike rentals, a diving and watersports centre.

"From June to September the wind blows almost all the time."
---
FTELIA
Quick guide – waves on big days, no centre, bring your own equipment.
After sailing at Kalafati we headed to Ftelia as the wind picked up more and more. We were very curious to get this spot as Ftelia is famous for waves. As the island is pretty small, hopping from spot to spot is simple and takes between 20-30 minutes.
Ftelia Bay is located on the north coast of the island and has still kept its natural charm. The last 300 metres of the road to it is dirt track and leads to the beach club and restaurant on the left side of the beach. This is also the perfect spot for launching. There is no centre but all the locals meet there when it's windy! The entrance to the water is sandy and protected from waves that makes it pretty easy to enter, even for less experienced sailors. The north wind blows onshore, sometimes with a little easterly or westerly component and depending on the direction, offers port or starboard tack jumping.
In the middle of the of the beach and about a hundred metres upwind from the entrance are two big rocks sticking out of the water. It is advised to stay away from them.
The waves are mellow so even if it gets up to 3-4 metres you will not get heavily washed except in the shorebreak. If you sail a few hundred metres more upwind you can perfectly gybe into nice rolling swell super safely. Locals told us that on big days it can get over mast high. Don´t expect down the line wave sailing. This spot is perfect for backside turns and jumping both ways and super easy for those looking for their first wave experiences.
Ftelia is a super nice freeride spot in lighter winds and creates probably the most consistent waves of all Greek surf spots when the Meltemi is blowing for a longer period. Definitely one of my favourite Greek surf spots.
Apart from the great windsurf conditions, the nearby Ftelia Beach Club (fteliabeachclub.com)is a super nice place to hang out, have great food or just chill. The club offers some sunbeds on the first part of the beach, but the rest of the beach stays wild and natural.
The most luxurious surf experience is renting the Villa Barbarossa which is just above the beach club and has epic views of the beach and is just a two minute walk to the water. Another great place to stay is Hotel Ftelia Bay (www.fteliabay.gr), situated a few hundred metres from the beach with sea views. Both owners are fully hooked on windsurfing and can always be found on the water when it´s great conditions.
Surf level: beginner to pro, depending on the wind speed.
Best wind direction: North.
Best windy time: constantly blowing during summer months and northerly storms during winter.
"Definitely one of my favourite Greek surf spots."
---
KALO LIVADI
Quick guide – south wind spot, need to bring your own equipment.
Kalo Livadi is a good spot for light winds from the south, which is a common direction in the winter and spring months. But south wind is always a bit tricky as it´s pretty moody – winds pick up, drop down, rain, no rain, etc. But if you catch a good south wind period, Kalo Livadi is the place to be.
Kalo Livadi is close to Kalafati Bay on the south coast of the island and open to SSE winds. Even with the onshore force 3-4 we had there was some swell rolling in. The sandy entrance to the water is on the left side of the bay. We spent about an hour here in bump and jump conditions. With southerly storms the spot may get pretty tricky and is recommended for experts only. During the summer months the north wind blows offshore and so you're more likely to find sunbeds than windsurfers at that time of year on this great beach.
Surf level: beginner to pro, depending on the wind speed.
Best wind direction: south.
Best windy time: autumn, winter, spring.
---
KORFOS
Quick guide – kite centre with sail repair, flat water, bump and jump. Constant wind, bring your own equipment.
Just a few minutes drive from the airport and Mykonos town is Korfos Beach. The area around it is pretty famous and just opposite it, within walking distance, is Ornos beach with its beach bars and beautiful swimming conditions. Korfos Beach is also the home of the only kite center on the island – www.kitemykonos.com. The centre also offers windsurf lessons and rentals on request.
The beach is open to the north which means that you get onshore conditions as well. The entrance to the water is sandy and flat, making it easy for beach starting and waterstarting for beginners. When the wind gets stronger it creates a small shorebreak.
We entered the water a few hundred meters more upwind on the easterly side of the bay. There is a small church there with a few parking spots; be warned the mini beach and parking area would get crowded easily if busy. At this spot you get side-shore wind from the left and a small protected area with super clean, almost glassy water where you can perfectly train gybes and other moves. There are some rocks in the water that make launching a bit more difficult. The further out you sail you get little rolling waves around 1 metre, nice for chop hops and carve gybes down the swell. If you´re into it, you can sail a few legs upwind to see 'Little Venice' from another perspective!
Korfos Beach offers constant wind conditions, making it easy for beginners in light winds and also challenging and fun for pros. For us, Korfos was a great family spot. The area offers plenty of places to stay, ranging from private apartments to nice hotels. One thing we noticed, even in off season, was not all apartments have a parking spot, so check your place has parking because Ornos gets busy.
Surf level: beginner to pro!
Best wind direction: north.
Best windy time: June to September.
"For us, Korfos was a great family spot."

---
FACTS
GETTING THERE
Mykonos has an international airport with flights from all over Europe and ferries leave from Athens every day, even in off season.
CAR RENTALS
All the big car rental companies are on the island, but unfortunately we didn´t find any offering roof racks, so bring blow up racks. A rental car is not really necessary if you don´t want to explore all the spots. Be warned the streets are pretty full and partly narrow. You can also explore by bike or motorbike.
CAMPING
There are campsites on the island but they're not really useful for windsurfers as they are all far away from the spots.
WEATHER
Main wind season is June to September when the Meltemi is blowing. In the off season south winds play a big role and they occur mainly from November to May. South wind carries lots of rain sometimes and may create nice wave conditions, but can be very tricky as well. In off season you can be very lucky or unlucky and in the winter sometimes you simply have to move from one spot to another to chase the wind.
WETSUITS
Winter time: 4mm wetsuit is perfect.
Summer time: board shorts / shorty wetsuit.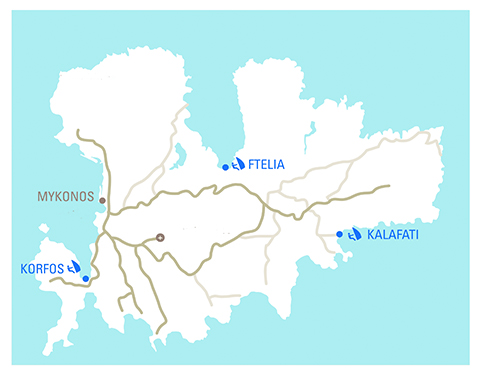 WINDSURF CENTRES
Pezi Huber Kalafati – opening hours: 20th May to 30th September, daily 10:00 – 19:00.
Hire kit: 100 boards & 140 rigs; 2019 kit: 25 Tabou boards and 60 Gaastra sails.
Lessons: beginner to freestyle.
Additional equipment: 12 x SUPs, 16 x kayaks (single + double), snorkeling equipment
Contact: Pezi Huber, www.pezi-huber.com
Kite centre with sail repair: www.kitemykonos.com
FOOD
The variety of food in Mykonos is great. You can find everything from international food to exquisite Mediterranean & traditional Greek food, and every budget catered for. Take care of tourist traps, especially in the 'Little Venice' area.
We liked the following spots:
'Bowl', in Ornos – nice style, delicious breakfast but also lunch and dinner in bowls!
'The Liberty Breakfast Room', Mykonos town – stylish and cozy restaurant for breakfast with sea views, quality organic food!
'Nikos Gallop Restaurant', Platys Gialos near Psarou beach in the south – traditional Greek food, super nice, with good value.
'Mpalothies', Greek tavern in Ornos – very good local and traditional dishes, huge portions, very much recommended!
'Souvlaki Story', Mykonos town – small restaurant with pita and souvlaki, and also some vegetarian options.
'Kalammmakia', Ano Mera – traditional Greek food.
ACCOMMODATION
Kalafati: www.pezi-huber.com
Ftelia: Villa Barbarossa (Booking.com, Airbnb); Hotel Ftelia Bay (www.fteliabay.gr).
Korfos/Ornos: plenty of apartments and small hotels (Booking.com, Airbnb).
"The variety of food in Mykonos is great."