Tweet
CLUB VENTOS

ICARAIZINHO, BRAZIL
Icaraizinho, in the north of Brazil, is a few miles from Jericoacoara, so it's perfect to combine in a single vacation to Brazil. Icaraizinho has similar wind conditions, but a more relaxed and slow paced fishing village vibe.
CONDITIONS AND WHEN TO GO:
From July until January, the wind is "ON". The strong trade winds blowing in this area of the planet are famous for their regularity and attract windsport addicts from all over the world. Icaraizinho is a curved bay offering several conditions: flat water on the inside, bump and jump on the outside and waves close to the reef.
Icaraizinho is one large curved bay with side-shore wind. Lots of space for every sailor. You can choose the conditions depend-ing on the area you sail. The reef on the upwind side makes for a super flat area on low tide and some waves over it as the tide rises. In the middle of the bay, the conditions gradually change from flat water to bump and jump as you sail out.
Club Ventos is in the best location for windsurfers in Icaraizinho, situated in a beautiful garden right on the water's edge, so you can always keep an eye on the action or relax on the sunbeds. The latest 100% carbon PRO rental boards from JP and Starboard, and the centre has Neil Pryde sails rigged on 90% carbon RDM masts. You can pre-book instruction courses and enjoy activities such as SUP, kayaking, surfing and kiteboarding.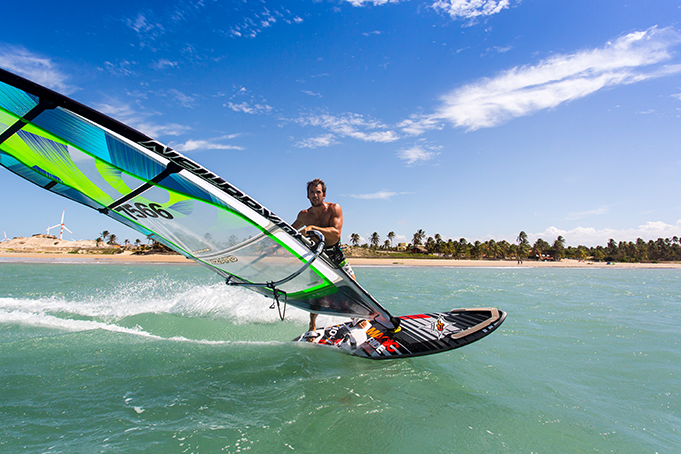 There's a wide range of accommodation from local pousadas to luxury hotels all within 15 minutes' walk. Contact Sportif at +44 (0)1273 844919 /  [email protected] for the best options and discounted rates on flights, hotels and equipment.
CONTACT
www.clubventos.com
[email protected]
+55 85 2180 9766
+55 88 9 8115 3565 (whatsapp)