Tweet
NEW SIMON BORNHOFT WINDWISE WINDSURFING CLINIC WITH SPORTIF
Simon Bornhoft is heading back to Sotavento Fuerteventura for a 3rd consecutive year with a 1 week Sportif windsurfing clinic from 28 September to 05 October 2016. Sportif tell us that "Staying in the centre of Costa Calma the group will have 5 days coaching at the very southern end of the world famous Sotavento lagoon – ideal for intermediate + level windsurfers.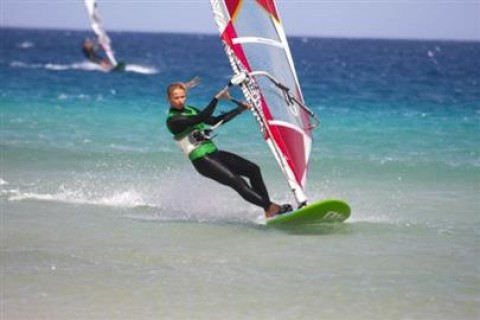 Simon Bornhoft is one of the world's leading coaches and has written the national windsurfing coaching system, contributed to hundreds of magazines around the world and was also part of the BBC commentary team for the Windsurfing at the LONDON 2012 Olympic Games.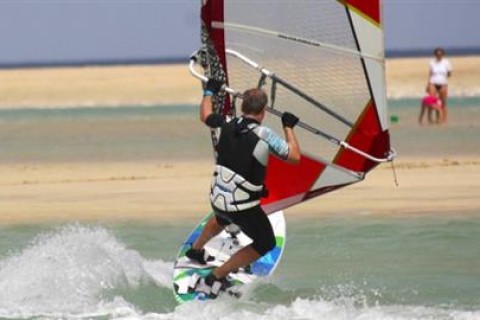 Course details
The course takes place on the famous Sotavento lagoon at the southern end with a mix of super flat water, lagoon and speed strip and well equipped centre on the spot. During the week you'll get tuition on early planing, slalom, stance range, quick short board tacks, higher winds control, fast tacks, gybing, duck gybing and more – such as 360s or feasible freestyle if you wish. "Plus we will have a whole bunch of fun expression sessions to move your sailing along. As ever using our core WINDWISE skills training to get the body to do what you mind is telling it. If we get the chance, we'll do some speed runs too!" says Simon.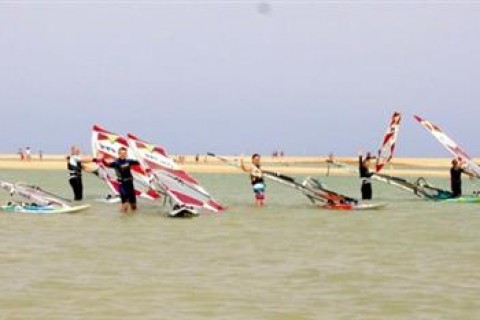 Here's Simon's review from his last clinic weeks.
"It's been a few years since our last Windwise session in Fuerteventura and we certainly got a warm, windy welcome back. It's a fabulous windsurfing location on the southern tip of the island. It's a huge windsurfing beach which is famous for hosting speed and world cup freestyle windsurfing events. We specifically use the new ION-Club centre which is based on the best part of the beach it is by far the best place to sail with a mix of super flat water, lagoon and speed strip. Sotavento is known for flat blue water, fast blasting summer trade winds, great Canarian food and local adventures, last year were had a fabulous trip and we're really looking forward to returning again. " Simon Bornhoft.
The week is ideal for intermediates to advanced level windsurfers to practice in a variety of different conditions and staying in the centre of Costa Calma ideal for beginner windsurfers or non-clinic participant welcome to just relax by the pool. To book contact Sportif Travel on 01273 844919 or see www.sportif.travel