Tweet
PRESS RELEASE:
Sportif Announce 2016 Mauritius Windsurfing Masterclass with Peter Hart.
Sportif have announced the next Peter Hart windsurfing Masterclass to Mauritius from 20 November to 01 December 2016. Enjoy 10 days of flat water to easy wave sailing with coaching from the master himself plus a social week, with group dinners and non-clinic friends and family welcome.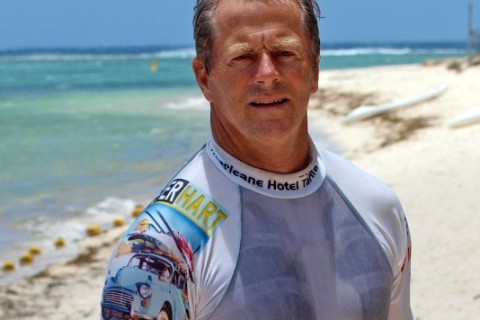 You can join Peter for a 10 day windsurfing holiday staying in the 4* Le Morne Hotel with coaching from Windsurf magazines' own Technique Editor. Voted as one of the top 3 most influential windsurfers of all time, this year Peter is conducting his Masterclass weeks at the end of November which includes everything from water starting to wave sailing at the all round spot of Le Morne
Speaking about his previous clinics, Peter says,
"Conditions were so good that the photos do NOT do it justice – and to have such amazing windsurfing conditions on the doorstep of a truly classy hotel, is just unheard of. Words fail me to describe its beauty both as a place and a windsurfing venue. Lying some 500 miles to the east of Madagascar in the Indian Ocean, Mauritius challenges Maui for windsurfing perfection. It's a beautiful island with a fascinating ethnic west/east mix. After just a week there in 2005, I had no hesitation adding it to the calendar," says Peter.
The minimum standard is planing in the footstraps and harness on a 120 ltr board so Intermediate sailor are welcome. The conditions will also work for windsurfing couples or friends who are at different levels. Non clinic friends and partners are also welcome, with group dinners in the evening and the group sailing from the beach directly in front of the hotel. If you are a beginner, or want to do some kitesurfing, surfing or SUP, Sportif can organise lessons or rental for you.
Price: 10 nights All Inclusive from £2,899pp or excluding flights from £2,099pp including 7 days Peter Hart Masterclass and 11 days windsurf rental. Spaces are limited and Sportif say the places are usually booked up within a few weeks of going on sale, with people already booking on.
To book call Sportif on 01273 844919 or see www.sportif.travel
<ENDS>