Tweet
The advent of foiling on the PWA tour has brought a new group of men and women racers to the fore, John Carter takes a look at the Olympic windsurfers upsetting the rankings and asks the PWA elite for their opinion of the new contenders.
Words  Kiran Badloe, Jordy Vonk, Sebastian Koerdel, Thomas Goyard, Marina Alabau, Blanca Alabau, Gonzalo Costa Hoevel, Julien Bontemps, Matteo Iachino & Ross Williams //  Photos  John Carter
---
KIRAN BADLOE
Japan was my first ever PWA event, we were training on RS:X in Japan so we were already in the area. The Olympic RS:X venue is actually very close to the PWA event, just a 45 minute drive away. I have been getting well into foiling in the last year. I really enjoy it, so it was a great opportunity to come and race with the best PWA sailors, show my face and see if I am competitive with these guys; I would love to win the foil world title!
Foiling is fun; the courses are different to what we normally do. It's a much shorter more exciting course and the level is definitely tough. All these PWA racers are very fast and know how to tune their gear. They are pushing the likes of myself and Thomas Goyard; we definitely have to use our very best racing skills. The Olympic fitness and knowledge of course racing helps, but the short courses are also new to us. We can't apply all of our tactics. We have some situations though which we might recognise a bit earlier because we do this type of racing more often than the PWA guys. I have been pumping a lot on the upwind legs, I don't think they like that! Everybody is friendly and I feel at home already. Myself and Thomas are definitely lighter and have the right physique for foiling. If it picks up a few knots I think that can change. The big slalom guys are probably going to show us how it is done. Overall it will be a pretty fair battle. Everybody has conditions that play to their strengths.
I was attracted to foiling because it looked like something new. It looked exciting and it was fast when every other windsurfing class was slow. Racing on the foil is definitely fun, but I am into the long distance destination side too with my foil setup. It's like you see something on the other side of a bay and you just can just take the foil in pretty much any conditions and go places. I am very attracted by that. At the moment the equipment side is quite critical. We are still in the early days of the developing phase so all the newest things that come out tend to be better than the existing gear. A foil from last year or older seems to be dated pretty quick. I think in a few years it will settle and there won't be so many changes. I am still hoping to make the Olympic team for the Netherlands. I was a training partner for the last Olympics with Dorian van Rijsselberghe. This year it is Dorian or me for the next Olympics in Japan. We are in the middle of our qualification process, so it's pretty tough going and very close. He has won the last two Olympics, so is a formidable teammate.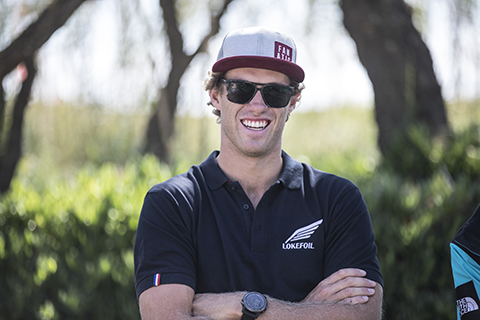 JORDY VONK
I guess it's a good thing having them here. It is pushing the level and pushing us to pump more. They are bringing us to another level as well. They are quite dominant in the light winds but we see PWA guys in there too. I don't think they put us in the second row that easily. I think we are still fighting and have a solid chance.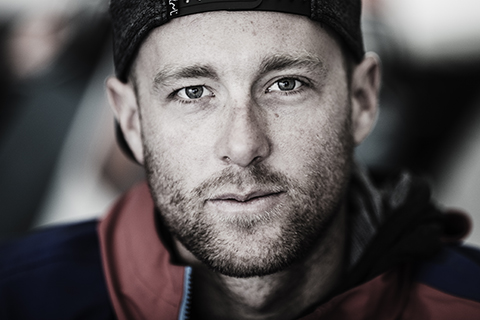 SEBASTIAN KOERDEL
I like the Olympic guys joining us because they are smart racers and I always enjoy racing against guys like this. You see they are very fast so they belong here. This is the PWA, we are the best in the world. So the best in the world should be here. It gives our races a new dimension. When they are here I just hope for lots of wind. That is all I pray for. So we are not doing the upwind races and pumping!
---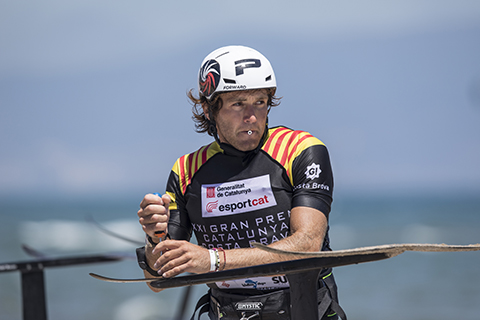 THOMAS GOYARD
I am an RS:X sailor trying to qualify for France for the Olympics. I have to battle with Pierre Le Coq and Louis Giard from France for the one place at the Japan Olympics. Foiling is the new exciting discipline and I love it. I stopped slalom racing and started foiling three years ago. I am from New Caledonia and have been mostly training over there. I am sponsored by Phantom sails and FMX racing, which is Finian Maynard's new brand. I like to do many different things, I think it is in my genes. I am also an engineer (I just got my degree last September), so the technical side of foiling appeals to me. As foiling is so new there is a lot of innovation and development. So far myself and Kiran have been stirring up the PWA rankings in light winds. We both have good cardio fitness and can pump a lot. It makes a big difference. We also both race well tactically as we are used to this type of racing. We were both unlucky in Japan and could easily have been first and second.
I think we will also be competitive in stronger winds, but we will have to wait and see for that. I have raced with tactics all my life so I am used to this style of racing. I know what to look out for at the starts, laylines, tacking and how the fleet is developing during a race. I think the foil is much more fun that the RS:X and that is why I want to do it. The sensations are amazing when you are up on the foil. I think there will be a lot more RS:X guys coming to the PWA foil racing. RS:X guys are super focussed though and some of them will just stick to the Olympics. Kiran and myself are much more open to try new things like foil racing. I hope the Olympics will change to foiling. Personally I would love it. Right now I think they are planning to keep the RS:X for the French Olympics but we are still fighting to change this.
"I hope the Olympics will change to foiling."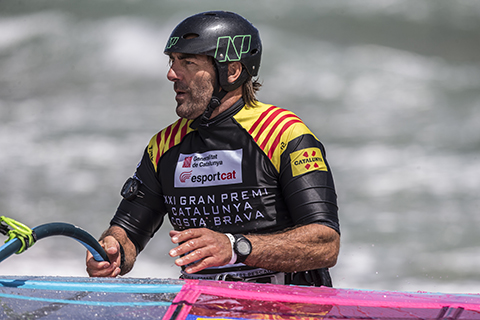 ANTOINE ALBEAU
They open our minds a little bit. They can push the limits in lighter winds. They are lighter than us and have given us some new ideas about tactics. They make us push the limit more. I think it is great to have them here. We see on the slalom downwind course they are a little less competitive.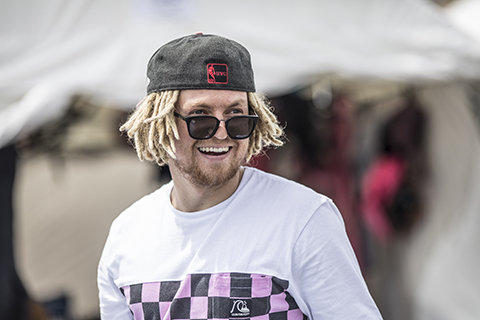 MACIEK RUTKOWSKI
They have an advantage in light winds with their body size. They are great sailors and we can learn a lot from them in terms of tactics, pumping and fitness. In the foil slalom courses we regained the initiative. Everybody has something to work on and we will meet again in
the middle.
---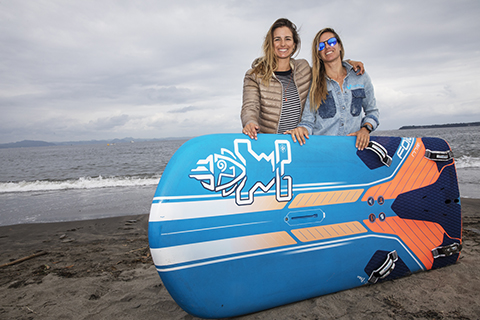 MARINA AND BLANCA ALABAU
Blanca  We both always thought the PWA run very cool and professional events. The best windsurfers in the world compete at the PWA. This year was the first year that they have introduced foil for women, so it was the perfect time for us to enter the PWA. We both started to foil two years ago. We both come from an RS:X background. My sister stopped RS:X four years ago and had stopped competing, so this was also a great chance for me to come and compete with my sister and travel together.
Marina  I did three Olympics with the RS:X and won the gold in London for Spain. By the end I was not really enjoying RS:X any more. Trying the foil and entering foil competition is an exciting opportunity for me. It is a whole new challenge with a different group of sailors. The level with the PWA girls is very high but we already expected that.
Blanca  We are pretty close to their level. In both events so far, Marina was fighting with Delphine Cousin Questel for first place while I was very close with Marion Mortefon for third. It is super exciting racing. So far they have beaten us!
Marina  I was surprised how good Delphine is with the course. For us it was more about the speed than the angle. The faster you go the less you need to think about the angle. Marion and Delphine are both very skilled sailors and great competitors. It is great to have someone better to push your level and make us train even more.
Blanca  There is still a lot of work to do. RS:X really helps because you know how the wind works especially when it is light and gusty. The tactics come into play especially for the upwind legs.
Marina  RS:X racing was very hard mentally and physically, so for me foiling is like holidays. I just go to the water to enjoy it and it is fun racing. I just focus on my technique and use my experience. In RS:X we have a different technique in every wind condition. That is a real challenge and the level of fitness is very high. The foil is less physical effort and something different and more fun. It is faster and less pumping so I really enjoy it. It makes it more exciting racing for me. I love foil racing. In 3 knots of wind we can make 15 knots of speed; this is amazing.
Blanca  Yes we are going really fast in virtually zero wind. With every wind strength we are flying. It is not like RS:X at all. We have been lucky with equipment. We are in the Starboard / Severne team. We live in Tarifa so Gonzalo Costa Hoevel has helped us a lot. He also lives there. He has helped us with our gear and he has developed all the new boards and sails. He has done a lot of the hard work and we just try the gear and choose what we like. He has been very helpful and having that support has been amazing.
Marina  We would like to be number one and two in the world!
Blanca  That is the goal! That is what our mother said when we left Tarifa. 'I hope you get first and second!' We still need to work on that for now!

"We would like to be number one and two in the world!"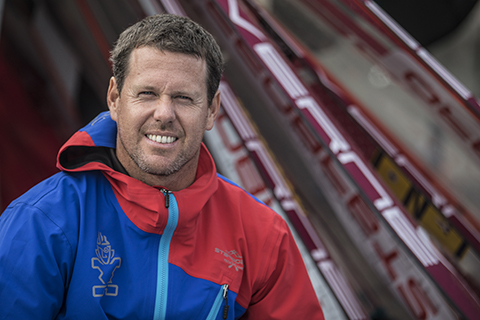 GONZALO COSTA HOEVEL
I think it is great we have this new group of sailors joining us. It shows how versatile foiling is. Now we have the Olympic guys joining us and they have sailed in all winds and all the different courses. It gathers a lot of riders with racing history that can come and challenge each other. It doesn't matter if you are 100 kg like Antoine or 70 kg like Thomas Goyard, you go in the water and anybody can win. That is pretty cool and it's open for everybody. On RS:X if you are over 70 kilos, you are already too heavy. In slalom if you are under 90 kg then you are probably too light. Foiling has a very big weight range so it is great.
---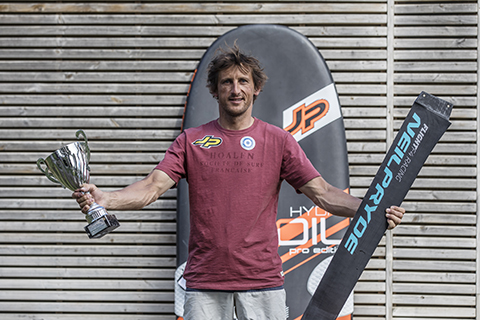 JULIEN BONTEMPS
I did the Olympics three times. All of us Olympic guys are attracted to foil racing. We hope that there will be foiling in the Olympics one day. With PWA and Olympic racers, we are all sharing the same sport and all the guys from RS:X love foiling. I think the PWA guys love foiling as well, so it's the perfect place to meet in the middle.
"All the guys from RS:X love foiling."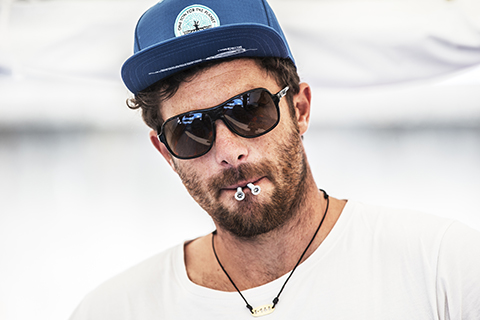 MATTEO IACHINO
It is really cool to have Dorian, Kiran and some of the Olympic guys coming to the PWA events. The windsurfing world is not so big and we should be together all the time. This is matching my idea and it's cool and fun for us to be racing together. This is the first time in the history of the sport we have done this. It is for sure good for the sport. They are better on the light wind side I would say. We are more on the high wind side and we all kind of meet in the middle. Having windsurfing unified under one roof is our goal. For the kids coming up, I think it would be best to have one association and one class. We should all be together from Techno to RS:X to slalom and foiling. This is the first time we have come together under the PWA and I feel it is a great moment in windsurfing!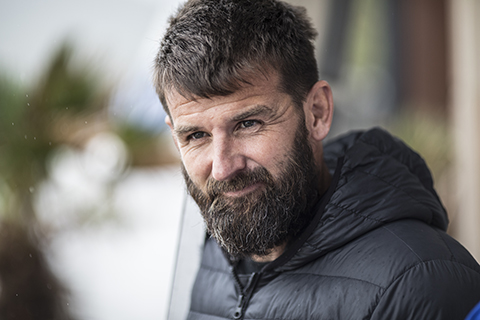 ROSS WILLIAMS
I think the PWA was getting a bit stale and set in their ways. These guys have come along and shaken it up a bit, which was needed. The PWA should be the highest echelon of professional windsurfing and to have those guys come along from the fitness side of things shows how diverse the foiling fleet can be. It enables guys that are 70 kg and guys that are 100 kg to compete against each other. It levels the playing field. In the light winds they have the advantage, but they are just more used to sailing in that. For sure they have had more practice. Guys like myself and Antoine need to go and find out what will give us the edge to fight back. A lot of territory is vastly unexplored. For me it just inspires me to go out there and spend more time getting myself dialled in so I can be more competitive.