Tweet
Mauritius, with its tropical climate, warm seas, flat water lagoons and epic waves, is a windsurfer's paradise, and every year travellers the world over flock to this tiny island in the Indian Ocean. And windsurfer's in particular head to the world famous spot of Le Morne. But, low and behold, you might be amazed to know that Le Morne is not the only fantastic windsurfing spot on the island.
Planet Windsurf Holidays give us to the low down on one of their other top spots at Bel Ombre – located just down the coast from the iconic Le Morne, and let us in on some of the reasons why this should be your next vacation destination:
A great spot to learn
Bel Ombre is the perfect spot to learn to windsurf or introduce your kids to the sport. A large, shallow flat-water lagoon stretches out from the centre to the reef, creating a safe space in which to hone your skills. The instructors here at Planet's partner centre are fantastic and the centre stocks a wide range of Goya equipment for all skill levels. The wind here blows side on-shore and a safety boat is also on hand so that no matter how far you go, you can rest assured that you'll get back to the beach safely!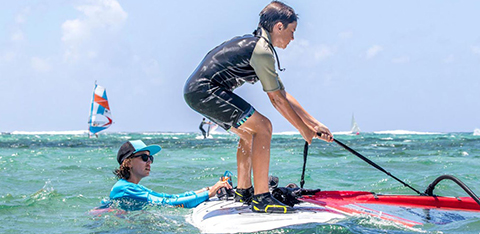 Great conditions that last longer
While the typical windy season in Mauritius lasts from June through to September, Bel Ombre is blessed with good winds that extend beyond this. In fact, some of the best months to visit Bel Ombre are between September and December, which makes travelling here for October half-term or a December holiday a definite possibility. For more advanced windsurfers, the reef creates some good wave breaks which are also less crowded than the more well-known waves at Le Morne.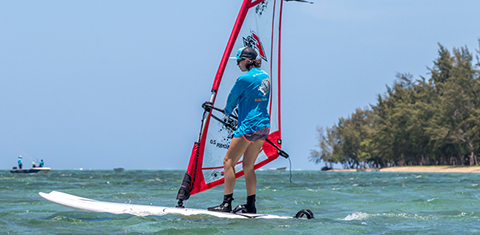 Fantastic luxury hotels
The windsurfing centre at Le Morne is located right at one of the best hotels on the island at Heritage Le Telfair. Set on a sprawling resort complex that is home to a golf course, twelve restaurants, a number of watersports and land-based activities, gyms and spas, you need not look any further for the perfect holiday, whether you're out on the water or not. That is, if you ever can bring yourself to leave your chic modern room with breathtaking views of the ocean, or the restaurants with their fresh sushi, juice bars and delicious local cuisine!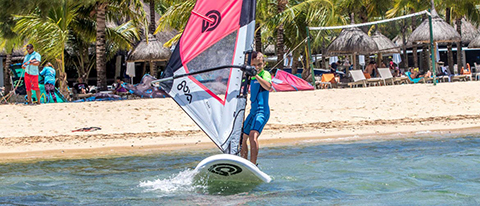 Perfect for families and partners
All of the above, plus free kids clubs for children aged from 0 to 12 make this the ideal destination to travel to with your family and partner. What's more is that this is one of the very few spots where the windsurfing centre is actually integrated into the hotel. Set at Heritage's C Beach Club you have a panoramic view of the windsurfing action from the restaurant, pool or lounger, making it the ideal place to hang out with your family or introduce the children to the world of windsurfing!
So what are you waiting for? Contact Planet Windsurf Holidays today and start planning your next windsurfing holiday to Mauritius!