Tweet
RRD X-WING 7.8 2020 TEST REVIEW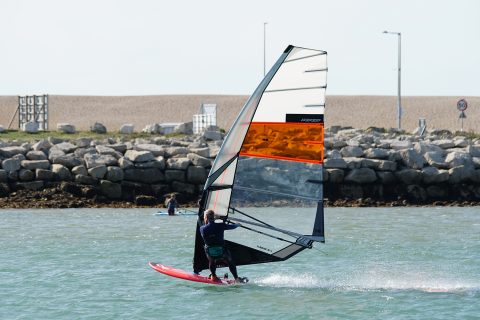 THE VERDICT
Aptly named, the X-Wing is as close to a solid wing structure as we have tried in a windsurfing sail. Wait until the wind pressure builds and then go exploit … but try not to grin too much as you fly past your friends. Just make sure your board and fin have the minerals to keep pace.
OVERVIEW
Classed as their 'Pure Race' contender, the 25th Anniversary of RRD marks the X-Wing's second year of production, defined by its no-compromise brief to be the "ultimate slalom sail" and "win races at every level". With four cams and a massive luff sleeve, the X-Wing is undoubtedly the most performance focussed sail in this test group, yet remains relatively easy to rig and set, with a handy guide next to the boom cutout to determine the amount of downhaul tension required, before locating the cams in place. From there, it is no more arduous applying the extra tension required on the X-Wing than on any other sail here, forcing a moderate to low amount of luff curve into the leading edge, whilst using the brand's integrated trim system marker (located low down in the panel between battens three and four) to determine the set. As such, there is plenty of looseness along the length of the concave-outlined leech, with monofilm used extensively in all but the x-ply foot and clew panels.
Rigged for test on a Dynamic Pro Comp mast (with improved bend characteristics for 2020) the X-Wing is effectively all about its leading edge, with a lightweight body and refined twist pattern for maximum performance. The depth of the sail's profile is significant and focussed lowdown yet relatively far back in the draft compared to others in the group. And with a total of three inset clew eyelets available, there's plenty of fine-tuning to play with, adjusting to rider weight, preference and the conditions.
BRAND CLAIM
Low end drive, mixed with an incredible top end speed and control makes the X-Wing a dream around the race course and on GPS speed tracks.
PERFORMANCE
Despite possessing relatively little luff curve, the X-Wing's wide luff sleeve, high skin tension, significant twist and forced profile leaves little chance of confusing its calling. Taken out in marginal winds, there is little movement or breathability that can be utilised whilst pumping; it's a rigid foil, waiting for pressure to build and the real business to begin. Nevertheless, use the higher clew eyelet and the X-Wing feels large and positive in the hands as a favourable gust hits, accelerating in an instant and settling into an upright stance. It feels incredibly slippery and purposeful, maximising all the wind's energy and delivering it efficiently to the board. In transition, the X-Wing reaffirms its desire and preference for fully powered conditions. So stiff and solid is the structure induced by the cams, that if speed or pressure is reduced upon exit, the cams struggle to fully rotate. And only a significant amount of intervention from the rider really helped to resolve the situation. And yet, we don't feel there is any reason to look for fault or question the X-Wing's rotation! The reason is that we've experienced its performance when properly powered … and it's worth every bit the struggle in light or moderate conditions. The sail's designer, John Skye explained to us the X-wing is for very powered up conditions, where rotation is less of an issue, and that if easy rotation in more marginal conditions is desired, you can remove the cam spacers for improved rotation.
In powered to overpowered wind strengths, the relevance of the X-Wing's hard line structure takes centre stage. It is incredibly balanced, without a hint of creep or decay, the centre of effort focussed low and back around the rider, its handling becoming lighter and lighter with every increase in speed. It becomes a real authority in high wind blasting and a match for any in this group, demanding the same of both board and fin. Blisteringly fast on all points of sail, it was particularly electric off the wind and had a seemingly limitless top end, continuing to accelerate without demanding any real dominance or technical expertise from the rider. And with straight-line potency of this nature, you can forgive any delay in the rotation, the X-Wing never hiding its size, nor behaving inappropriately.
VITAL STATS:
Size: 7.8
Luff: 481 cm
Boom: 220 cm
Battens: 7
Cams: 4
Ideal mast: RRD 460 cm SDM
Available sizes: 5.2, 5.6, 6.2, 7.0, 7.8, 8.6, 9.2.
PRICE: £989.00
---
Other sails in this test:
THE LINE UP
---
---