Tweet
STARBOARD KODE FLAX BALSA 85L 2020 TEST REVIEW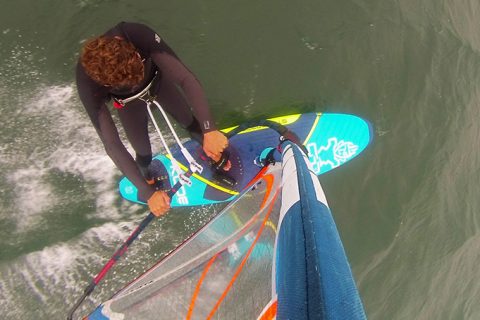 THE VERDICT
A crossover powerhouse first and foremost, the Starboard Kode certainly didn't embarrass itself in this wave-focussed test. Exhibiting the true capabilities of a modern design, it was a stand out option when the conditions weren't firing.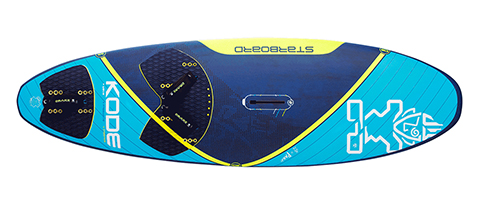 THE LOWDOWN
Described by Starboard as their "onshore wave board that excels at freeride, freewave and freestyle," the Kode is their crossover freewave range with real pedigree and heritage from years past. "So why is it included in a dedicated wave board test?" I hear you ask. Well, good question. Read the blurb of this all-new four board lineup though, and you begin to understand why – the 85 is the smallest of the range and as such has definite leanings towards wave sailing, particularly onshore conditions. Its design is one of the widest here, with a squashed diamond nose and tail and decidedly flat deck in front of the deckpads, before becoming more domed in the tail. The board's rocker combines a faster flat section running through the centre line like a spine, and more curvature in the rails for improved turning. In doing so, there's plenty of vee running throughout, which is said to cushion the ride when the conditions become severe. Being the crossover/freewave contender, there are not surprisingly a considerable number of tuning options available on the Kode, with inboard and outboard footstrap plugs and even a single fin option supplied as standard, in addition to the G10 thruster set (the side fins sitting in the brand's unique and practical Starbox). To speed up the discipline-changeover process, colour coded tuning guides are provided on both the mast track and fin boxes, mitigating any guesswork when transitioning from freeride to freewave and into the waves. Produced in the brand's environmentally conscious Flax Balsa construction, the responsible production hallmarks don't end there, with natural rubber Yulex straps supplied and various other green initiatives clearly embedded into the brand's mantra. At a retail price of £1775.00 and supplied with two fin setups and four straps, incorporating the excellent K9 anti-twist plates, the Kode's value for money is attention grabbling … but how does it stack up against its wave-dedicated rivals?
BRAND CLAIM
"The brief for the new Kodes was to deliver the best onshore wave board yet excel in freeride, freewave and freestyle as the Kode legacy demands."
PERFORMANCE
Being a freewave platform, it came as no surprise that the Kode was one of the standout boards in this group in small waves and below-par slop. It feels larger than many and can carry a large sail and weight well, getting going early and feeling easy and plug-and-play underfoot. It points upwind well and cuts a smooth path through choppy seas, the hull shape and footstrap/deckpad comfort combining to make life uncomplicated. It makes the rider feel as if you can go anywhere unhindered, its soft release and measured response inspiring the rider to venture into unpredictable conditions. Tacking the Kode is also easy, the wide shoulders and flat deck around the nose and mast track providing a large landing pad as you skip round. With its fun, playful nature in poor conditions, we were prepared to be let down in the waves … yet the Kode held its side of the bargain admirably when the conditions turned on. It was certainly no embarrassment on the wave, possessing a smooth and flowing nature rather than being sharp or aggressive. Push hard through the front foot to initiate, it keeps its speed through the turn well, whilst the wide nose is redirected easily off any broken water. In stronger winds and larger more critical waves it does begin to feel its size, requiring a forceful style to keep it engaged and driving through the corners, yet it remains predictable and well-mannered at all times. If you're looking for a one-board solution to blast around in coastal conditions, throw yourself into some aerial antics (even some freestyle stunts), and mix it up at your local break, the Kode should be high on the consideration list.
www.star-board-windsurfing.com
VITAL STATS
Volume (Quoted): 85L
Length: 224 cm
Width: 59.5 cm
1ft off: 40.5 cm
Bottom shape: Vee with double concave from nose to tail, finishing in vee in tail. The vee is most pronounced throughout.
Weight ('Naked'): 6.39 kg
Fins: Drake FreeWave 28 G10 (US) / Stone 18 G10 (US) / 2 x Natural Wave 11 G10 (Starbox)
Sail Range (Quoted): 4.0-6.0 m
Sizes Available: 85, 95, 105,115.
---
Other boards in this test:
THE LINE UP
---
---