Tweet
TABOU DA CURVE 88 2021 TEST REVIEW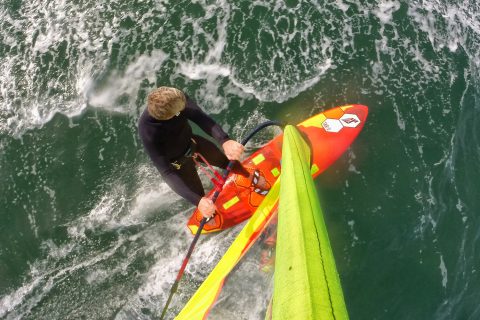 VERDICT: A traditional wave board with a twist. The Da Curve's aesthetics lead you to think of this board as a big wave charger made for full power turns and rail to rail transitions, and whilst this is where this board is at its best, the tweaks in rocker and tail design mean it doesn't need to be super steep to have fun.

THE LOWDOWN: Tabou say the Da Curve has been updated with, "Straighter rocker on the 96 and 88 to add planing for heavier riders and light wind use. More curve in the rocker of 82 and 76 to perfectly fit lighter riders and those aiming for tight turns. A narrow nose and pinched tail enable incredible turns. Medium wave riding width allows quick rail to rail riding and multi curvature deck adds grip on the rail thanks to more curvature near the rail. Lower apex rails make initiating carves easier and add grip during turns".
The Da Curve 88 has three fin boxes and comes supplied with the Tabou Zinger 18 cm centre fin, as well as two new Carver 11 cm side fins. There are also 6 holes on the front strap inserts to allow maximum tuning between what Tabou describes as 'Classic' and 'New School Stances'.
BRAND CLAIM: "The Da Curve will make your wave riding more radical, even when the conditions are less than ideal. We took an already outstandingly performing range of boards and worked on each size independently to make sure you get the perfect platform for the conditions you're riding in."
PERFORMANCE: The Da Curve is one of the longer and narrower boards in this test group. The rounded outline definitely making it look like a more traditional wave board shape from the surface. When first jumping on the board though it takes little encouragement to plane and gets up to good speed, its gunny shape still feeling well planted through the chop, blasting out with ease through even more confused water states. The narrow tail makes you feel like you can get your back foot fully wrapped around the deck of the board and gives you a really connected sensation.
In the turn and on the wave is where this board's best attributes come alive. You can easily transition from rail to rail and are pulled well onto the front foot while riding. The board carries enough speed to continue to drive in softer waves, but excels when more powered and you can fully commit the rail into the turn. It carries great speed through turns and the narrow tail shape allows for squeezing a tighter radius quite easily.
Whilst this board still offers plenty of performance in a full range of conditions, sailors that are looking for something that gives them the ability to do full power turns and flowing wave rides will be most satisfied, as this is where the Da Curve is at its best.
VITAL STATS:
Volume (Quoted): 88 litres.
Length: 227 cm
Width: 57.5 cm
1ft off (Tail Width): 37.8 cm
Bottom Shape: Rounded vee in the nose, to vee with double concave, the concaves becoming more pronounced in the mid-section and tail, finishing with a channel in the tail.
Weight ('Naked'): 6.5 kg
Fins: Tabou Zinger 18 cm (slot) + 2 x Tabou Carver 11 cm (slot).
Sail Range (Quoted): 4.2 – 6.1
Sizes Available: 76, 82, 88, 96.
PRICE: £2099.00
---
THE LINEUP
---