Tweet
The quest for the legendary Tiree sword attracted 86 like-minded windsurfers to this remote Scottish island for the 32nd Tiree Wave Classic. 50-70 knot winds greeted those that arrived early, whilst also playing havoc with the ferry timetable for those due to arrive on the opening day. With extra ferries organized and everyone in place, a second storm loomed and duly delivered with competition taking place from dawn until dusk at the Maze. Our senior highlands reporter, wee Willie-John McCarter, put on his best wellies, kilt and tartan and flew to the Hebrides to snap some bonnie shots and find out what the various locals and Sassenachs present thought of 2018's event.
WORDS & PHOTOS – JOHN CARTER
---
MARC PARE – 1st PRO MEN
I am twenty years old and I live just outside Barcelona. I started windsurfing when I was five and my dream is to win a world championship title one day. I came to Tiree because I thought it was cool to visit somewhere new and different. Last year we sailed every day in different types of conditions and I had an amazing time. I like hanging out with all the windsurfers of different levels and from different places. I was so close to winning the sword it made me want to come back. The single was a shocker for me. I did not sail well. I was really upset and I just went and sat in the van. In the double I was pumped up. It was rewarding to come back through all those heats against the top British guys. I was looking the whole day for wave 360's and I was happy with a few of my turns when I hit the wave at 12 o'clock on my big board! 
I was using a prototype board which is basically a beefed up version of the 92 litre Flywave production board. I am pretty happy with it as it keeps so much speed in the wave and is a safe board to ride. On a 5.3 it was perfect and I had it set as a thruster. I am going to be playing around now with fins for that board and see what kind of conditions it will work in. I think I will come back next year; I like it because it is so chilled and I want to win that sword again. This is the sort of place I would like to have a house. I don't like crowded places, but right now I don't have the money to buy anything, but maybe one day!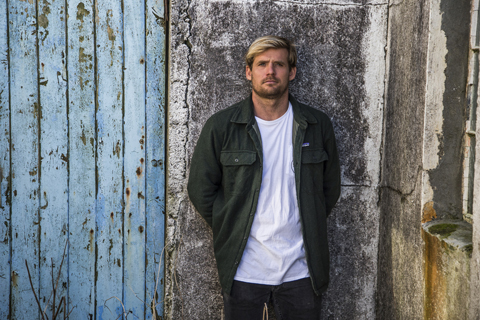 ADAM LEWIS – 2nd PRO MEN
This shot is from the single elimination final. I was on a 4.0 and an 82 litre Fanatic Stubby. I love that board, especially in those conditions, you can really come up under the lip and it just connects so well to the wave and you can get stuck into the section. You can see that I have walloped that lip. There was power out there in the wave but you had to connect with sections to find it. I had K4 Ezzy prototype front fins and Ezzy Scorcher rear fins as my setup. I am kind of in a similar position to a surfing turn. I am connecting with the lip but staying with my weight over my front foot to make sure I am going to come back into the wave. You kind of drop the hammer with your back foot but then load all your weight over to the front foot to keep the rail engaged which will give you the drive to stay connected to the wave. It was a wicked day. I loved that single elimination final as it was side-shore and howling with proper waves. It was rippable conditions and a real day to showcase windsurfing.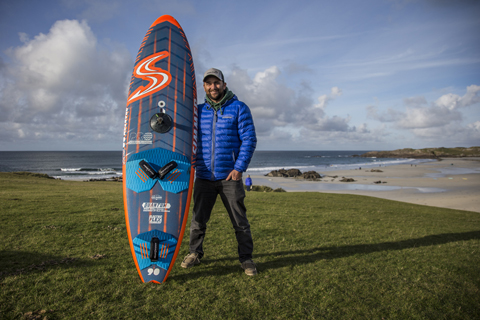 BEN PROFFITT – 3rd PRO MEN.
We were up in the dark and home in the dark on the competition day! It was a long old session at the Maze and with the limited access there, you have never got all your gear down at the beach where you need it. I rigged up every single sail and I think I used them all. I felt really in tune with the waves on my production board. I felt I could get under the lip with some nice good cracks. In every heat I felt good at the end because of the way that board was letting me hit the lip. It was the 80 litre production Quantum quad. I've had some injuries to my foot over the last few years and I had to play it safe with my jumping. That cost me against Lewis and Pare who were going big. The heats were only eight minutes, which are the shortest I have done in a long time. An extra two minutes would have given us an extra run to maybe try something big. I lost to Pare in the double. I thought I had him, but with only twenty seconds to go I looked up and saw him bash a 360 right on the buzzer. That wave put him ahead of me. It would have been nice to beat him. He is half my age, I am 40 and he is 20! It was not meant to be. The conditions played into the hands of Adam and Marc when it swung cross-onshore. I genuinely like Tiree and it was a great vibe this year with such a big fleet. We sailed four different beaches, I kind of like that. When we go to the Canary Islands we just sail Pozo or Cabezo. In Tiree you never know what you are going to get, that is why I like it. I was in a house with Adam, Marc and Sarah Hilder, so we had a really good time; men's top three and women's winner, maybe it was something in our porridge!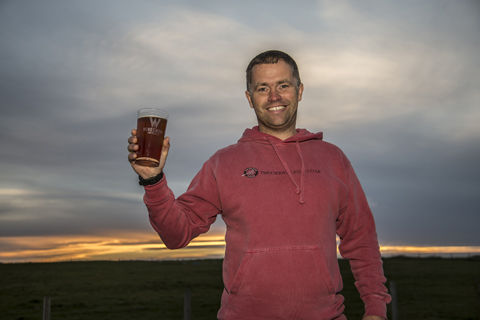 WILLIAM MACLEAN – ORGANISER
Back in the old days the competitions were a lot more relaxed and with a lot more of a social side going on. There were some really big characters in the fleets back in the 90s. Windsurfing is really a pro sport nowadays and even in the amateur ranks the guys take the sport very seriously and the performance level is so high. It is great to see the progression of the sport, it has come a long way. About twenty years ago the great Jamie Knox once told me, 'One day young man you will stand up on that podium and you will say great things'! I never expected to be doing it as the event organizer, but I feel very privileged to do that announcing the winners. This year we had 86 competitors which is an amazing step in the right direction; my target figure is to get over 100 in the next few years. There are so many spinoff benefits socially and economically for Tiree. The action was breathtaking, I was blown away by the standard. The level was right up there with a top PWA competition. You could have chosen any one of the top ten and they could have come out on top. The way the guys wanted it struck me. They were absolutely broken at the end of the double when they found out they were not progressing. I have never seen that level of intensity with competitors here before. Ross was the hardest one for me, I could just see the look in his face, he couldn't speak. He was so gutted. He wanted a bit of private space and time and just walked away. They all wanted it so bad. It is the sword and the legacy! Ben has won it six times but he is still just as hungry. Even Ben when he lost his heat couldn't hide his emotions. He is normally quite a happy guy, but he was so disappointed.
CORKY KIRKHAM
I have been coming to Tiree since 1995. I opened my bar in Fuerteventura in 1993 and it was shortly after that I headed to Tiree. I stared coming with Tristan Boxford, Danny Seales and Chris Calthrop and all those guys. Tiree has not changed at all, you are never going to get a motorway running through this place. It is exactly how it was all those years ago which is why I come. After a summer in Fuerteventura this is my favourite place. Just to get away from the sun and sand, see old friends and new faces and score guaranteed conditions, the contest for me is just an added extra. Cold rain and storms is what I need after the summer in Fuerteventura. I do 8 months of solid sun at home. Tiree always delivers, I was there 8 days and sailed loads of conditions – 3.8m, 4.2m, 4.6m and 5.2m. It was freezing and gnarly. I think Adam Lewis rips in the waves and Marc Pare goes massive in the jumps. All the boys were ripping. The level has gone through the roof since the old days without a doubt.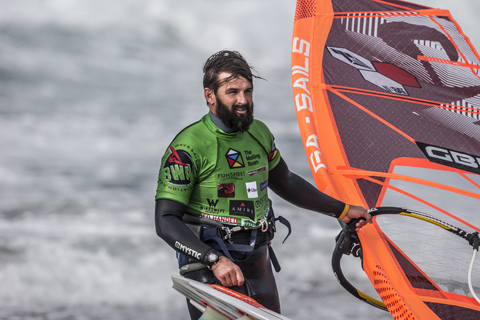 ROSS WILLIAMS – 5th PRO MEN
The pilgrimage to Tiree is always a major commitment, but once you are there it's the perfect time and place to reflect on the year and escape away from the normal grind. Tiree is something you have to fully commit to and then just ride it out. The island is an amazing spot to windsurf for any level of sailor and it can also be challenging for the very best. I went back to Tiree this year and dragged my wife along and we stayed on Willy's camp site in our converted camper van for just over a week. It turned out to be a nice chilled time, although we endured all kinds of weather that Tiree threw at us. I am still hoping my wife will forgive me for putting her through this for the second time!
As for the mega day of competition, we arrived to the Maze in the pitch black! We were starting at first light and I was in one of the first rounds as I wasn't seeded at all. Luckily the 'Wild Diamond' crew were on it and were a great help getting all the competitors and the gear down and onto the beach in time for their heats. It was cold, dark, raining and howling windy with sets over logo high, a perfect Scottish concoction. 
On the water the wind was nuking, perhaps up to 40 knots! I hadn't used a 3.7m wave sail since 2012 when I was competing full time on the wave tour. So it was a bit of a shock to the system to get my head back around going big and landing jumps after racing and foiling all year. After the first heats, the magic started to come back to me and I felt more in control and confident to bear off and flat stick it towards the ramps, even though my performance wasn't the best in the final. I was pretty happy with my sailing due to the lack of time I had put in. All the pros were sailing to a very high level, I was especially impressed by Adam Lewis with his hacks and huge jumps and Marc Pare with those consistent 360's! I hope to see these boys continue to push their way up the PWA rankings in the coming years.
Elsewhere in the other fleets I was pleased to see the level being pushed higher too. I hope to see many younger sailors coming up in the next few years especially through the future pros programme. All in all it was a great event, awesome to hang out and connect back with the UK windsurfing community. Thanks again to Willy and his 'Wild Diamond' crew, and to Nigel and Geoff for the work, time and efforts they give to the UK wave tour.
SARAH HILDER – 1st WOMEN
The stormy conditions in Tiree this year tempted me to change my ferry booking and go early to catch some wind and waves. After a 12 hour drive from Cornwall and a 4 hour ferry, we arrived for a beautiful sunny down-the-line session at the Maze; I was told it was the first day in two weeks with no rain! The following days saw the arrival of Storm Callum, it was something else in terms of how windy it was, I struggled holding onto a 3.0m sail!
The competition had one really good day of wind at the Maze. We rigged in the dark in torrential rain, but as the light came in, the rain started to cease and the conditions looked brilliant. Cross to cross-on wind with good set waves coming in, building throughout the day and very windy! All fleets competed all day, with the girls battling it out throughout the varying conditions until the final between Sara Kellet and I in the golden light of the evening. By the final the wind was quite onshore and had dropped, so we were both trying to get higher scoring forwards and pick the best set waves to ride. I clinched the win earning the prestigious Tiree sword (surely the best trophy ever!) and a pint of Windswept beer, which after a long day on the beach went down a treat!