Tweet
TOKYO 2020 – DAY 4 – A STUNNING DAY ON THE WATER
Emma Wilson and Tom Squires had an awesome day on the water at the Tokyo Olympics with Emma moving into first place and Tom climbing the rankings into 5th overall:
Richard Asplan Reports: 
Photos by Sailing Energy/ World Sailing.
---
Sometimes there are good days out on the water, and then sometimes there are great days. With a string of race wins, overall fleet leaders and a host of top fives, today was a great day for the Team GB sailors.
Anyone up early to watch the action live would not have been disappointed!
Emma Wilson started the day with a convincing win in the RS:X to continue her brilliant push for a medal in her first Olympic Games. Yep – her first Olympics. At 22 years old. And she is taking everything in her stride.
Emma followed it up with another race win but then blotted her copy book by starting a little bit too early in the final race and got disqualified. Even then though, Emma just shrugged it off with a 'I don't know, I'm happy though.'
With Emma siting top of the women's fleet it was over to male counterpart Tom. Again at his first Games, Tom is doing well and even notched up a race win of his own. Two more solid results and he is sitting in the top five of the RS:X fleet.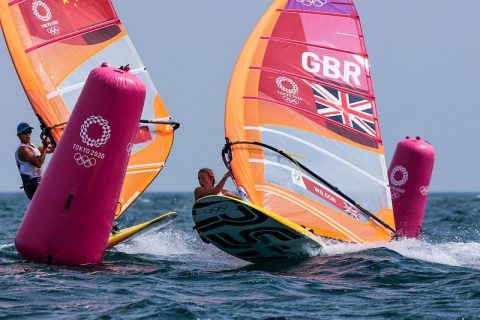 RS:X Women
Emma Wilson, 22, from Christchurch, Dorset, said:
"It was really good today, I had two really good races but I was just a bit over the line in the last one. I don't know, I'm happy.
"I'm just trying to focus on my thing and go around inflatable masts fast and that's all I can do. just keep smiling.
"I was going quickly. I wasn't really expecting to go that fast but I know me and the Danish girl have been training really hard in Weymouth with the group of boys at home and we have been fast there so it was a bit like Weymouth out here today.
"What did I do on my day off? Sleep. Eat. I watched a lot of the Olympics actually. Watching the British swimming and winning the gold medal. I mean I'm just a massive sports fan so it's pretty cool. I think the Olympics just inspires anyone to do what they are doing, so I'm just going to keep trying to push hard and enjoy it.
"I like every condition but today was really, really nice. Perfect windsurfing conditions."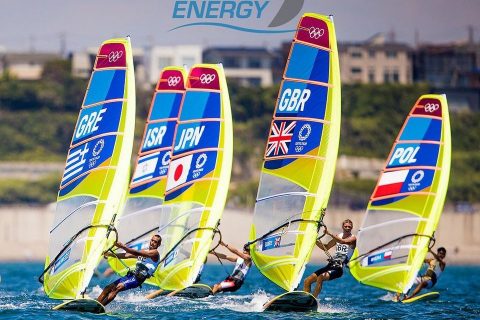 RS:X Men
Tom Squires, 27, from Kingston Bagpuize, Oxfordshire, said:
"It was good to have some breeze on the racecourse. When I launched, I had to launch really early and get my settings set. I had no time to prepare before this regatta in venue because we had no breeze so to get out there early was super important for me.
"Just a basic day and tried to be as simple as possible. The risk for me is always the start but luckily for me I found some space, and as soon as I find some space on the racecourse I can let rip.
"You get a bit nervous leaving the boat, approaching the start, the five-minute gun goes and then people come past you whooping and it settles the nerves actually because everyone is just having a good time. Even people that struggle in that breeze know its proper windsurfing and love it.
"I go into the next few days with exactly the same mindset. My coach stresses me out with a 'let's go get three firsts' but it doesn't really resonate with me. I'm more of a 'don't make an idiot of myself' and I did that today so I feel good. That's how I need to continue this regatta, every time I start thinking about the outcome I know it's going to mess with me so I don't.