Tweet
Emma Wilson is guaranteed a medal at the Tokyo Olympics with just the medal race to decide if it will be bronze, silver or hopefully gold! (no pressure Emma!!) Meanwhile Tom Squires has an outside chance at getting bronze but will need results to fall his way and is currently sitting in 6th overall.
The final double points race begins at 6.33am on Saturday morning and Emma enters the race with a 24 point lead over 4th position. She now fights for gold sitting just 4 points from the top. The final double points race will feature the top ten sailors for both men and women with the medals all to play for.
Photo: Sailing Energy / World Sailing
---
The British Sailing Team say:
"Well, it gives us great pleasure to say we have a guaranteed medal at Tokyo 2020!
That is a line we hope to copy and paste over the next few days, but one step at a time for now.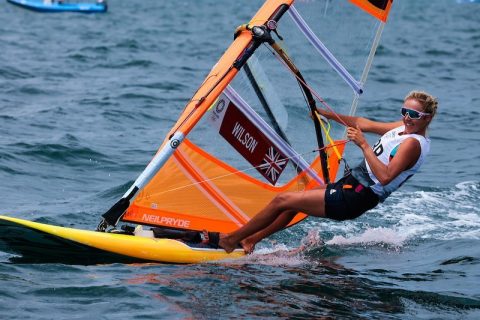 Our young windsurfer Emma Wilson has impressed day after day in her Olympic debut and she will cap it all off with a medal. Which colour yet we don't know, but she will definitely bring one home.
Emma finished yesterday with a disqualification for going over the start line early. Beijing 2008 medallist Bryony Shaw told Jason Mohammad on BBC One last night that she was worried this may change Emma's tactics and make her a bit cagey. She needn't have worried.
Emma rose to the occasion, taking a race win, a fifth and sixth to go into Saturday's double points medal race in second overall, 24 points ahead of fourth with a maximum of 20 on offer in the finale. That's enough to guarantee her a medal, but the colour is still to be decided.
Now, it's a three-way fight with China's Yunxiu Lu and France's Charline Picon to determine the order of the women's RS:X podium. It's a tough ask – Lu is top with a four-point advantage and Picon is trying to defend her gold from Rio 2016.
Those wanting to watch the finale will have to set an alarm – it begins on 6.33am on Saturday – but it will be totally worth it.
Tom Squires finished his fleet racing today and is sitting in sixth overall after a string of 2-6-10 results. He will go into the medal race with an outside chance of getting a bronze medal, but will need results to go his way. "