Tweet
Windsurfing gains fresh perspective when we challenge ourselves in foreign waters. For play, practice or adventure, the experiences of windsurfing travel richens our senses and if your feet are yearning for winds afar then check out our travel guide. We have travel tips with Klaas Voget, micro guides to some of the world's best windsurfing centres and top 5 picks from Planet Windsurf Holidays and Sportif Travel. Dive in for some vacation inspiration!
TRAVELING MAN
Words  Klaas Voget  //  Photos  John Carter & Femke Geestmann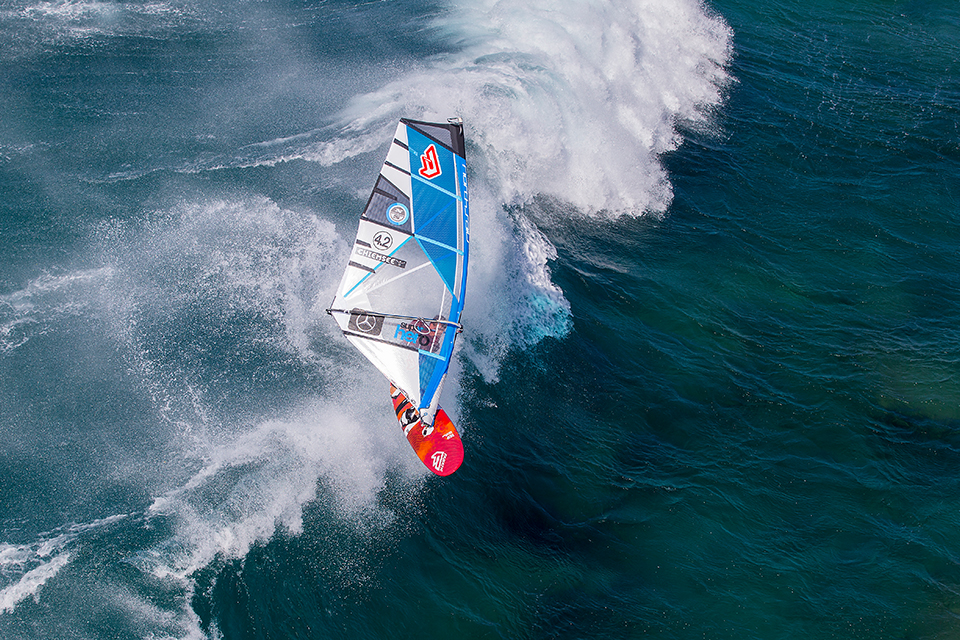 Seasoned traveller Klaas Voget gives us the benefit of his experience with airlines, excess baggage and why he loves to explore the globe. 
Travelling is one of the main things in my life. As a professional windsurfer, I'm privileged to be able to travel pretty much wherever I want, so I'm extremely grateful and never wish to waste the opportunity. Our planet is beautiful and diverse, so if you get the chance to see more of it than just the place you're from, then that's something extremely valuable I feel. I think the places I've visited and the people I've met are a big part of who I am. Last but not least the cold of winter in Northern Germany makes it very inviting to book plane tickets to somewhere warm!
TAKING FLIGHT
Usually if you know your dates early, that's really helpful to get good rates on your flight. My schedule changes quite a bit and I often end up booking flights less than a month in advance, which is not ideal. I use the usual booking platforms to compare rates. It's important to check the operating airlines of your ticket, as the operating airline of your first flight is usually handling the charges of your excess baggage. So even if you have the booking with let's say American Airlines, you might be dealing with BA for example and they have restrictions for the maximum size of your bags. So make sure you book an airline you know will carry your gear for a reasonable rate. Next step is calling the airline to reserve your windsurf equipment. Some planes have a maximum amount of oversized baggage, so if you've reserved yours, you're not going to have a bad surprise when you try to check in your equipment. The standard max weight of bags allowed is 30-32 kgs. Try to stay below that and if it's heavier, I always have a 2nd (or 3rd) light quiver bag with me at the airport, so in case they weigh and tell me to unpack something, I still have a bag there to put the extra kgs in. Usually they'll charge me for that extra bag, but that's still better than flying without masts, sails or extensions. When it comes to dealing with the check-in, my strategy is simple – I look at the check-in lines and choose a middle-aged lady. It's not a science who to choose, but usually the really young ones call their boss for help when they see your bags and he or she will usually go 100% by the rule book. The older ones know the rules and might also know that your bag is probably over 30 kgs. The middle aged are in the job too long to call the manager and if you're lucky they believe you when you say, "It should be just under 30 kgs I think." The middle-aged lady might also like the fact I'm going on an adventure with my huge surf bags, but maybe that's just my wishful thinking! I feel I get along with them quite good most times! Whatever happens, my strategy is to ALWAYS stay friendly. Usually we're the ones getting the best of their baggage rules. Sometimes I'm lucky and they charge me for one set of windsurfing equipment for three bags, other times they charge me for 2-3 sets, but actually they should always charge like that – so be thankful when you get a deal!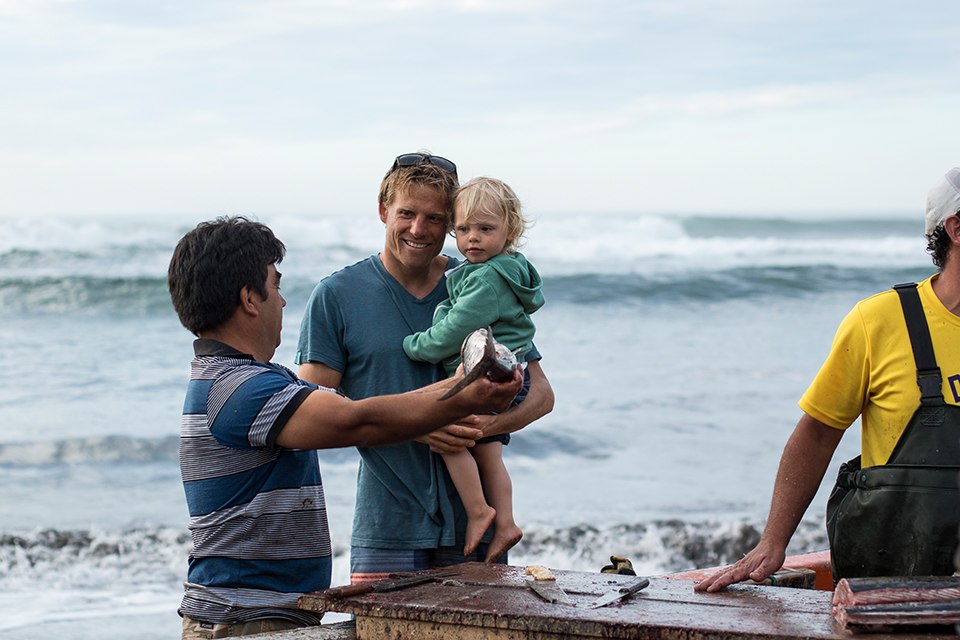 FAMILY TIME
Since having kids, it's a whole new level! Check-in with countless pieces of kid's gear – car seats, strollers, etc. etc., makes 2-3 windsurf bags almost seem like hand luggage. Same here, choose the right person and make sure your baby is not sleeping, then the check-in can go through like a dream! "Oohh soo cute!!! How many bags? Oohh look at him!!! 12 pieces total? He's sooo cute!!! Here are your boarding passes, have a great flight! You can drop your bags at counter 40." I wish my family could join me for every check-in!
For a good family trip it's important to choose the right location and a short distance from your accommodation to a kid-friendly beach. If you can get to the beach or back to the house/apartment easily, you'll have more time to hit the water when the conditions are on! Of course it's great if you can take them to the beach you're sailing at as well, but most times these beaches have sand flying around and aren't very good for the rest of the family!
FINAL WORD
Some essentials I always bring (next to windsurfing gear and normal baggage) are roof rack straps, Solarez UV activated resin for repairs and some disinfectant for treating cuts.
I've had so many epic trips it's hard to highlight just a single one of them, but one of my most memorable trips was with Thomas Traversa, Andy Wolff and Gilles Calvet to some remote islands off the coast of Madagascar with untouched nature and people. We slept in tents on these islands for two weeks and all we had there to live from was coconuts, rice and two spear guns to catch our lunch and dinner out in the reef channel every day!
TOP 5 WINDSURF SPOTS

JANE FAUGHNAN
SPORTIF WINDSURF HOLIDAYS WORLDWIDE
www.sportif.travel | 01273 844 919
1 SOTAVENTO, FUERTEVENTURA
Sotavento remains one of the most popular windsurf destinations with year round sailing. Home to the PWA World Slalom and Freestyle Grand Slam each summer, Sotavento on the Canary Island of Fuerteventura is just a short flight away. The 4km long tidal lagoon provides shallow, sheltered training areas with sandy beaches, turquoise, flat water and swell offshore. The best wind is the summer months with F4 bft 90% + days June to August and good wind the rest of the year. There are 2 centres at the north and south of the lagoon (JP, Fanatic) and a third spot in Costa Calma 15 minutes north, ideal for beginners and children. Choose from a huge range of equipment – over 450 boards and 1000 rigs on the lagoon, with kitesurfing, stand up paddle boarding, scuba diving and kids' clubs. 1 week 4* Hotel on the spot including flights from £699pp.
2  LE MORNE, MAURITIUS
Probably the widest range of conditions in one place! With a majestic rocky backdrop, Le Morne lagoon and offshore reefs provide the ultimate tropical venue. The best wind is from April to December with flat water to chop heading out to easy-medium to expert only waves. The best holiday weather is from September to December with average of 65-70% days F4 bft. The centre is set in the grounds of a 4* All inclusive resort offering adults only or family accommodation with kids' clubs, dine around and spa. This location is ideal for improving your technique with Sportif clinics by Jem Hall (Sept 2018) and Peter Hart Masterclass (Nov 18). Other sports available include kitesurfing, surfing, SUP, scuba diving, golf and tennis. 1 week 4* Hotel on the spot all inclusive including flights from £1,349pp.
3 TOBAGO, CARIBBEAN
Tobago in the southern Caribbean offers a great value holiday, with pristine rainforests, swaying palm trees and idyllic beaches. The best time is from December to April/May when the normal weather is breezy cross shore trade winds from the right. Conditions are ideal for slalom, freestyle and improving your technique. The less strong summer conditions are ideal for beginners and children through to August. Sportif have Pro coaching weeks with Peter Hart (Jan 2018) and Jem Hall (Feb 2018). The Centre is located in Pidgeon Point National Heritage Park, a flat, blue water lagoon protected by the offshore reef. From here you can also kitesurf, catamaran sail, SUP, scuba dive, kayak or take an excursion. 1 week from £899pp including flights.
4 ESSAOUIRA, MOROCCO
The combination of Essaouira's walled Medina, souk markets, shops,restaurants and relaxed, French influenced culture make it a great choice, with many sports and activities. Situated on a 4km sandy bay, enjoy varied conditions year round with windsurfing, kitesurfing, surfing, SUP plus new foiling on offer. It's good for slalom, freestyle and wave novices with more sheltered conditions in the north of the bay. Expert wave sailors head to Moulay 20 minutes north with Sportif Wave Clinics with Jem Hall (July 2018). When off the water you can explore the endless beaches horse riding or on a camel or dune buggy tour or the many cobbled streets, shops and market stalls in the Medina. There is a great choice from budget and boutique riads to luxury spa hotels with superb range of restaurants – ideal for a short break. 1 week starts at £499 including flights.
5 JERICOACOARA, BRAZIL
Jericoacoara 'Jeri' is the No.1 windsurfing venue in Brazil, a mecca for world champion windsurfers and intermediate + windsurfers. From August through to January expect F4 bft+ wind for 95% days +. With 3 spots, huge sailing area, flat water and waves. Explore the best spots on 4×4 buggies, stopping in Icaraizinho, before heading onto Jeri with its sunset dune parties. Conditions vary during the season from intermediate slalom to advanced wave and freestyle with January offering less intense conditions. Full service centres have the latest JP and Starboard kit, SUP, kitesurfing and excursions. Peter Hart and Jem Hall both bring clinics each November and January. Sportif offer a wide range of accommodation with 4WD transfers. 1 week starts at £1,299pp + discounted rental and instruction with up to 50% OFF 2nd person when sharing equipment.
Sportif Travel offer ATOL Protected flight, hotel, transfers & multi-sport discounted packages to 60+ worldwide destinations with over 30 years' experience. Call for the latest information and tailor made itinerary.
www.sportif.travel  Tel +44 (0)1273 844919 Email [email protected]
---

1 CABEDELO BEACH, WEST PORTUGAL
With a brand new sports hotel and perfect windsurfing conditions, Cabedelo Beach is our new favourite spot. Large breakwaters protect the entrance to the port of Viana do Castelo, providing flat water inside a horseshoe-shaped bay, while good waves can be found further down. With side shore reliable winds in the summer months between May and September, this really is a windsurfer's paradise no matter your skill level. Just a few hours from the UK, West Portugal offers an authentic, affordable alternative to the busy beaches of the Algarve and with amazing luxury accommodation, owned and run by ex-professional windsurfers you can't go wrong. Beautiful landscapes, rich historical sites, amazing cuisine and a range of other activities make West Portugal the perfect holiday destination. One week package price per person including flights from £675.
2 LE MORNE, MAURITIUS
Le Morne will always remain one of the world's very best windsurfing spots and with a stunning luxury hotel right next to the spot, it is the perfect destination for families and couples alike. Whether you are looking to learn to windsurf on the flat-water lagoon or are an advanced down the line wave rider, Le Morne offers it all. The wind blows from east or southeast (side shore from the left) and reaches a strength of 3-5 beaufort during summer in the southern hemisphere and about 4-6 beaufort during winter. In winter (April to October), the trade wind shows its best side and the hotels offer great special offers during this time, allowing for an amazing luxury getaway at affordable prices. All inclusive luxury hotel stay including flights from £1645 per person.
3 LANGEBAAN, SOUTH AFRICA
Between November and March, South Africa is the place to be for windsurfing. Offering stunning scenery, sunny days, world-class food, amazing natural and cultural sites, luxury accommodation and all at great value for money prices, you can't get better than a holiday to South Africa. Planet's favourite spot is Langebaan Lagoon – with its bright blue waters, a large waist deep section, and some small wave sections, it is the ideal place for learning to windsurf or improving your skills. A great windsurf centre and a number of fantastic hotels make this the perfect place for a relaxed windsurfing holiday. One week holiday from £1299 per person including flights.
4 DAKHLA, MOROCCO
Dakhla is the ideal all year round windsurfing destination. The main lagoon is the perfect place for learning to windsurf or improving your skills. The lagoon is enormous so you can launch either directly in front of your chosen accommodation or hitch a ride on the rescue boat to one of the many other spots around the lagoon. The choices are endless but all offering super flat water conditions with very clean and consistent wind. For the more advanced windsurfers a visit to one of the wave spots offers 2-4 metre peeling waves with side to side offshore wind, making for awesome wave sailing conditions! There really is something for all levels in Dakhla and Planet offer same day connecting flights to Dakhla, making this amazing location very accessible. Price guide for a week's stay per person with flights – £850.
5  GOSTOSO, BRAZIL
For the more adventurous traveller, Gostoso in Brazil is a real hidden gem just waiting to be discovered. You can windsurf right in front of your hotel on uncrowded waters. The very best wind season is between September and March with winds between 17 and 30 knots. This is one of the most wind reliable locations on the planet during this period. The wind direction is side to side off shore and there are a variety of conditions from shallow flat water through to small clean waves. Planet Windsurf work with two different windsurf locations, depending on your accommodation choice and windsurf level. One week package price from £1349 per person including flights.
For more on Planet Windsurf Holiday's hand picked and personally visited destinations, see their innovative website (www.planetwindsurfholidys.com) for an immediate on-line quotation, or get in touch for expert impartial advice on +44 (0)1273 921001 or [email protected]
---
MICRO GUIDES
AFRICA:
Flag Beach – Corralejo, Fuerteventura, Canary Islands
René Egli – Sotavento, Fuerteventura, Canary Islands
ASIA:
EUROPE:
Club Vass – Vassiliki, Lefkas, Greece
Europa Holidays – Lake Garda, Italy
FeelViana – Viana Do Castelo, Portugal
Gone Surfing Crete – Kouremenos Beach, Crete, Greece
Ion Club – Golf of Roses, Spain
Windsurf Village/MB-Pro Center – Porto Pollo, Sardinia, Italy
Ocean Elements – Vassiliki, Lefkas, Greece
Procenter Rhodos – Ialysos, Greece
Shaka Surf Center – Lake Garda, Italy
Sigri Surf – Sigri, Lesvos, Greece
Surf Club Keros – Keros Beach, Limnos, Greece
AMERICA:
The Reef – Vieux Fort, St. Lucia
Club Ventos – Jericoacoara, Brazil
Jeri250 – Jericoacoara, Brazil
OCEANIA: