Tweet
WAIST NOT = WANT A LOT.
FOR THE MAJORITY OF WINDSURFERS AND STYLES OF SAILING, A WAIST HARNESS IS ALMOST MANDATORY.
Ask any coaching 'Guru' or pro and they'll almost certainly say waisties encourage a positive, upright stance that helps progression at almost any level, from learning to plane in the straps, to the latest wave and freestyle moves.
IN CONTROL
If you're standing tall when sailing (inboard and over the centre line) especially if you're using longer harness lines, then you're primed and ready to pounce. From this position it's much easier to dominate the board and rig and keep good balance to unhook, pop, enter a gybe or launch into a massive jump with control. Shorter lines and the over-the-water, 'bum-out' angles that seat harnesses involve (fine in speed, slalom and long-distance or longer reach scenarios), mean a delay to come inboard and unhook – time lost that's often the difference between a successful move or epic fail.
NO RIDING-UP
Similarly to choosing wetsuits, it's important to visit your local dealer and try a range of models to see which shapes and constructions fit you best. Harness developers tend to concentrate on support and flex – logical considering you're dealing with extreme forces in the lower back region. On the market there are mostly stiff, fully-moulded models and traditional foam and fabric styles, all with various fastening systems and shaping to prevent riding-up on a range of body types. Many brands now offer 'hybrids' too for those who also kite, while some kite harnesses work perfectly well for windsurfers too, just bear in mind the different hook styles on offer – kite-specific hooks are harder to unhook from windsurfing lines. Most coaches and retailers worth their salt will recommend a hook height of just below your belly button, so make sure you try them on properly and hang off some lines in store to see if your chosen style rides up or not when in action. Ladies, or those with a more 'hourglass' figure might consider a higher-hooked freeride seat harness, especially if the dedicated female waist models don't quite cut the mustard.
Here's a range of the latest to consider as you shop!
DAKINE
T-6 Dakine has been designing windsurf harnesses for the 30 past years, and is the inventor of the thermoform concept comfort, of which the T-6 is the sixth development. Sliding bar for the best freedom of movement, dual power belt for the best fit, pre-curved P.E.B inner support structure and Featherweight ES foam molded interior for the best support and comfort.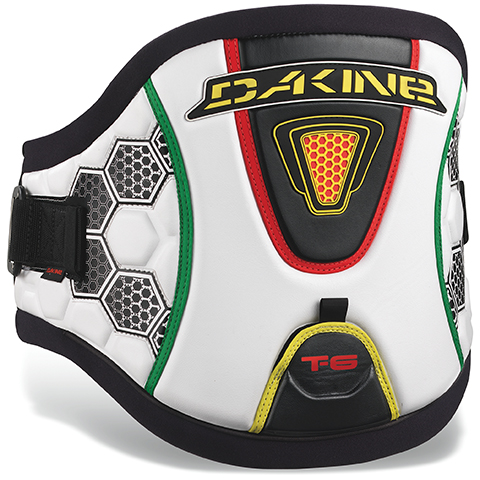 RRP: £140 // www.dakine.com/windsurf
FLYING OBJECTS
Cross Fire A classic proven design using lightweight durable materials offering a medium flex characteristic, high hook height and mid-back profile. This provides the rider freedom of movement, a softer feel, while maintaining lower back support and minimising point-loading. Features like an Internal Neo Belt, Thermoformed Lumbar Support, Neo Soft Edge and Quick Release Hook make the Cross Fire great value.

RRP: £109 // www.flyingobjects.com
ION
IRule (Winner of the RED DOT DESIGN award: (http://en.red-dot.org)
Fully moulded harness construction with perfect fit due to the new Contour Shape 2.0. Low weight is guaranteed by the use of lightweight foam inside and out. New
Anti-ride-up profile on the inside section prevents the harness from slipping.

RRP: £119.95 // www.ion-products.com
MYSTIC
Majestic Multi-Use Harness The all-new flagship harness from Mystic for 2013, with the luxury of memory foam combined with Mystic's famous backplate to give you the ultimate in support and comfort. Add in the new pre-curved shape, even softer super-soft edges and a very classy look in 3 colours (Blue, Red and Grey) It's hard to find a reason not to buy right? Timo Mullen and Robby Swift can't be wrong!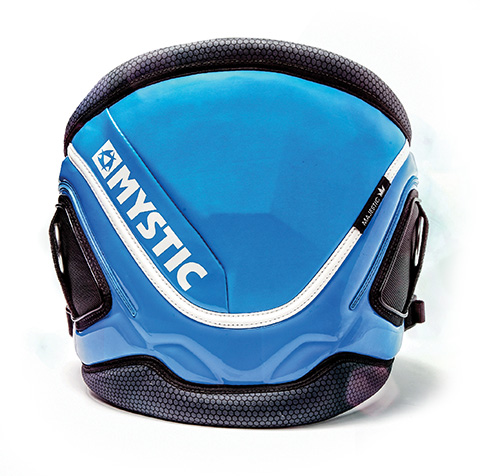 RRP: £167.95 // www.mysticboarding.com
NAISH
Mission The Mission 3D features a lightweight low-profile body with a new 3D polypropylene plate. Maximum 3D shaping combined with the dual tension belt, conforms to the rider's body for maximum comfort. Designed for riders looking for a lower cut and excellent back support. Features include; neoprene buckle covers, Dual tension belt, Contoured side shape, Load-spreading patches, Click-in spreader bar and Deluxe bar pad with stabilizer.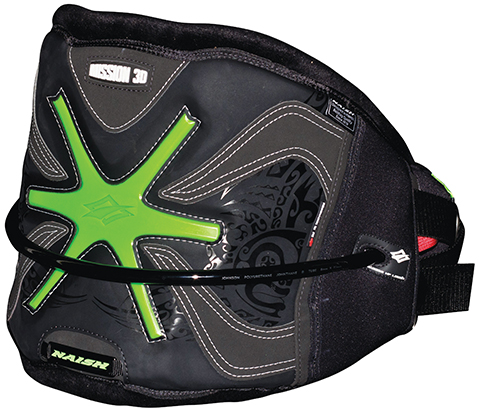 RRP: £165 // www.naishsails.com
NPSURF
3D Waist Pro The new 3D offers maximum support and comfort with its unique compact construction that matches the shape of your lower back while the soft neoprene edges make it the most comfortable harness on the market. The new sliding bar option allows your body to twist while keeping the harness in place. It also has replaceable webbing straps.
RRP STANDARD SLIDING BAR: £169.00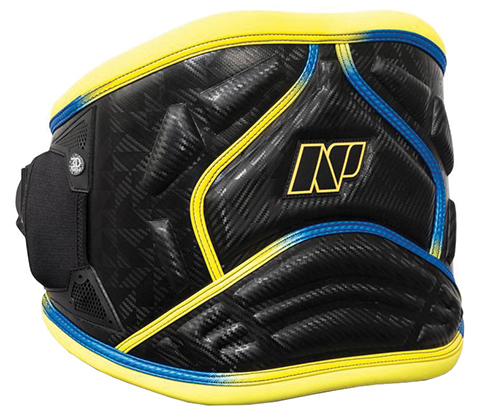 EZ RELEASE BAR: £159.00 // www.npsurf.com
PAT LOVE
Vibe Thermoformed high-end windsurf waist harness with deep lateral neoprene padding and marine-grade metal buckles. On the inside you'll find thermoformed, super soft and anatomic padding. The low back anatomic shape is particularly compact and allows extreme movement and freedom. Also features an elastic power belt and a new innovative and patented SPQR spreader bar system with bar pad. Available in black, grey and white.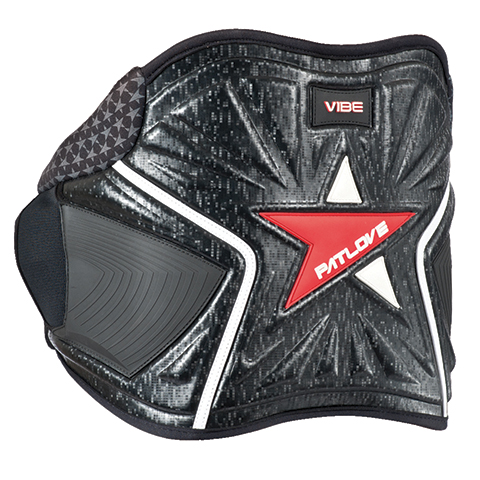 RRP £139 // www.pat-love.com
PROLIMIT
Hybrid – The Hybrid harness is light and strong. The new laminated PU material and internal Nylon waist belt absorb no water, making this the lightest harness out there while still giving you the great back support. Features include; pre-curved and 3D shaped, low absorption internal waist belt, high load optimized outline profile, full Laminated PU construction and it's own patented pin release bar system.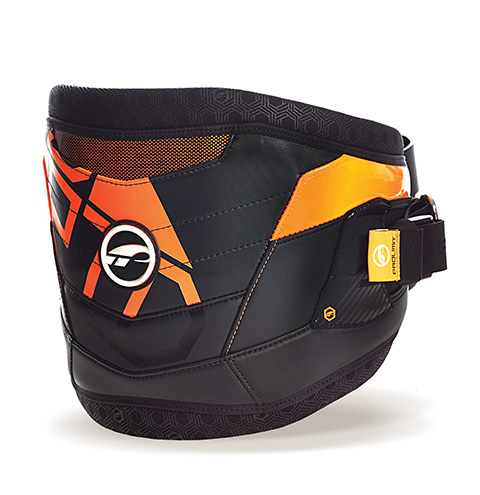 RRP: £95 // www.prolimit.com
RRD
Skin The new SKIN harness is the lightest, thinnest and most advanced harness in our collection. It also has the smallest outline, specifically made for maximum freedom of movement but still keeping great, comfortable back support. It comes complete with the new padded spreader bar and harness knife for safety.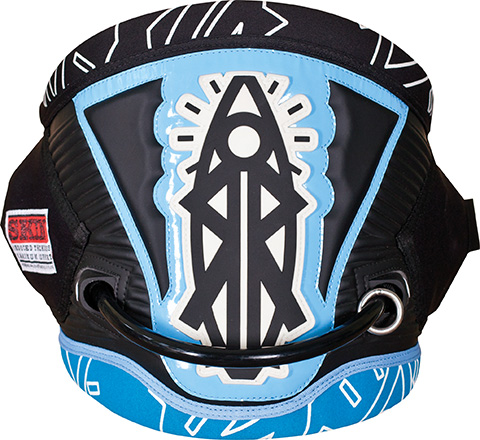 RRP £139 // www.robertoriccidesigns.com