Tweet
#FACT: WINDSUP IS COOL
We're taking a stand. Yes, there's a lot of haters out there, but the truth is, it's hard to ignore the benefits – and fun – that windsurfing in light wind on a Standup Paddle Board offers.
In this Buyers' Guide we aim to walk you through the range of options available on the open market and channel you into a shortlist of items that might double, or even triple your amount of time on the water. Throw in a smattering of insight from our technique gurus Peter Hart and Jem Hall – plus former World Champion and wavesailing legend Scott McKercher – and the arguments start to stack up against the anti crowd.
So, what are the benefits of sailing a bigger board (that can, obviously, double-up as a regular SUP board), how can it transform your technique for stronger winds – and why should you be targeting one of these big bundles of joy as your next maximising time-on-water purchase?
JUST WHAT IS IT YOU WANT TO DO?
It's time to ask yourself a few questions. There's plethora of hard and inflatable construction options out there for a wide-ranging scale of use.  Windsurfing and paddling the thing is a given, but what types of sailing and paddling is it that you want to do?
• Teach the kids and family friends?
• Go cruising?
• Ride Waves?
• All of the above?
Bar perhaps some of the pointier-nosed, displacement designs, you can more of less do everything in the list above on most boards. But there are some that lean more towards the wave and cruising ends of the spectrum than others.
Read on for sections on all of those and see what tickles your fancy.
---
THINGS TO CONSIDER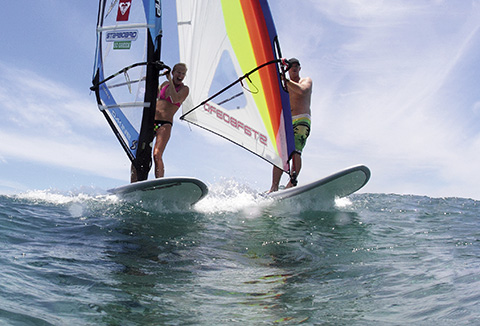 Matching Boards and Sails
Some WindSUPs are sold in packages including a rig. With others, perhaps for those already into high-wind sailing, you just need the board and can use your smaller, wave sails for example, instead. Bar inflatables, it's worth bearing in mind the implications of a 10-kg., five-inch-thick railed monster boshing against your 400-quid mast and favourite carbon boom. Yes, you can use bigger sails, but the small-sail-big-board combo is generally better and, in more powerful surf conditions, you'll want a shorter mast to present less length to a growling, hungry lip anyway.
Straps
And what about footstraps? No, you won't be busting out big aerials, but what about planing? Well, many WindSUPs are quite high rockered (curvier and therefore slower, underneath) and so planing might not be your priority, or even possible in quite light winds. (Say 8-10 knots when you're probably looking at the water and thinking it's a bit lumpy and wobbly for 'straight' paddling and the wind's starting to become an issue even carrying the thing down the beach – yes, separate journeys old skool style!). Some of these boards will plane though, and there are a couple with strap options, but, again, don't set your heart on that huge air off a closeout section.
Versus Big Wave Boards
The bigger, weightier boards however do have their advantages. Often the extra bulk can help in catching waves, but more importantly, it helps when punching out over the whitewater, especially if there's an element of onshore wind in the mix.
(The Exocets and Konas have straps and are best at planing and barging out like this, whereas a large, or extra-large wave board, say over 100L, is probably a little lighter and will have less momentum over the foam.) Wave-oriented SUPs with a mast track are primarily designed for surfing use, but, with a bit of research into track placement, most manufacturers are selling even their higher performance models with a mast foot option to widen the scope of use and generally get the placement more or less bang on.
Back to the straps for a second: There's a few schools of thought on this and riding SUP boards with a sail in surf. Some people like to feel the length and rocker of the board and be mobile and agile around the board to get the most out of both their turns and straight-line sailing. Others enjoy the strapped-in feeling – such as that on the Konas – and can eek more drive out of the board when bottom and top turning and cope with oncoming whitewater better in straps. Both have benefits but, speaking as both a Kona and regular SUP owner that regularly sails both big wave boards and both those styles of SUP, the agile, 'ooching' foot placement in getting planing and catching waves on the strapless boards definitely helps with technique on dedicated windsurfing boards.
Grip
What about deck non-slip? Well, obviously you can't just go and SUP your big wave board, well you can, but it might involve tearing into your wetsuit and/or skin quite quickly, so generally it's better to sail the SUP board with an EVA deck or non-slip paint, or even wax, than the other way around.
---
CRUISING AND LEARNING
---
JP AUSTRALIA ExplorAir Inflatable Windsurf Board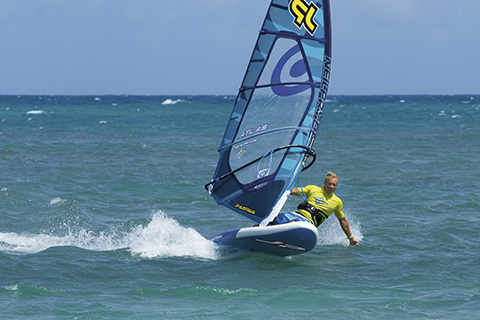 This inflatable version of the Explorer offers the same basic concept like its hard board sibling but has great advantages. It can be rolled up and fits into the backpack it comes with which means that you won't need a roof rack for transport and no big garage for storage. It is also considerably lighter than any hardboard of this size.The high tech drop stitch technology makes the board so stiff that you will easily get it planing but the surface itself is soft enough so that beginners won't hurt themselves when falling on it. Instead of a daggerboard it comes with an additional center fin which gives the board some directional stability to help avoid drifting and helps to go upwind. Being longer than the normal Explorers also helps with going upwind due to its longer waterline. Our team riders could not believe how much fun this board is. It can also be used as a beginner SUP board and is therefore an ideal family toy.
| | | | | |
| --- | --- | --- | --- | --- |
|  VOLUME | LENGTH | WIDTH | WEIGHT | FINS |
|  280 Ltrs | 295 cm | 80.0 cm | 9.4 kg | 2 x 24.5 (9.0") |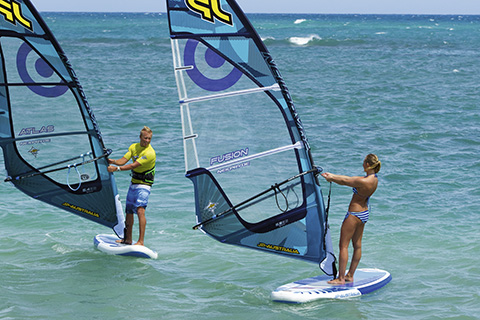 ---
STARBOARD WindSUP 12'2" x 30" Freeride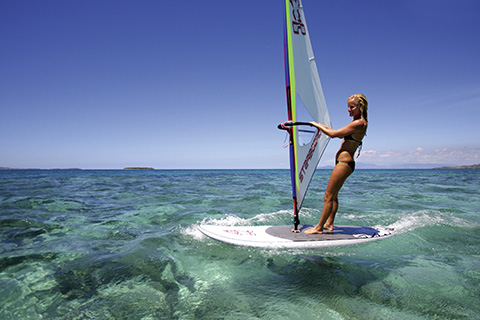 The ultimate board in our range for cruising, whether that be paddle boarding on a flat day or windsurfing in a light breeze. The WindSUP Freeride comes in two versions: (1) The Planing version: This has a center fin that does not retract. This helps the board to be lighter, more discreet, more efficient at getting planing and more suitable for mixed paddleboard use and windsurfing. (2) The Daggerboard version: This has a retractable daggerboard that is more recommended for those who plan to mostly windsurf. The daggerboard makes for easier handling on the beach. The WindSUP 12'2" x 30" Freeride board is also part of the Waterman package. This includes one WindSUP Classic Sail 5.5m and one Starboard Enduro Tiki Tech Adjustable Paddle. Creating the perfect combination to get you SUPing & Windsurfing and sharing your experiences on the water, no mater what the conditions. This board focuses on friends and family fun during the summer season, when the wind is generally lighter and the waves are smaller. It is not a high-performance board in the conventional sense. Instead, it seeks to open up new ways to enjoy windsurfing and expand the boundaries of the sport and the WindSUP range. The WindSUP 12'2" x 30" Freeride is a great addition to any windsurfer's quiver or the perfect choice for a sporting family wanting to enjoy the water.

---
THE SWISS ARMY KNIFE OF WINDSURFING KIT
By Peter Hart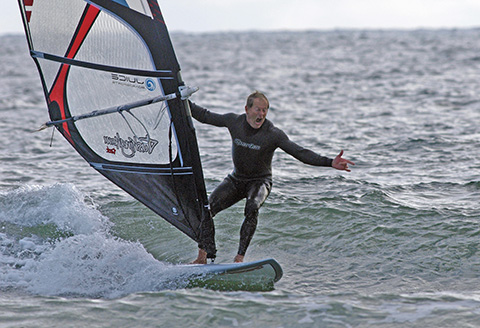 The record is truly stuck, but I shall let it run for a few more revolutions and say that THE MODERN TECHNIQUE PLATEAU RESULTS FROM A LACK OF BASIC LIGHT WIND SKILLS. I've just run two clinics in Greece. One in Rhodes and one in Vass. In both places, light, morning wind gave way to strong afternoon thermals. The afternoons were the most fun, but everyone learned more in the mornings. 
In strong winds you learn to be alert and dynamic. But it's only off the plane that you can you drill the essential skills of balance, rig steering and power control. Of course you don't need a WindSUP to mess around in light winds – any old tub will do – or will it? 
Be Mobile
One of the reasons windsurfing was so popular in the 80s was because, with a baggy sail and a long board, given a force 2-3 you got a real 'whoosh.' The long board holds the water and glides. That length also forces people to be more mobile. They become more aware of the fore/aft trim and how foot pressure and getting the nose up or down effects the speed of tacks and gybes. In light winds you have to make big, bold movements to make things happen.
If you had to single out the commonest mistake of the habitual blaster, it's that they're too static.
My tool of choice is a 10' 6" X 30" wide all-rounder. I don't want a daggerboard. (I don't need a toe-crushing nob.) Besides, it's good form to learn to use the edge for resistance. I also like the surfboard rocker, which helps the board pivot and also makes it a mean machine in waves. That same all-rounder, in a light wind and a waist-high swell is the best wave-sailing tutor around. 
The main issue learning to ride waves on small kit in a lot of wind is that people catch the wave too late.
They have no time to make any informed decisions and usually end up riding the white water back to the beach. That's the glory of a long board with a 5.2 in 8 knots of breeze – everything happens in slow motion. You have time and can catch the unbroken swell easily and, without loads of power driving you down the wrong roads, you can stay with it. 
On clinics I've caught the same wave as my clients. As it's building we've had a full conversation about why we've caught it there, which way we're going to ride it and which part of the board we'll use to turn. With a WindSUP in the right conditions, you can have a proper, toe-side, down-the-line riding moment on an unbroken face, on your first session – something that could elude you for years on dedicated wave kit.
On my all-rounder I can muck around in light winds, ride waves, teach my kids and reach seven waterside pubs. What is there not to like? 
---
2015 NAISH Crossover Air Series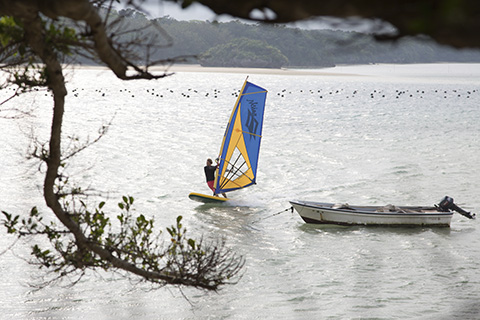 The Crossover Air Series are incredibly versatile inflatable boards for both windsurfing and stand-up paddling. They feature an M8 universal insert for attaching a windsurfing rig and offer outstanding sailing performance in light to moderate wind conditions. They also have a slide-in dagger fin for upwind performance regardless of wind strength. For stand-up paddling, the Crossovers are designed with a low rocker and added thickness for directional stability and long glides. This makes them the ideal boards for fun flatwater cruising and longboard style windsurfing.
Crossover Air 11'0" – Ideal for riders up to 210 lbs/95 kg
---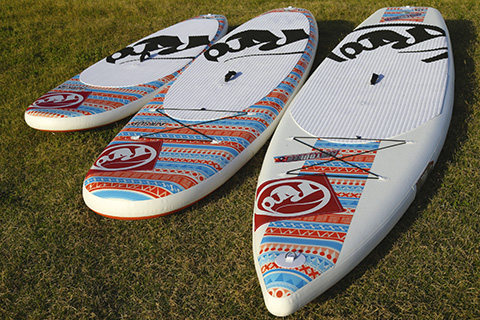 RRD Airkid 8'0" Conv Plus
The choice for any kid up to 12 years old. It makes it an easy approach and confidently learn how to paddle, surf or windsurf all on one board, while playing with their friends. See your kid progressing in watersports on a board that will outgrow any riders' ability. Comes with a removable centre fin for easy pointing.
RRD AirSUP 10'4" Conv Plus
The most appropriate type of SUP board to also learn how to windsurf. With its 34" of width it makes it super easy for anyone to step on, paddle or uphaul a sail. It's the most popular size for families who wish to find a board to satisfy everyone. Also available with a 6" thick profile, to enhance stiffness for heavy weights and it's an easier board to paddle or windsurf, thanks to its increased floatation. Comes with a removable centre fin for easy pointing.
RRD Airtourer 12' Conv Plus
A perfect toy for flat waters, lakes or rivers. Also excels in light wind breezes to be used as a windsurfer. Its length and width make it a preferred choice for those who wish for a fast board either with a paddle or a windsurf sail in their hands. Available in 2 widths, 32" and 34" for increased stability or heavyweights. Comes with a removable centre fin for easy pointing.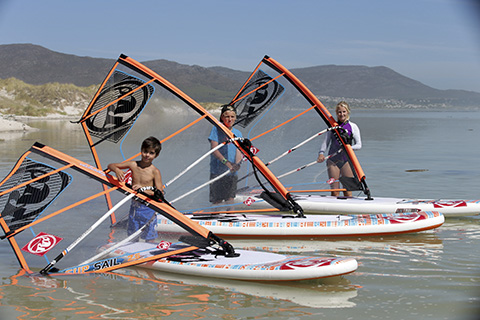 RRD SUP SAIL & RIG
RRD SUP sails & rigs are designed to be the first buy to introduce your whole family to wind driven watersports.
The Sails:
A simple, lightweight single batten full monofilm sail. Designed to be used in winds from 1 to 14 knots.
A 2,5 sqms for kids from 5 to 10 years old
A 4,5 sqmts for kids from 12 y.o. onwards or lightweight sailors
A 5,5 sqmts for kids from every adult beginner.
The Masts:
A 2 x piece fiberglass Reduced diameter mast 250 cms long for the 2.5.
A 2 x piece fiberglass Reduced diameter mast 300 cms + 70 cms fixed fiberglass extension for the 4.5.
A 2 x piece fiberglass Reduced diameter mast 300 cms + 100 cms fixed fiberglass extension for the 5.5.
The Boom:
One size fits all. The new K-Boom 140-190. Reduced diameter aluminum tube. Mast foot, uphaul, Universal base and easy to carry rig bag are included in the rig package.
SUP RIG = Sup Sail + Mast + Mast foot + Uphaul + Universal Base + S-Boom + Rig Bag
| | | | | |
| --- | --- | --- | --- | --- |
|  MODEL | SIZE | BOOM(TBC) | MAST (TBC) | BAG |
|  Sup sail | 5.5 | 185 | 400 | RRD Sail Bag |
|  Sup sail | 4.5 | 170 | 370 | RRD Sail Bag |
|  Sup sail | 2.5 | 250 | 250 | RRD Sail Bag |
---
ALL-ROUNDERS
---
JP HYBRID SUP WS – Hard board with windsurfing option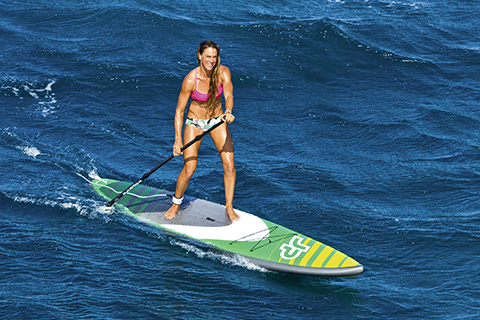 Trying to combine the impossible is never easy. Making a board that will have a good glide, stability and be a solid surfboard was no walk in the park. The subtle displacement bow flowing into a double concave bottom with soft thin rails and narrow tail was a winning combination. This creates a long efficient water line offering a superior paddling sensation on flat water with the longboard type of tail for easy rail to rail transfers in the surf. Take the Hybrid for a tour or a downwind run and check out the waves on your way back. Bring along your necessities under the bungee tie downs for a great day on the water. The Hybrids come in a beautiful green Wood Edition with glossy metallic rails.
Sizes: 10'8 x 31" 191Ltrs // 11'6 x 32" 212Ltrs
Tech & Finish Wood Edition with glossy rails. Board comes with:
EVA covered standing area, leash plug, air valve, 4-plug bungee cord, one RTM (Resin Transfer Molded) US single fin, a mastfoot insert to attach a windsurfing rig.

---
STARBOARD 11'2 x 40" WindSUP Inflatables Deluxe version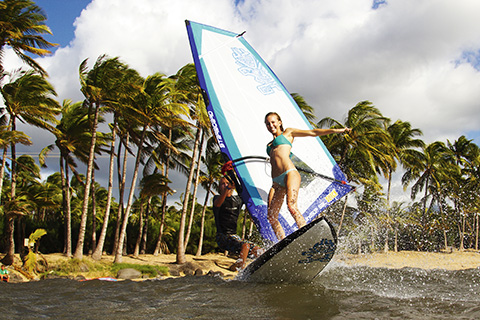 The WindSUP Inflatables open up new ways to enjoy windsurfing and expand the boundaries of the sport. With the ability to switch between sail power and paddle power, the WindSUP Inflatables make a very attractive proposition for the beachgoers or the active family. Deflated, they can be stored conveniently in a compact bag and thrown into the trunk of any car. They give schools, clubs and boat owners the opportunity to use a board that is tougher and safer than hard boards. For all users, they are also lighter and easier to handle than conventional boards. Starboard leads the way in developing technical, safe, and fun WindSUP Inflatables.
Starboard WindSUP Inflatables are available in two a variations:
• Zen version: Centre Fin, and 5" thick drop stitch construction
• Deluxe version: Daggerboard system, and 6" thick for maximum stiffness

---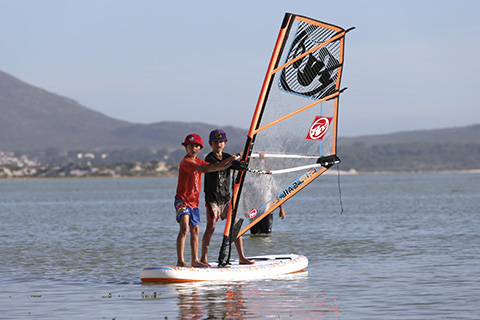 RRD AirSUP 9'8" Conv Plus
An ideal small/mid size board good to ride waves as an SUP, and enjoy learning how to windsurf . Planing on this board and jibing will be a pure thrill. Very manouverable, quick to plane and lightweight!
RRD AirSUP 10'2" Conv Plus
Our midsize board in the range with which we started our Inflatable Boards collection. It's the one-for-all board that will introduce anyone straight to any watersport in the blink of an eye.
---
NAISH NALU SERIES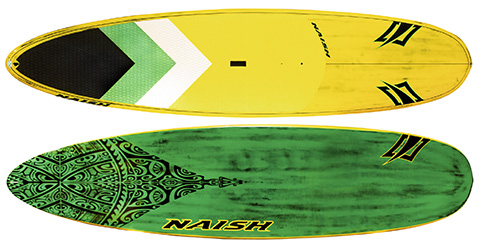 Nalu 10'6" GT/GS
The Nalu 10'6" GT/GS is the one-board solution for riders wanting versatility, stability and wave riding performance. It features a wide Nalu outline, recessed deck and full rails for increased stability and wider range of use. The single- concave nose flows into a double-concave mid-section and V tail, making it adaptable to everything from flatwater cruising, to ankle slapper waves, to double overhead surf.
Ideal for riders up to 200 lbs/91 kg
Nalu 10'10" GT/GS
The Nalu 10'10" GT/GS is an all-around, extra stable design for touring, carrying gear, tandem paddling and small surf. It features a radical multi-concave bottom shape that channels the water from nose to tail. The multi-channel bottom combined with the low rocker makes it glide incredibly straight for a wide board of its length. The wide outline and slightly recessed deck in the standing area provide unmatched stability. The forward deck has eight insert holes for a bungee accessory to carry coolers and gear.
Ideal for riders up to 240 lbs/109 kg
NEW Nalu 11'0" GT/GS
The new Nalu 11'0" GT/GS features a versatile design for classic longboard surfing performance, touring and flatwater cruising. It has been fine-tuned with decreased volume in the nose and tail areas, resulting in an extremely responsive board with easy maneuverability. It features a wide outline and double concave deck in the stance area for optimal stability and comfort. This addition to the Nalu range offers riders the highest level of true longboard surfing performance, making everyday a great day on the water.
Ideal for riders up to 210 lbs/95 kg
Nalu 11'4" GT/GS
The Nalu 11'4" GT/GS features an all-around design for classic longboard surfing performance and flatwater paddling versatility. It is a well-known favorite for both waves and flatwater riding. It has a thinner outline and a more progressive rocker than the 11'6". It is a superb well-rounded board for most riders and delivers versatility they will never outgrow.
Ideal for riders up to 220 lbs/100 kg
Nalu 11'6" GT/GS
The Nalu 11'6" GT/GS features a full body design for everything from entry level paddling, to flatwater cruising, to surfing. The performance characteristics make it the perfect one-board choice for the whole family. It is 5 1/2" thick with full rounded rails and a timeless longboard rocker line. This design provides amazing stability for a phenomenally wide range of use.
Ideal for riders up to 230 lbs/104 kg
---
FUN-DA-MENTALS – QUALITY 'YOU TIME'
By Jem Hall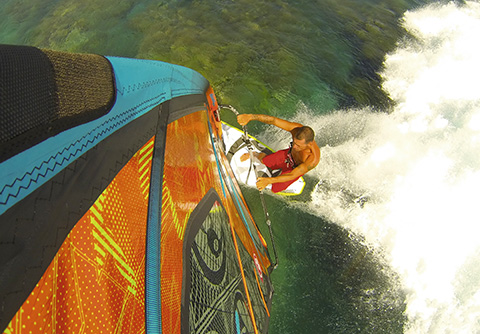 WindSUPs are an amazingly versatile water craft and you can simply score so much 'water person' time on them and, from a coaching position, they are fantastic for taking all abilities of windsurfer / wave sailor to the next level. I have already discussed with quite a few shops that the first windsurf package, after a beginner's course, should be a WindSUP with a 5.0 to 6.0. "Why?" I hear you cry. Well, you can paddle them on flat water and in small waves (improving balance and fitness), learn to beach start on them, sail upwind (their waterline length aids this), get lots more stance and transitions in and, when you are ready, you can head out in small waves and learn to get over them, catch these rolling beauties and then get fully hooked whilst riding on these ocean gifts.
My wave coaching clinics sees us spending heaps of time on them, either wave riding, with a paddle or with medium-sized sails in light airs. Paddling a wave you wish to wavesail at a later so stage is just amazing for your spot knowledge and fun, fun, fun too. Whilst you are out there it's also very sociable as you have the time and stability to stop and have a chat. The most-bought board after my wave clinics are WindSUPs. Lastly, if their are no waves, but we have light wind, then we get on out there and work on our tacks, gybes, helis and ducks in readiness to unleash these improved skills on the waves the next time the wind and waves welcome us back into them. 
Go WindSUP and enjoy, its fitness, fun and fundamentals in one lovely package. 
---
FANATIC Fly Wood edition, Fly HRS (High Resistance Skin.), Fly Pure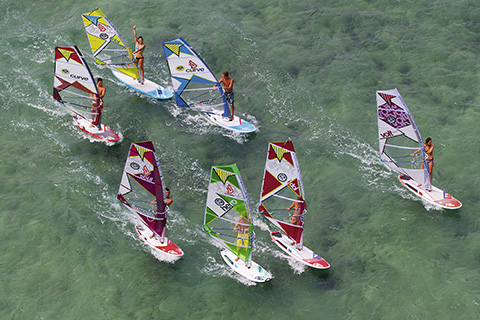 Fly Pure 9'6"
If you are a lighter person and you still want to enjoy the all-round performance of the Flys, the 9.6 in our favourite Pure technology is your choice. designed with plenty of width the 9.6 even allows first timers to enjoy their first SUP session and will take them up the skill ladder with time to show its full potential. For heavier more advanced paddlers the 9'6" can be the ultimate all-round performance board to carve and ride down the line. Classic style surfing or progressive Stand Up Paddling, what ever your preferred style is, the 9'6" will help you to put it on display.
Fly 11'0"
A true all rounder, the Fly 11'0" is a naturally adaptable board with high performance aspects that really matter. Offering endless glide in a compact and balanced design, the pronounced V and pintail provides smooth, engaging carving sensations while the surfing rocker line will have you cruising onto the waves first. Resembling the shape and characteristics of the 10'6", it has outstanding float and stability making it suitable for both light and heavier beginner paddlers. Available in high Resistance Skin and Pure construction this really is the board for all. Comes with mastfoot insert for optional Windsurfing.
Fly 11'6"
Expand your watersport horizons with the Fly 11'6", the all-time entry board to both the Windsurfing and SUP world. Easy from the word Go! – this board is suitable for any size and style of rider. Whether days bring breeze or glassy waters, an adventure can be created with this highly durable package. Optimum upwind ability when windsurfing is generated through the sealable centre fin or use as a standalone SUP shape without.
The 11'6" is undoubtedly the answer to a SUP / Windsurf combo. The CAD-design shape features a genuine surfing rockerline catching waves easily and providing you with maximum balance and stability. Both models are available in high Resistance Skin (HRS) or Pure construction. Endless riding is to be had with the multi-tasking 11'6", so all you have to do is decide whether you're going to SUP or sail.
Fly 10'6"
If you are a heavier rider or your local spot regularly presents you with variable conditions, then the 10'6" will provide you with the extra support and stability you need. For 2015 we have added the new HhRS Wb 10'6" with 5l more volume and an extra 1 inch in width to give you even more stability and float. the combination of softer rails towards the front and sharper edges on the tail, enhances grip and carve through turns, all the while maintaining that highly sought after glide. A more pronounced curve in the tail, teamed perfectly with a flatter nose rocker, offers direct turning and smooth paddling. Well-balanced and wide volume distribution, combined with the flat deck gives a great deal of stabilised buoyancy. Available in a lightweight Wood edition for high performance, or the HRS and standard Pure constructions, the 10'6" is a great all-rounder that can be shared amongst family and friends of all levels. Comes with mastfoot insert for optional Windsurfing.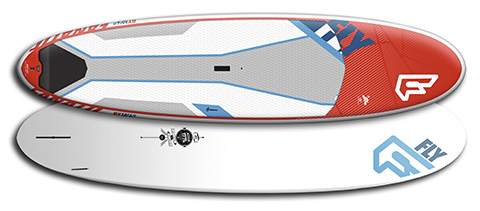 ---
WAVES
Most of the main windsurfing brands that produce SUPs also add mast feet to certain models and constructions in their dedicated wavesailing lines, so be sure to check their websites and brochures for details info on the various sizes available. Here's a few to get you started.
---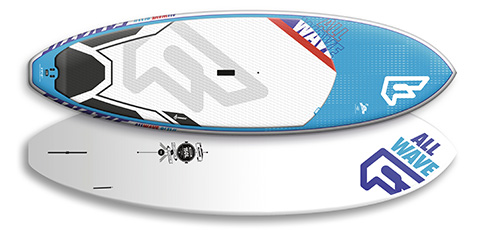 FANATIC
ProWave Ltd, ProWave HRS (High Resistance Skin.) – Pure Surfing
Prime performance with your ProWave. 2015 sees the ProWave range take SUP wave riding to the next level, with shapes that complement a rider's search for radical manoeuvres, speed and control. this year we introduce five brand new shapes ranging from 7'6" to 9'2" while the well regarded 9'6" and 9'10"make up the rest of the range to create the most extreme high performance wave riding collection. The smallest SUP in the Fanatic range, the 7'6", is impeccably balanced and easy to paddle with quick acceleration. Once unleashed onto a wave it speaks for itself giving you an exceptionally responsive ride. The wider nose and squash tail design of the range offers more stability in the smaller models, whilst retaining highly responsive turning capabilities in the larger ones. A thinner rail profile provides more grip and drive through the turn. the 9'6" has enough evenly distributed volume to carry any rider weight while delivering Shortboard SUP performance.
The 9'10" Semi Gun is a slightly stretched version of the 9'9", designed for speed and charging big waves. it was the first SUP to conquer Shipstern's bluff / Tasmania! A Quad or thruster fin setup gives you the ultimate flexibility to adapt the board to your style of riding or the conditions of the day. A subtly domed deck and a balanced volume distribution provide optimum paddling efficiency and ease for catching waves. Riding down the line, the ProWave performs with outstanding flow making light work
of big conditions. Mastfoot insert for Windsurfing option.
Allwave LTD, Allwave HRS (High Resistance Skin.)
Smooth surfing is the perfect description for this year's AllWave range that comes in seven sizes – 7'11", 8'3", 8'5", 8'11", 9'1", 9'5", 9'10". Available in two constructions Innegra Carbon PVC Sandwich & HRS. With exciting yet predictable attributes, 2015 sees three fresh new shapes, 7'11", 8'3" & 8'5" being added to the range. the thinner board and lower volume of these three sizes are supported outstandingly by the shorter, wider compact outline making for a responsive and effortless ride. the versatile option: the board can be set up as a Quad or thruster. Combined with a modified base and thinner rails, optimum grip and carving ability is ensured. The larger 8'11", 9'1", 9'5", 9'10" sizes have a ›wider around the centre‹ outline. This, combined with a more pulled-in nose and squash tail offers plenty more stability, adding performance with less swing weight. Whatever fuels your fire, these boards offer friendly accessibility whilst maintaining excellent manoeuvrability on the wave. A true surfing scoop rocker line and added nose kick finishes off the AllWave's top performance.
The Ltd versions of the AllWave come with the Quad Fin setup option. For windsurfing, the mastbase insert makes for straightforward attachment of a sail, adding to the fun and versatility. The concept of the AllWave enables across the board performance for all SUP riders, performing remarkably well in all conditions. Whether you're looking to catch your first wave or advance into larger surf, through its balanced shape, this range is undoubtedly the ultimate tool for enjoyment, ease and progression.
---
IS PERFORMANCE SAILING POSSIBLE ON A WINDSUP?
By Scott McKercher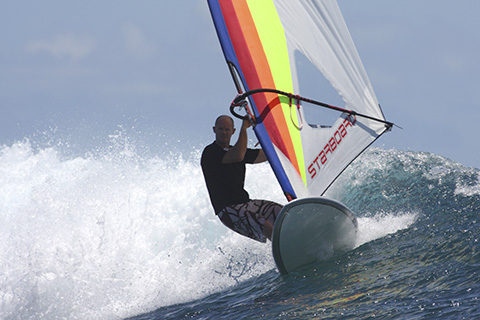 There's more than one point of view with what the term 'WindSUP' brings up in people's minds. Obviously there's the marketing slogan of "buy one and get two board sports" with the all-round appeal of a family board than can either be paddled or windsurfed in flat water or little ripples trying to be waves. But then there's the other side. 'The potential for an actual performance discipline'. 
It was tossed up a while ago, that they should do a no/light wind alternative for a PWA event to entertain people on the beach and to have some sort of result for a wave comp that didn't look like happening. Drawbacks such as competitors having to then carry another (large) board around on tour blocked any such thoughts. But the other argument is: can there be actually any performance in such a discipline?
My answer was definitely "yes" – but at selected World Tour locations only. Sylt, for example: Not ideal. Thumping beach breaks in light wind? Not a good idea. Bolt onshore? Not really that good an idea. However, I've had some sessions in quality waves that have been an absolute ball. Quite some time ago I busted out at WindSUP at the PWA Portugal event. Light x-offshore winds at Guincho, (on a pretty big board at that point) and it was pretty damn fun. Easily a good novelty light-wind alternative. And way better than just getting cooked on the beach bored out of my brain. As much as Guincho is a nice beach to sit and do nothing on … 
At home in Western Australia, on a day where we would have been sitting in the car park in 8-10 knots on long peeling waves: Really good fun. On a smaller SUP (8'0 x 29) throw on a 5.0 or 5.3 and you're getting full-rail cutties and hitting the lip. (Waves around chest to bit over head high.)
I felt like I'd had a proper session and the beers in the car park afterwards tasted way better. And Cloudbreak in Fiji of all places, all be it small to mid size, I groveled out, thought I was going to get abused by the hard-core surfing crowd, but actually got hoots. Just doing turns, (not hitting the lip obviously). 
But, get a good cutback on any size board and it feels good. 
Obviously the smaller SUP board feels better than, say a 10 footer, but all the same, I was getting out there where I wouldn't have been otherwise.  
And I think that's the point. 
---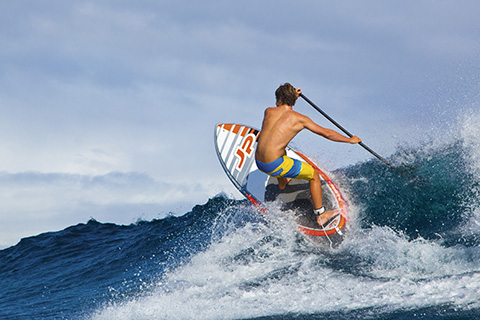 JP AUSTRALIA FUSION SUP AST
Hard board with windsurfing option
For 2015 we have a fun little addition to the very successful FUSION line; the 8'5"x30". Just like the rest of the FUSIONs it features a nice step deck, which allows keeping lots of volume while still having nice thin rails. This sleek design carries the volume and width in all the right places for a stable paddle platform. The bottom shapes feature concaves throughout running into a V towards the tail. The V in the tail helps to rail up when going down a wave. Their noses create efficient lift and the thinned out rails produce good bite during turns. Quite a bit of nose rocker makes the shapes fit well into the waves. They are available in PRO, Wood Edition and in AST technology. The 10'2" is also available as a Soft Deck version. For this year we added the FCS plugs to the AST line so they can be used in a thruster set up as well.  The FUSIONs have a really good glide and are happy in flat water paddling, but they love the waves.

---