Tweet
WE'VE ROUNDED UP THE LATEST AND GREATEST IN WAVE FINS TO TWEAK YOUR TURNS BUT BEFORE WE PROJECT FIN FIRST INTO OUR GUIDE, WE CAUGHT UP WITH RRD'S DESIGN GURU JOHN SKYE FOR SOME TOP TIPS.
What fin set up do you recommend for UK conditions?
At the moment I get on best with a quad/twin set up. If the conditions are very light, or with small mushy waves, I will put blockers in the front fins and use the board as a twin. It makes the board much more free in the water and allows it to pivot more, which in mushy waves means you can be more active. My 92 is always set up like this as I only really use it in really light winds. For the smaller boards 83/75, there are normally better waves, so I mostly use them as quad. This gives more grip and more drive through the turns. You can't pivot so well, but you can carve harder and faster. In extreme cases with very small waves I will put MFC 300 back fins in and take away the front ones and use them as twins. This was my set up in Pozo this year and it worked well for me.
Rules for fin placement?
I have my magic set up which is the leading edges of a quad at 33cm and 46cm from the tail. That gives about a 4 finger gap between the fins which is quite a lot, but I generally like to set up my gear to be quite stiff and drivey.
How many fins do you travel with to an event?
Most events I take my 3 wave cults (75/83/92). The 92 I use 17cm MFC FG. The 83 I use MFC 300 fronts and 250 backs. The 75 I use 250 in the front and back. So I take what I need, plus a couple of spares, around 14 total.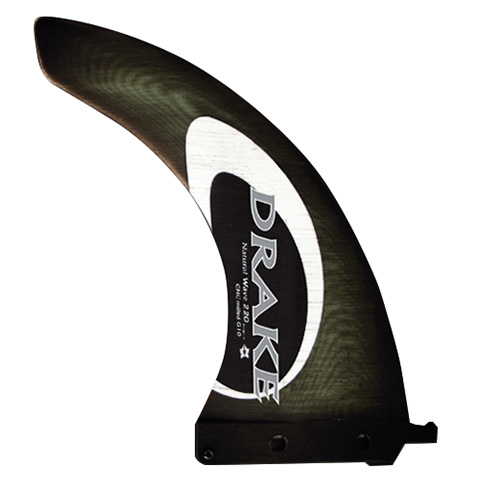 DRAKE NATURAL WAVE 
Drake use G10 to provide more strength and a quicker flex response than conventional polyester. This allows for the Natural Wave's unique design concept: its thin foil and very fine swept-back tip generates more grip and responsiveness with less drag to deliver a sharper, faster ride that feels more alive. Suitable for: waveboards and crossover boards.
Sizes: 20  21  22  23  24  25  26
RRP £99.00 – £105.00 dependent on size.
www.tushingham.com
www.star-board-windsurfing.com
---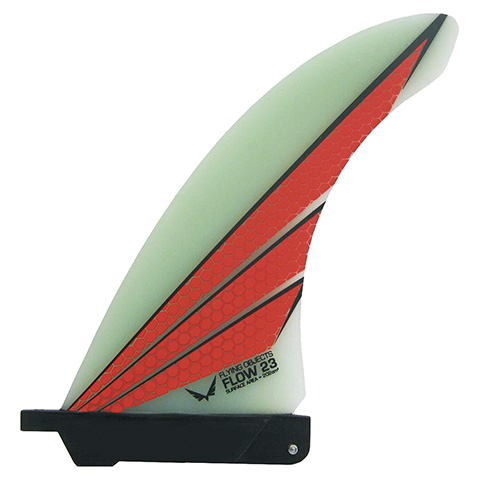 FLYING OBJECTS FLOW WAVE 
The Flow fins are CNC milled in G10 to precisely replicate the outline and foil that we set out to achieve. This method is more costly but allows us to manipulate the design more than traditional Polyester fins. Compared to our E-wave, the Flow has less surface area through a narrower chord in both the base and tip. This provides a faster outline for use in heavier and faster waves. The narrow tip also allows for a clean bottom turn through a moderate amount of flex, while letting the board slash its way through the top turn.
Available in STD/US or Power Box
RRP: from £68.00
[email protected]
01903 778828 
---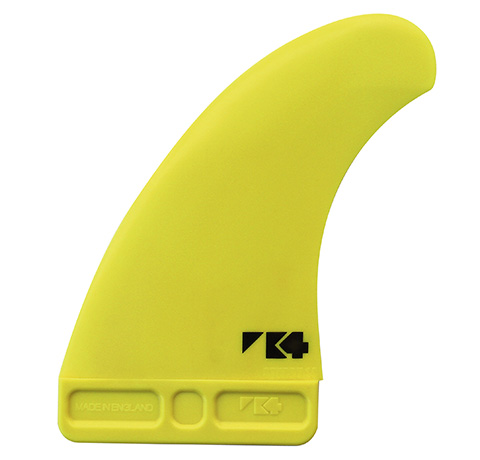 K4 FINS STUBBY 
The Stubby is the all-rounder from K4Fins. Stiffer then the Flexy range the stubby offers great early planing, slashy turns and super control. The template of the fin was designed to perform in those less than perfect conditions.  Carving the wave has never been easier with K4's exclusive optoflex material, working with the rider to get the absolute most out of your board. With the stubby you can nip the board around and push through to Takas with ease. As well as its wave riding attributes, the stubby provides grip, drive and speed, powering you through the white water allowing you to smack every ramp you want. A pair of Stubbies are available from authorised dealers.
RRP: £47.50
---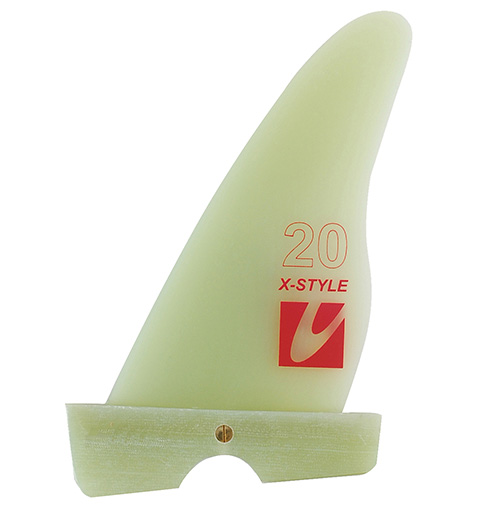 MAUI ULTRA FINS X-WAVE 
Revolutionary design for a very fast and agile ride. The cut-out near the tip gives you the extra looseness you need for cutbacks. Philip Köster's single fin choice when sailing onshore Sylt (22 cm). The X-Twin is the twinser version of the X-Wave. A new benchmark for wave fins was set with this design. It gives the fin unbelievable looseness when waveriding and makes the cutback an unforgettable experience. Best suited: All waves, on and side shore
RRP: X-Twin / X-Twin-S: £58.00 / fin
RRP: X-Wave / X-Weed: from £87.00
www.mauiultrafins.eu
www.mauiultrafins.co.uk
---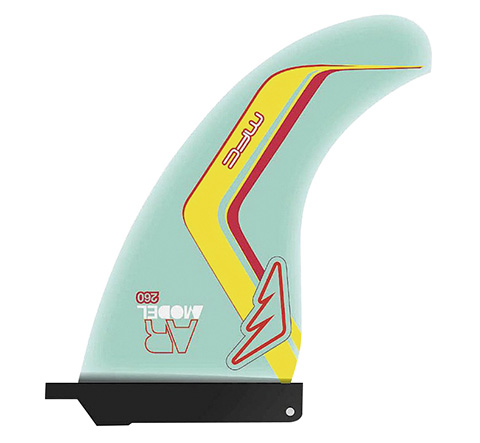 MFC AR 
The AR is an all-round model for any conditions. Wave side shore, on-shore, off-shore; it's the fin that does it all, having a wave shape for the smaller sizes and going to more of a freewave shape for the bigger sizes. Speed and early planning are great characteristics of this fin developed and tested on Maui by some of the world's best windsurfers.
RRP: from £89.99