Tweet
Considering a new waist harness? We get some tips from the pros followed by a round up of some the latest products in the market.
PRO TIPS
ANTOINE ALBEAU
"I use a waist harness now. I feel they are more comfortable for racing. I was using the seat harness for a long time but last year I decided to switch to the waist. The seat harness you have to strap between your legs and for me it was a pain to put on. For ten years I trained with a waist harness so it was not a big change for me. I use the NeilPryde Bomb, it is very comfortable. I developed this harness and tried to make it as comfortable as possible. The Bomb is good and the 3D is even better. For me the Bomb is a bit bigger to support my back so I like that one"
BEN SEVERNE
"Always buy a harness that is designed for windsurfing. A lot of harnesses these days are designed for a kite bar and you go to unhook and you stay hooked in and catapult all the time. Check that your harness has a windsurfing hook on the front of it. It's always advisable to try harnesses on in the shop and don't just go for the ones that are super padded. Sometimes the big thick foam ones once out on the water are quite bulky and just get in the way. Sometimes the minimalist designs are actually the best. I use the Severne Air harness. I travel a lot and this one is light. It saves a few kilos on excess baggage. You plane earlier and everything is easier. Not only is it light, it is our cheapest model and for me is very comfortable."
MARCO LANG
"I am using a waist harness for racing because that is what I always used. I came from a freestyle background. So I have to say I never tried a seat harness. You should feel the whole harness when you try them on in the shop and it should feel comfortable. Don't just look at them and take the one that looks the most padded or cool. I use the ION Radium select, it's a bit softer than the normal Radium and for me it is very comfortable, this one feels like lying in a hammock!"
ANDY CHAMBERS
"You don't want a harness which absorbs a lot of water as it gets heavy but also makes you cold! I personally use the NP Surf Flash Harness because it's super lightweight and comfy. It is soft and flexible which allows me to move my body around easily while doing freestyle or wave sailing."
KUROSH KIANI
"First of all, I would go for comfort. The harness is an essential tool in your windsurfing, so you would like to be as comfortable as possible! Some harnesses have a wider back, and some have a narrow back. Find the one which suits your back the best, and possibly one which has some back support. Personally, I like if the harness is rigid. The back should not bend too much. I don't necessarily look at if it is a wave or a freestyle harness, but just the one that fits best. The brands which specialise and have experience in making harnesses are often the safe choices to go for. Furthermore, I don't like it if the harness moves up or if the hook moves up after some sailing. I would recommend to find one where the fit is perfect and you don't feel like it will slip up your body towards your chest and I would look for one which has very rigid straps on the hook which keeps the hook in place."
BEN PROFFITT
"I think it depends what type of back you have. In my experience you have to try and find a harness that suits you. Some have shape built into them, which some people love but others find it gives them back problems. Some are big and have lots of support and cover a large proportion of your back. I personally find those comfortable. Then you have others which are hard and small and fit higher up…  some people love them. But for me personally they give my back the most problems. So bottom line is try them and see; you'll find out pretty quick which your back suits!"
---
WAIST HARNESS BUYER'S GUIDE 2017
• ION COMPOSITE SERIES FREERIDE
---
FLYING OBJECTS AMP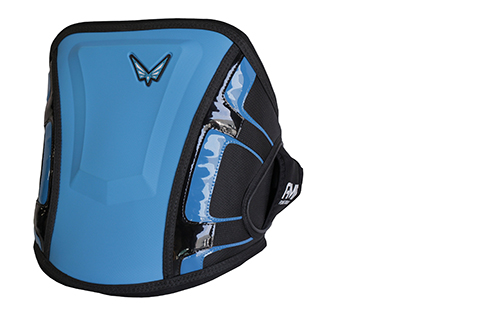 This year Australian design gurus, Flying Objects, have a minor rev-AMP in name and look to broaden appeal of their AMP harness. The 3 piece thermo-formed lining now uses a super sponge EVA for a softer feel but still maintains a uniformed shape and flex, keeping the overall weight to a minimum. The AMP uses the integrated bar and pad with the quick clip entry system for a more locked in feel. Also available in red.
RRP £149.99 
---
GA G5 PRO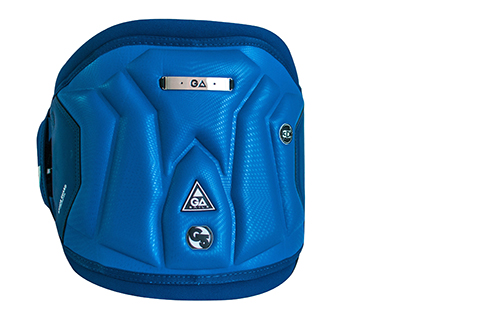 Having the most back support in our range, the G5 PRO will cushion and support your entire back. For 2017 the G5 ergonomics have improved even further, a strategically designed high support 3D moulded design ensures great support without compromising comfort across a wide range of back shapes. A refined kidney belt sets the harness in place and our Dual Strap adjustment system provides a final layer of support to keep the bar from sliding upward.
RRP £149.00 
---
ION COMPOSITE SERIES FREERIDE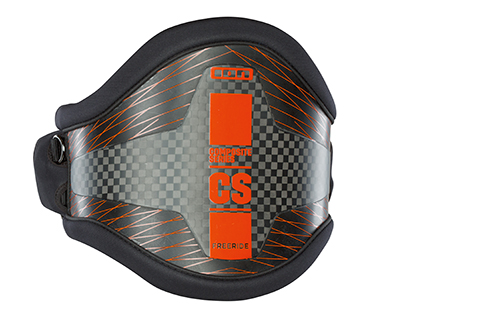 Introducing a whole new generation of windsurfing harnesses: ION Composite Series. For the first time, the back part of the rider is supported through differently shaped carbon segments, providing a perfectly stiff fit and support. At the same time, the side parts are kept very flexible as special foams are used – providing maximum comfort and a perfect load distribution – the perfect combination of support and freedom of movement – less pressure points = longer sessions!
RRP £279.95 
---
MFC WINDSURF HARNESS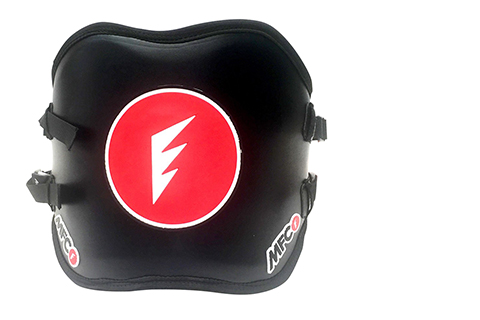 Redefining flexibility in a harness. The all new design sees the inclusion of a quick release bar with twin point webbing fixings to minimise bar twist, as well as a huge reduction in weight – this is now one of the lightest most unobtrusive harnesses on the market. Designed to sit low on your waist with a sleek design to allow maximum manoeuvrability on your board. As used by PWA Tour stand out, Marcilio Browne.
RRP £149.00 
www.zerogravitydistribution.co.uk
---
NP SURF 3D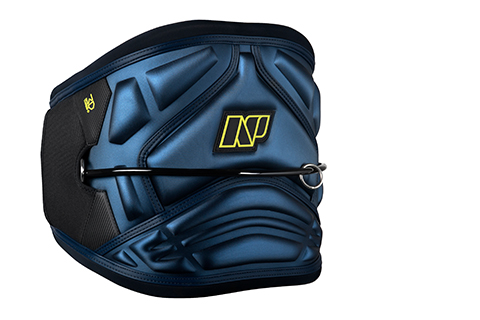 Step into another dimension with the NP 3D, offering maximum support due to its unique pre-bent shape that comfortably wraps around your body. The Back Base system provides support where it's needed most, while the cushioned interior matches the concave shape of your lower back perfectly. Its super lightweight and non-absorbent construction means it doesn't hold any water keeping you warmer and able to stay out longer! Available in in sizes xs-xl, spreader bar sold separately.
RRP from £129.95 (Spreader Bar £55.95)
---
RRD EQ–4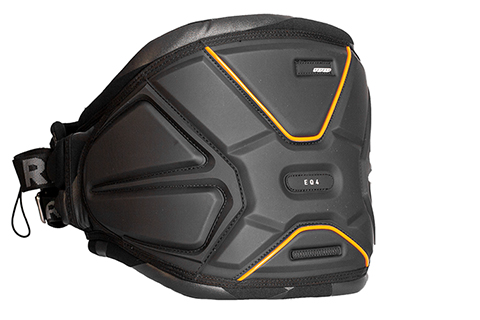 Version 4 of the original equalizer high-end waist takes powerful riding to the next level. The fiberglass reinforcements inside are positioned to correspond with the sail's centre of lift and lead the pressure to where it's most comfortable. The convex curved lower edge of the harness ('Flexcurve') is more flexible and designed to stay in contact with the rider during a wide variety of tricks. This makes the Equalizer as versatile as a harness can get.
RRP £194.00 
---
SEVERNE AIR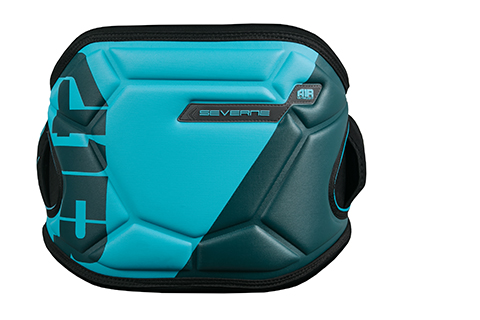 Ultra lightweight and function focussed, the AIR has been stripped of any excess. Waterproof materials minimize any weight gains when wet. Low density thermo-formed inner and neoprene Soft Edge provide essential comfort. Designed to be able to be worn loose, the bar pad prevents hook twist when trying to unhook quickly. The minimalist waist closure holds the harness in place without any elastic compression and the profile of the AIR harness is kept low for maximum manoeuvrability.
RRP £139.00 
---
SIMMER RAPTOR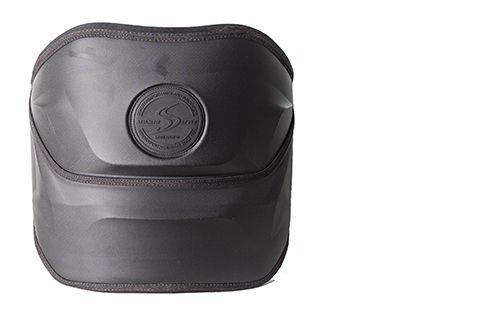 The Raptor waist harness is engineered to give the best support and comfort possible. The 3D shape is created using seven different moulded components sewn together to create the most anatomical fit around your waist and support for your back arch. Designed with an up-scaled back plate and fitted with extra re-enforcement. It comes standard with a fixed hook system, spreader bar protector, stainless steel quick release, neoprene edge and double-velcro elastic waist straps.
RRP £169.00 
---