Tweet
A DOZEN GOOD EGGS
5.7M CROSSOVER SAIL TEST 2019

Test Editor Tris Best // Second Testers Maurin Rottenwalter, Joe North & Alex Green
Photos Alex Best // Test location Portland Harbour.
The crossover sector of the sail market is certainly a popular one, with strong contenders from both the wave / manoeuvre-oriented background and lofts with peerage in straight-line mastery. With no less than twelve sails on test here, the question is which one would be the right fit for you and your quiver?
This test was originally published in the March 2019 issue.
FINDINGS
In recent years there has been an unmistakeable movement in favour of batten number reduction and the refinement of luff curves. Keep just a vague eye on developments in sail design and both are hard to miss. So with four battens becoming more the norm in wave sails, it seems to fit that the once common five batten wave sail is having its job description altered slightly, to fill the crossover role. Of the dozen sails on review here, half of them have strong roots planted in the wave segment of sail design. 
So is a crossover sail simply an over-sized wave sail? Well, for some that would fit the bill admirably, focussing solely on bottom end power and manoeuvrability. For others though, more is demanded. An ability to be useable in flat water as well; to have bags of top-end stability, feel loose and lively in the hands, accelerate through gusts and deliver enough grunt to satisfy power-hungry boards. And just as with the boards that are on test elsewhere in this issue, the key is to be able to perform in shifty real-world winds.
A sail that can deliver all this can truly call themselves crossover … and we're pleased to say there are quite a few in this group. 
Most of the sails here are ideally used on 430cm RDMs and possess five battens … yet there are a couple of exceptions. The Neil Pryde X:Wave can be set on either a 430 or 400 mast and carries only four battens in its structure. The positive credentials of four battened sails are well documented (light handling, bottom end flex and softness), with the assumed downside usually being top end stability. And yet time and again, it is coming to light that this correlation is being disproved. The other sail in the group that defies convention is the Simmer, which is recommended for use exclusively on a 400cm mast. Read the Icon's report to find out how it gets on, but one thing we would say is that we're sure many people won't complain about the potential of reducing the masts required in their quivers. Could four battens and 400cm masts become commonplace in this sail size and category? Watch this space in the years to come.
There's one other development that's noticeable in this sail size and category. Whereas in dedicated wave sails the centre of effort tends to be lowered for control in harsh winds and conditions, in this group many of the sail's 'sweet spots' are raised up in the draft. The advantages are very tangible as soon as you use a sail of this nature – the power is more obvious due to the leverage, increasing bottom end efficiency and pulling the rider into a manoeuvre-oriented position over the board. In the past, the drawbacks would also be very obvious – they would tend to have a limited top-end, as the power would become less manageable when the wind increased, pulling the rider onto their toes. However, through luff curve refinement, strategic use of the latest materials and a greater understanding of shaping techniques, many sails with this high pull position now offer plenty of range. Which leads us onto the last little point worthy of note. A 5.7-6.0m rotational sail could well be a key sail size with an extra dimension of crossover appeal, thanks to the latest discipline to explode onto the scene. We are of course talking about foiling. Want to dramatically increase the amount of time you can enjoy on the water? Well, not only could this sail size open the door to the many float-and-ride sessions you missed last season, but plug it into a foil board and you're up and going in wind strengths more commonly frequented by 7.5-8.0m sails. And what is more, there are some sails in this group that deliver exceptional freeride-foiling performance, whether it be by design or unwittingly…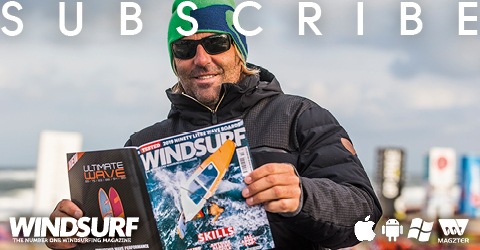 SUMMARY
Let us start with the sails in the group that have a distinct freeride focus. The Goya Nexus and Severne Gator are both stunning performers, yet sit at either end of several spectrums. Whilst the Gator has minimal luff curve, the Nexus has masses; the Gator's handling is so light and neutral, the Nexus' direct and dramatic. And yet partner them with fast freeride boards and both are a joy to use for long periods. The key then is to decide what style of power and feedback you prefer yourself. The Torro from Gunsails and Hybrid from GA Sails also both have definite freeride blasting bias. The Hybrid is just so easy and user-friendly to use, lending itself to those searching for plug and play enjoyment. And whilst the Torro may perhaps not be as memorable as some on the water, its value for money certainly is! The sails with an appetite for wave arenas are also numerous in the group. The Point-7 Spy is the heavier rider's dream, delivering grunty power high in its draft. The Ezzy Zeta is built to last an armageddon and has the range to deal with it! It doesn't ever go neutral, but if you wanted the definition of dependable power, look no further. Then there's the X:Wave from Neil Pryde with its light handling, on-off delivery and surprising efficiency, and the Karma from Witchcraft with its unique 'semi-rotational' profile. It's a sail that oozes craftsmanship, aching under the deliberation of every material, stitch and feature in its form. And finally the four all-rounders in the group! The Super Session from Duotone is unaltered from last year and remains a true champion of the high centre-of-effort concept, feeling light, crisp and precise and remaining useable over an impressive range. The Move from RRD is very different, with a lower pull position and real softness to its delivery, yet its natural efficiency and innate performance potential certainly inspires. That leaves the Simmer Icon and Loftsails Purelip. Both are behemoths within their respective lofts and both uphold their reputations impeccably for 2019. The former is the most compact in the test group; the latter possesses the longest luff by some margin. They are very different in feel and stance … and yet both deliver when the chips are down. Want to blast confidently across the most turbulent seas, before having the confidence to enter the most committed transition or manoeuvre at will? You can bet on both of these sails to back you … and then some.
THE LINE UP
---
---