Tweet
DÉFI WIND: DO A DÉFI! 
Amateur competitor, 'Crazy' Chris Bentley, gives us a guide to doing the legendary Défi Wind and shares his experience of the challenges of the event. 
Photos – Défi Wind / Jean-Marc Cornu, Défi Wind / Jean Souville // Words – Chris Bentley 
---
What … you haven't done the Défi Wind, then your next chance is 26 – 29 May 2022 at Gruissan Plage, France and this is your guide to completing and preparing for the Défi Wind! 
Despite 1300 windsurfers on the water, it's common to find yourself duelling the same fellowship of sailors on the racecourse. Each competing, yet sharing the same personal challenge of the Défi. Whether you are a lake surfer or hardened professional, the magic vibe of the Défi is intoxicating. The sweet taste of success comes from the simple exhilaration of competing, enduring and finishing the Défi wind races! Professionals cover the 36 km races in about 45 minutes; amateurs take up to 90 minutes.  
There is a strong air of mutual respect and encouragement that inspires you for the next battle, even if you are exhausted from the previous race, this is the power of the Défi spirit! Where else do you get to race against friends and professionals, then party on down until it hurts. All with a very high level of safety! The Défi is an absolute 'must do' event, in your journey as a windsurfer! 
Skills 
Firstly, you need some intermediate skills, like being comfortable with both beach and waterstarts, footstrap and harness line use, planing, steering, driving the board downwind over chop and upwind work. Carve gybing the board is very helpful too, but if you are struggling with the gybe you can still participate in the race by heading to the shallow rest areas, where you can flip the board around, catch your breath, beach start, and rejoin the race. Getting some training in to sharpen your skills and gain confidence is certainly helpful and recommended. 
Fitness 
Sailing 10 km on one tack, in a static stance, with heavy breathing and high heart rates, is challenging, even for the pros. Particularly your forearms, biceps, upper thigh, core and back muscles are heavily loaded as they absorb shock and drive the board forward. You need to prepare these muscle groups and your cardiovascular system on the water and in the gym. Learn how to do the exercises properly from a coach, be consistent and stick to the workout program. Tough I know, but you will be rewarded by it. Train on the water by sailing long distances on one tack and try to do this in spots with flat water and high winds. Focus on tuning your equipment for almost effortless comfort. 
Registration 
You secure your entry at https://www.windmag.com/Défi-wind-inscription, the number of participants is limited, so it's well worth being prepared for the registration day, which is normally at the end of February.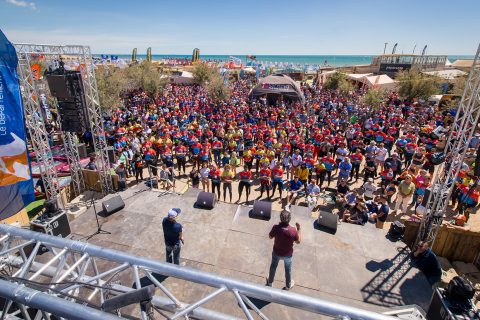 For your iregistration to be accepted, you will need all of the following: 
To be at least 13 years old on the day of the event;




 
Under 18's require parental authorization (the organizers provide a form);




 

A medical certificate from your doctor (the organizers also provide this form);

 
If you want, you can think up your own Lycra bib number, otherwise one will just be assigned for you. The pros usually get the first 100 numbers, and the largest number is 9999;




 

A credit card that can make Internet payments. There may be other payment methods, but don't bank on it;




 
A national sailing permit and related insurance, or a temporary French Federation Sailing insurance. The latter can be obtained during the registration process, which is certainly a better option if this is your only race for 2022, as the costs are lower. You will need to upload these documents to the registration website. In the meantime you can subscribe to the regular emailed newsletters on the website, that lead up to the event.

 
Accommodation  
After a hard day's sailing, there is nothing like a soothing hot shower, nourishing food and a quiet space to contemplate the events of the day. Having good accommodation helps you recover and rejuvenate for the next day's sailing.  
Adjacent to the Défi wind event area, there is parking for campervans, separated into two zones, amateurs, and invited professionals. There are basic ablution facilities but no showers. At night it is very noisy, and it only calms down around 2 a.m. I recommend it for budget-oriented sailors and die-hard party demons. If you value your sleep, camp some distance from the main stage. If you are traveling in a group, there are many beach bungalows in Gruissan Plage, and It's great to club together to reduce the costs and share the magical Défi experience. However, you should be booking 6 months in advance to reserve one, they are very popular. 
Far quieter and cost effective are the many holiday apartments in Gruissan Town. I usually choose one outside of the city centre, with secure parking. I then drive the 3 km to the event site in the mornings, when there is ample parking. This is the perfect option if you are accompanied by your family and Tripadvisor has some great properties. 
The Tramontane 
The Tramontane, or La Tram' as the locals call it, is the whole reason why this event exists where it exists. It's a dry, cool and strong northern wind, like the mistral, but takes a different path down through the mountains to the coast. We all pray for a NW Tram', that is perpendicular to the shoreline, as this is the most comfortable for the riders, but typically the Tram's wind angle will wander as it plays out over a 2-3 day period.  
The wind speed and angle vary greatly down the course. On race day, the organizers will give you two wind speeds – the start line at Gruissan beach and the first mark down at Port La Nouvelle. You can easily add 5 knots to the top speed and subtract 5 knots from the lower speed to estimate the wind range. For example: for start line 25 knots and first mark 30 knots, the expected minimum wind speed would be 20 knots and maximum speed 35 knots. 
Sails 
As an amateur, select your gear for comfort and endurance. The gear that allows you to spend hours on the water in high winds is the right stuff! The range of sail types and sizes used in Défi wind races continues to amaze me, everything from old school wave sails to slalom blasting monsters. What you can count on is the expected wind range of 15 – 45 knots. So bring sails that have a wide wind range and are easily tuned, with lots of loose leach potential. The Tram's gusts have a brutal jolt to them, so any gear that helps you dump power is perfect. 
For reference I am 50 years old, 170 cm tall and 75 kg in weight, and this is my quiver – a 7.1, 3-cam freerace for 'bad' wind days of 15-25 knots; a 5.6, 3-cam freeride for 'normal' wind days of 25-35 knots and a 4.0, 'power' wave sail for nuclear wind days of 40+ knots. In 50+ knots, I won't be going on the water, and I don't think the Défi Wind team would allow us either, as they are very safety conscious. 
Boards 
There are so many board types and sizes at the Défi; it seems to be very much a personal choice. What is important is that you select boards that you are most comfortable on in high winds and for long sessions. I personally will be taking a 103-litre 66 cm wide 'easy going' slalom board that I can ride for extended sessions and keep on the plane through turbulent wind holes. If it's crazy nuclear and choppy, then I resort to a 90-litre wave board, with a single fin. This is no longer racing mode, but survival mode!  
Fin 
At some point during the race, you will want to head upwind to enjoy that effortless flat water close to the beach, and receive a clean stream of wind. To do this without burning too much energy, I like to use a slightly larger fin than usual. This becomes especially important if the wind is not perpendicular to the beach. I normally use a 34 cm fin, but for the Défi it's a 36 cm fin. My top speed is lower, but my average race speed is better. I find a stiff carbon fin reduces the amount of unwanted board lift, which in turn gives more control. 
Harness lines  
As to the position, length and spacing of your harness lines, really take the time to get these as balanced and comfortable as possible, it's the key to completing the Défi! Normally I use a waist harness, but on the Défi I use a waist harness with a seat, this really saves my back, and reduces my overall fatigue, but still gives me the control a waist harness does. The only harness lines I have ever broken have been at the Défi wind, so I have a spare set. I don't sail with a double set on the boom, but I have seen others do it.  
Fuel 
Pros finish this race so quickly, so they don't carry any food or water. I carry two 300 ml water pouches and 2-3 power gels in my impact vest's pocket. I usually take the first gel just before starting the race, and consume the other 2 gels during the race, should I need to take a short rest. It goes without saying that being properly hydrated and well nourished before the race is a great survival strategy. An evening bender at the bar will make the races the next day way more challenging, if you like that sort of pain! 
Footstraps 
With each race only having 3 gybes, and speeds being pretty high, most of the race is spent solidly in your footstraps. Here you are looking for maximum control. I set the footstraps much tighter than usual, but that still allow my foot to be deep enough in the strap. When the board thrashes around, I want to keep my feet in the straps. I set my back footstrap a little more forward than usual. This reduces how much force I can put into the fin, and reduces my top speed, but it reduces the fatigue of my upper thigh muscle considerably, which pays off for such a long race. 
Wetsuits 
Water temperature is around 19 degrees Celsius and the air can be a fresh 16 Celsius, so 
two wetsuits are recommended, as there isn't enough time between races for one wetsuit to dry. I use a 5/4 mm and a 4/3 mm. I recommend a full body wetsuit, mostly because when you are on the beach the flying sand acts like sandpaper on your lower legs. 
Protection 
In my first race I did not own a helmet or an impact vest, by the second race I did. Even though accidents are rare at the Défi, when you are bobbing in the water after a crash, riders are blasting by, and the thought of all those fins slashing past, sold me on the idea of the extra protection. The extra buoyancy of the impact vest saves valuable energy while doing waterstarts, and the helmet provides warmth and a sense of security. 
Gloves 
Race 1 …"I can't feel the rig with those stinky gloves." Race 2 …"Ooh these gloves are delightful!" The pros are born with leather claws, us amateurs can need some help. I use thin open fingered gloves, just enough to stop the formation of blisters, which is oh so easy at the Défi. 
Timing 
That tiny LCD display on your trusty old timepiece won't cut it. In the chop, it just becomes a blur, go for something like the oversized watches you can wear on your forearm from 'Optimum Time' (optimumtime.co.uk). That way as you approach the start line, you can easily see the remaining time to go. Also you can set the full 1-hour countdown. Having an additional GPS watch gives you bragging rights with your mates. Also you should enter Bjorn Dunkerbeck's GPS speed challenge; in the past the prizes have been epic! 
Footwear 
On the water I'm barefoot; so far I have not seen a reason for booties. Off the water there are a few places where there is coarse gravel, and a pair of slip-ons doe the job. After catapulting my shinbone directly into my carbon mast a few times, and being not quite sure if I would pass out from the pain or not, I now secretly conceal shin protectors in my wetsuit, and I know I am not the only one. Please don't tell anyone! 
Whistle 
Yes, I did need it, it was in a race when the wind dropped, and I simply was too exhausted to complete another hopeless waterstart. I blew my little whistle and one of the friendly jet skis came by and gave me a drag to shore, where I commenced the walk of shame back to the event area. 
Rope 
All along the racecourse about 800 metres out to sea, there is a series of about 50 buoys, a few hundred metres apart. And since the wind is offshore, having a rope to attach yourself and your gear to one of these buoys is essential for your safety. Also, It could happen that you get rescued from the buoy, but your gear gets left behind, it depends on the situation. A 4 mm diameter, 4-metre long rope should give you a chance to secure your gear to the buoy and fetch it later, otherwise next stop Morocco. 
Downhaul 
By putting on enough downhaul we open the loose leach of the sail, which makes it much easier to deal with those high wind gusts. In the past I did not put on enough downhaul, and I paid for it. Look to the manufacturers recommendations for your sail and get it spot on, so you have the best comfort during the race.  
Gear maintenance 
There is no question that the Défi will test both you and your gear. Check your gear thoroughly and replace what is not in tip-top condition, specifically inspect the condition of your mastfoot tendon, footstraps, outhaul line, downhaul line, mast extension ring, inhaul and boom head screws.  
Acclimatize 
Both pros and amateurs arrive well before the main event to acclimatize and prepare their gear. 
Some arrive even earlier to participate in a Défi Wind clinic. The day before the event start you can head down to the Gruissan Plage event area, this will be the last day of the 'Défi Kite' competition, and so the entire event area is already set up. Go and watch the kiters start a race, as the format is basically the same as the Défi Wind. Here you can witness the 'rabbit start' spectacle, where a black 200 hp powerboat, storms from the pin end upwind towards the committee boat at full tilt, all the sailors start behind the black beast's rooster tail. Head out onto the water, get comfortable with the spot, tune your gear, and build confidence. Getting to the start line consumes a lot of energy for amateurs, practice the differing start options and select the one best suited for your personal energy budget.  
Start option 1 – high energy, pro's choice  
Most competitors leave from the main beach and sail up to the far end, then with a series of downwind gybes, bring themselves to the start line. The gusts and wind holes caused by the holiday homes make it difficult, and you will need at least 15 minutes to sail about 5 km to reach the start line. It adds considerable time, distance and energy to your race, but gives you the best starting position. 
Start option 2 – medium energy, intermediate's choice  
On race day, take your equipment over the canal by using the temporary bridge that is set up a few hours before the skippers' briefing. Here the wind is more constant and representative of what you can really expect on the course. After a series of downwind gybes, you can clearly see where there is an open spot on the start line. You will need about 10 minutes for 3 km of sailing. This option allows you to save energy, but it requires more preparation. 
Start option 3 – low energy, beginner's choice 
At 5 minutes before the start, leave the beach and initially drift as far downwind as you can. 
After the start, it takes the 'rabbit' boat about 40 seconds to complete its run. During this time you should get yourself blasting, and cut through the crowd on the start line. In front of the committee boat, there is no wind and sailors blocking your path, try to avoid this! If you don't need a perfect start and want to avoid downwind gybes, this is the option for you. 
Explore the Course  
The flat water zone runs the length of the entire course, and this is the perfect place for comfort and speed and saves the most amount of energy. On your first run down to Port La Nouvelle (8.2 km), take it easy and look out for sandbanks and their shallows. Look out also for the pipeline and see how much weed there is at the rivermouth and find landmarks that help you remember where the obstacles are. Bear in mind that after a couple of days of Tramontane, the level of the sea goes down. Locate the shallow rest areas and find the depth where you can comfortably stand. On the way back to Gruissan Plage take regular stops on the beach to make tuning adjustments – harness lines, mastfoot, downhaul, outhaul, footstrap tightness etc. and take note of where your body hurts and make adjustments to compensate. Estimate if you are going to need hydration and nourishment during the races. 
Rest day 
By now your forearms, back and thigh muscles will need to rejuvenate, take the day off. Focus on rest, hydration and good food. It's a good day to visit the windsurf shops, explore the beauty of Gruissan Town, pick up some race snacks, and enjoy the sun. The day before the event start you can start confirming your registration at the end of the day to avoid queuing on the morning of registration as the day before is usually mellower. On race day registration in the morning usually opens around 8 a.m. Bring your national identity document and pick up your event wristband, Lycra vest, some goodies and enjoy the great vibes. By now you can stroll through the manufacturer exhibits and enjoy lunch. This year, vaccination proof or a PCR test may be needed. 
Get ready 
One hour before the skippers briefing, get the forecast wind speed and direction, rig your gear for the current conditions on the beach, and change into your race wetsuit and prepare the rest of your gear. Then get comfortable at the skippers' briefing, as this takes about an hour or more and it resembles a rock concert. The prime protagonist being Philippe Bru, the figurehead of the Défi Wind team. Most of the big talk is in French, with a short English summary at the end of each topic without the embellishments. Even though the meeting is a bit boring for non-native speakers, it gives valuable information about the rules, obstacles, and expected conditions. 
The skippers' briefing ends with great fanfare and the 1-hour countdown begins. All competitors should head to the check-in counters and check-in! You are now ready to race, the countdown ticks by faster than you expect! 
Racecourse 
The racecourse is a simple, up and down course along the coastline. The course boundary is about 800 metres out to sea. It's demarcated by a series of hard to see buoys. Each of them has a dangling tether, where you can secure yourself in an emergency. In addition, there are many safety boats and jet-skis along the course. Not to mention the overhead helicopter. 
For amateurs there is a simple strategy to save energy – after the start head upwind to the flat water zone close to the shoreline, but be aware of the pesky weed, the pipeline and lurking sandbanks! Now get yourself into the locked-in position and blast down to mark 1, which is two buoys slightly separated, and surprisingly close to the shore.  
Unless you are in the pack of top 50 sailors, you will encounter absolute chaos at mark 1, so approach it with caution, and try not to engage with other sailors and get a clean rounding.  
Mark 1 
Immediately after mark 1, the wind can be weak and turbulent and the sea state choppy. Allow yourself a bit of distance in a controlled state before you lock it down and load up the fin. 
The strategy to get to mark 2 is to head upwind into the flat water and stable wind. This is where your spot knowledge from the practice runs really pays off, as you know where the obstacles are. It's now your duty to look out for and avoid oncoming traffic! Right now, you are really feeling the strain, but the slightly larger fin is making it easy to head upwind. 
Mark 2 
Mark 2 is also quite close to the shore and is usually a dinky boat with a massive black flag and a photographer in it, this puts on a bit of pressure to execute a perfect gybe. By this time the field of sailors has spread out over the course, simplifying the mark rounding. There is plenty of space and time for a comfortable controlled gybe. With mark 2 being so close to the shore you are already in the flat water zone and can blast back down to mark 1. 
Finishing  
Arriving back at Mark 1 for the second time, all is calm by now and you can comfortably gybe around the buoy and head upwind to the flat water zone again and focus on the dual finishing lines. It's now the time in the gym and training on the water pays off, because everything is hurting. At this point you might be asking yourself, "What the hell am I doing here?"
Just remind yourself of how far you have already come, and now it is time to bring it home. 
Stay in the flat water zone as long as you can before you bear off to the finishing lines, as many sailors get caught having to drive the board upwind again to make the finish. After you have crossed both finishing lines with your Lycra bib number clearly visible from behind, then you have completed the course and your race time is logged. A race is closed when the last competitor crosses the finishing line. There is no time limit. It sometimes takes 3 hours for the last rider. Only once you have checked out at the checkout location near the event area, is your race complete, and I suspect that you will experience utter exhaustion, that is completely overridden by a deep sense of satisfaction! 
Apero 
The French for happy hour, "Apero", kicks off the party with giveaways and free beer. With over 1300 participants and their friends, there are a lot of happy vibes in the main event area. After a bite to eat, either at the local beach restaurant or the event's take-out kitchen, the bands fire up the crowd and deliver a booming performance. There is no shortage of entertainment if you still have the energy for it. This relaxed windsurf party vibe is shared among 30 nations, creating a warm sense of community; it's the magic Défi sauce. It pays off to be part of a group or have a collection of friends to party with, but even if you are here on your own, you most certainly won't feel alone, you are going to meet vibrant people! 
Between races  
Between races you can mingle around the main event area and every few hours there are prizes, giveaways and other crazy activities. You can also head down to the beach to see the latest gear the industry has to offer. Some of the suppliers will let you test your dream gear! 
Avoiding accidents 
There are many official rules, but these ones are most important at the Défi Wind. When your right hand is closest to the mast (green, starboard tack), you must keep your course predictable to allow the other sailors to avoid you. Only when an accident is imminent, should you take corrective action. When your left hand is closest to the mast (red, port tack), you must change course to avoid the other sailors, by leaving enough space and time for a safe passage past each other. If you are overtaking from behind, then you must keep clear of the other sailors. 
Notice that I specifically avoid the words, 'right of way', as we must all take care of each other on the course, despite our ambitions to excel in this amateur event. 
Additional Tips 
Check-in & check-out  
Both myself and multiple professionals have forgotten to check-in or check-out resulting in disqualification from a race. Only when it is confirmed that all sailors are safely checked-out of the last race, can the next race begin. Being the person hailed for over the loudspeaker system really sucks! 
Sail size 
Think in terms of endurance and select the sail size that you can manage in the current wind conditions. Don't go too big, but also don't go too small. Really the only way to know is to go for a short run without burning too much energy and pray that the conditions remain stable. 
The downhaul 
Every year you always see some lost soul with a snapped downhaul doing the walk of shame. Don't be that castaway, take an extra downhaul.  
Beach talk 
In the last hours before the race there is a buzz of discussion about gear selection and race strategy. This makes me question my choices and is very unnerving. It's better to ignore this chatter and avoid frantic last-minute changes to gear or strategy, unless you are clearly wrong. 
Theft 
Although very rare, petty theft does take place, and you should have a close eye on your gear, especially that expensive carbon fin. Only bring the equipment to the beach that you need. If you came with a windsurf trailer, use a tow-hitch lock. 
Gear Hire 
Jerome and Arnaud have a small watersports centre idyllically located directly adjacent to the event area. They provided me with excellent equipment and a selection of sails, on a first come first serve basis. Also, they treated me like family, gave me encouragement and celebrated my first Défi Wind race with me. Once your Défi wind inscription has been confirmed by email, this is the right time to reserve a board. See more at www.akila-centers.com/nautique-gruissan/en/activite/windsurf/ 
Training 
I'll admit I found the Défi Wind quite intimidating, and it is, but with the help of PWA Profesional Nico Akgazciyan, I quickly built the skills and confidence to enjoy it. He runs the F400 Surf School, Defi Wind Clinic. His enthusiasm and energy are infectious. Make contact with him at f400surfschool.com 
Windsurf shop 
Locsurf (www.locsurf.com), is the local windsurf shop directly on the beach. Locsurf also provide a great webcam pointing down the beach towards Port La Nouvelle.  
If you have read this far, you are an absolute legend, and I have a hunch that I will see you in Gruissan France for the 20th Défi Wind! After all, if I can do it, you can do it too! 
Hang ten! Crazy Chris Bentley, @reallycrazychris.