Tweet
Rising stars Islay Watson and Finn Hawkins have made history becoming the first under 21 and under 19 world champions in the iQFOiL windsurfing class, Olympic sailing's newest discipline.
---
British Sailing Team News Release: "Watson (above), 20, a youth world champion in 2018, was also the top British female at the iQFOiL International Games, held in Lake Garda, Italy, finishing seventh in the 66-strong women's fleet.
Her gold in the under 21 category adds to the silver medal she won at the class European Championships in Switzerland in August.
Hawkins (below), 17, was 14th overall in the 118-athlete men's fleet, and only narrowly missed out on taking the under 21 title on top of his under 19 victory.
Like Watson, Hawkins, who won a bronze medal for Team GB at the 2018 Youth Olympics, was also a medal winner at the European Championships, taking the top spot in the youth division.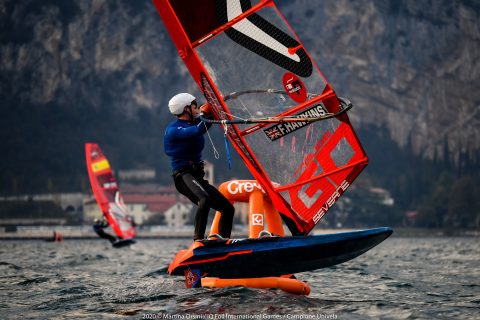 "This event has been a challenge but I have learned a lot from racing against the best in the world," said Watson, from Aviemore, Scotland. "It is very encouraging to see from these results that the hard training I have done in the UK over this year has been effective. Hopefully I can continue to improve on these results in the future and keep working towards the end goal of a medal at the 2024 Olympics."
Hawkins, from St Austell, Cornwall, is also targeting silverware at Paris 2024 – and started the regatta with his first ever senior fleet race win.
"It was an amazing event with 118 competitors in the men's fleet which made for some intense and exciting racing," he added. "I am so happy to be the U19 International Games champion, 2nd U21 and 14th in the senior fleet! I'm very happy to be the best in my age category but more excited for my progress in the senior fleet as I'm getting closer to my end goal of winning a medal at the Olympics."
The iQFOiL is a cutting-edge windsurfer that flies above the water using a hydrofoil. It has been slated for inclusion at the Paris 2024 Olympics, replacing the RS:X board.
The exciting new discipline has proved incredibly popular with British Sailing Team athletes as well as those competing in other windsurfing disciplines.
Despite the challenges the Covid-19 pandemic has put on sport, a strong training group has developed operating from the British Sailing Team's performance centre at Weymouth and Portland National Sailing Academy.
Nineteen Brits took on the International Games, and their results spoke for themselves.
On top of Watson's and Hawkins' victories, Brits Matt Barton and Sam Sills came home fifth and sixth in the senior men's competition, while Watson's seventh overall was followed up by Imogen Sills who posted ninth."
Results from the iQFOiL International Games can be found here.