Tweet
Want to have score world class wind and waves but have a holiday at the same time? Planet Windsurf holidays tell us more about their five spots for mixing down-the-line with downtime..
Caught the windsurfing bug and now looking to test your mettle in some of the world's best windsurfing spots? We know the feeling. And that's why the team at Planet Windsurf Holidays has spent years scouring the globe for places that have got the lot. Reliable winds, the ultimate conditions and all the required facilities.
Of course, it's good if travel doesn't involve too much of an ordeal, flights are easy to come by and it won't cost you an arm and a leg. And, if your destination is warm, sunny and naturally beautiful this all helps too. As does a strong local scene and a range of other attractions and entertainment.
So, where are these mythical destinations, we hear you ask? Well, here's a rundown of our top five. 
PACASMAYO
Quite simply one of the best wave spots on the planet. You might be able to find bigger swells but you won't see anything longer than at Pacasmayo in Peru. And it's reliable too, with set after set rolling in every day in season. And the wave is almost a kilometre long! The wave doesn't carry too much power either so it's not too frightening and great for building confidence. It might be a bit of a longer journey but the town itself is really charming and it's affordable too.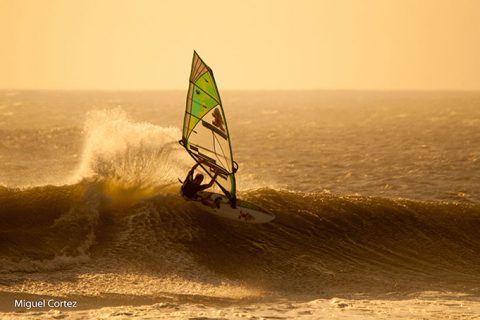 LE MORNE
With the towering Brabant Mountain as a backdrop and some of the best surfable breaks in the world, Le Morne in Mauritius is pretty close to a perfect windsurfing spot. The reliable southeast trade winds blow all day, especially in the winter months between June and October. It is also low tourism season at this time, so you can find great deals on flights and accommodation. The water is warm and shallow and open to a whole range of water sports, so it's also ideal if you're travelling with family members or as a group with beginner windsurfers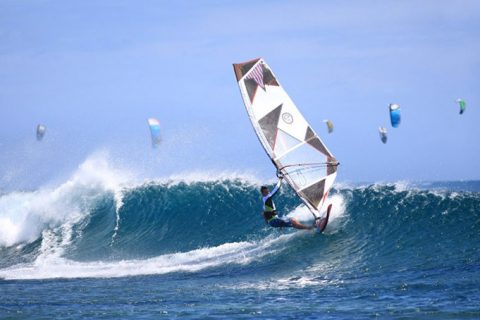 DAKHLA
Heading south from Morocco towards the sweltering heat and disputed territory of Western Sahara doesn't seem like the kind of place you would find world class windsurfing. But that's exactly what you get in Dakhla. This vast lagoon is filled with shallow blue water and is completely flat but just on the other side of the peninsula is one of the world's best wave spots. Combine this with around 80% wind reliability year round and you're looking at one of the best windsurfing destinations in the world. Many of the hotels have waterfront locations so you can launch right in front of your room and just eat, sleep and dream windsurfing. 
CABARETE
With regular direct flights from the UK to the Dominican Republic, year round winds and a variety of water conditions for all levels of rider, Cabarete is a firm favourite. With great wave sailing as well as flat water freestyle, all on long sandy beaches, there is plenty to get excited about. And it's stunningly beautiful too, with vast green mountains and waterfalls just in from the coast. During your brief time out of the water, explore more on a mountain bike or simply hang out and enjoy the Latin vibe. 
CAPE VERDE
This is the only hot, winter reliable wind destination available on a short haul flight from the UK. But that's not all. There is also an impressive choice of windsurfing spots around the islands, including our favourites of Sal and Boa Vista. Visit between November and April for the best conditions and most reliable winds. And you can also enjoy the vibrant local culture and fascinating volcanic beauty of the islands.
Find out more about these destinations here