Tweet
QUATRO CUBE 87L
2020 TEST REVIEW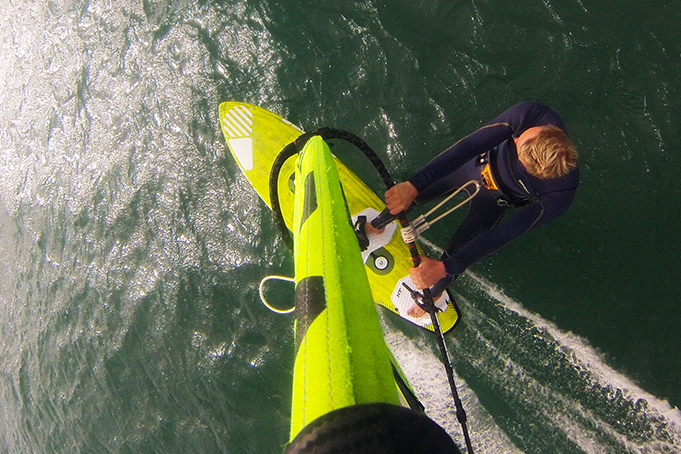 THE VERDICT
The new Cube maintains its predecessor's lively compact reputation, extending its range and appeal through subtle refinements. It is a stunning all-round contender and one we'll find hard to give back!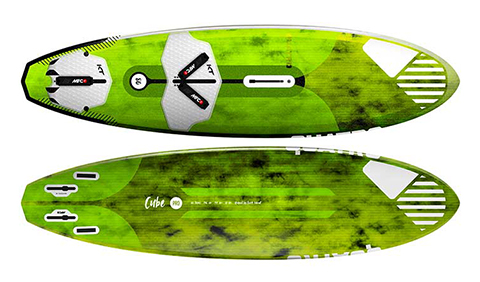 THE LOWDOWN
The Cube has been updated for the new season, gaining 'Pro' in its title and rebranded as Quatro's Powerwave Quad, rather than described as their 'control wave'. There are now six sizes in the lineup, ranging from 75 to 106 litres, although the same Pro Carbon and S Glass construction is used, and same excellent MFC straps and fins supplied. Under closer inspection, the design of this new 87 is also a clear evolution from its predecessor, rather than a complete reworking. It retains the same squashed diamond tail and compact outline, yet subtle changes are also evident in volume distribution and tail shape. There is now a straight-sided outline in the rear, leading from the tail to just in front of the back deckpad, helpfully emphasised by the matt back graphic along the rail. The tail is also narrower and has been thinned down, pushing more buoyancy into the board's mid-section. Finished in a sanded yellow to reduce excess weight, it has a minimalist graphic appearance, which in turn draws attention to the polished rails along the board's mid-section and nose. The MFC straps sit on top of the brand's excellent KT dual density deckpads, the back strap benefitting from double screws to eliminate twist. One final observation is that the fin boxes are small, resulting in the fins being placed exactly where they're intended … as there is no real room for them to go anywhere else!
BRAND CLAIM
"For the Cube Pro's latest generation I worked on putting as much emphasis on early planing as possible, giving you every single bit of boost you might want at any moment. It's like a turbo that's constantly spooled up. I'm keeping this powerful board stable with a fuller, more parallel outline, aiding to keep your speed when bottom turning and backside riding in side to side onshore conditions, where turns toward the lip are longer, drawn out, and require more stamina than in side-shore locations." – Keith Teboul.
PERFORMANCE
Balanced and easy underfoot, the Cube releases cleanly and quickly as soon as power is supplied. The ride is smooth and comfortable, the deckpads and straps providing just the right amount of comfort and connection. The most impressive part of the Cube's ride though is its planted nature. The tail of the board just sits connected to the water, without ever feeling sticky or awkward, gliding through lulls and providing the security and dependency to plough power through during gusts. Its speed is ample and comes easily, the Cube capable of pointing high and cranking upwind at will. Used in clean cross-shore waves, it feels alive and active underfoot, gripping beautifully through the tail to be driven as aggressively as you wish. Compact underfoot and easy to redirect off any broken water, it just feels as if it has been programmed beforehand, happy and willing to obey any command. However, in cross-onshore or dead onshore conditions using the Cube feels almost like you're cheating! It glides out through turbulent seas and is easy to tack and transition quickly to make it to the lineup. On the wave it can be taken wherever the pilot requires, turning sharply and aggressively by pushing hard through the back foot, or equally happy maintaining speed through a more drawn out turn to reach a more distant section. As the conditions turn on, the 87 shows little sign of suffering from its predecessor's Achilles heel. In the past, the wide tail outline of the Cube meant it felt a little cumbersome when trying to turn loaded. The new Cube's thinned down and straight-edged tail helps to improve grip and keep the rails locked in on their trajectory up the face.
VITAL STATS
Volume (Quoted): 87L
Length: 222 cm
Width: 58 cm
1ft off: 38.1 cm
Bottom shape: Vee with double concave from nose to tail, the vee being most pronounced either side of the mid-section.
Weight ('Naked'): 6.22 kg
Fins: MFC QS RTM 300 quad set (US centre fins, MT side).
Sail Range (Quoted): 3.7-5.5 m
Sizes Available: 75,82, 87,93,98,106.
---
Other boards in this test:
THE LINE UP
---
---