Tweet
Seavets is a UK based senior and veteran windsurfers association, vice-chairman Ruth Tracey tells us more about their merry clan.
Words & Photos  Ruth Tracey
---
Seavets organises events for mature windsurfers; membership starts at 35 years old, although in practice ages range from 50 to 80+. We run raceboard racing, which is friendly but competitive, there are trophies to be won after all; protests are discouraged and there hasn't been one in living memory! Fleets are not too large and intimidating, with a maximum sail size of 7.8m – good for those of us not so strong as we used to be. As well as the racing events, we hold non-racing social sailing and cruising events, and a holiday each year at Quiberon in France. Our annual subscription is the same as it has been for at least the last 25 years – £12 per couple and entry fees for racing events are between £15 and £17. Racing events are held on Saturdays, while most of the social sailing and cruising is midweek. Racing is mostly on classic 380cm raceboards with a mix of Fanatic Cats and Starboard Phantoms, as is cruising. For social sailing sailors choose short boards or race boards according to the weather and conditions.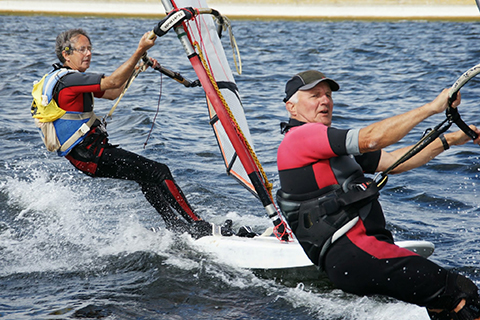 Our season runs from late March until early October. Ten racing events are planned for 2019. The racing fleet is divided by age – Seniors, Veterans, Supervets, Megavets and Octovets (over 35s, 50s, 60s, 70s and 80s).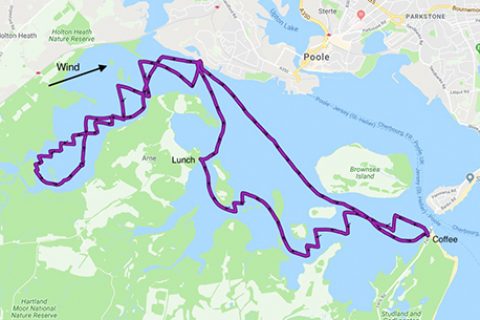 The cruising group aims to round several islands and tour some harbours each year – Hayling, Mersea and Sheppey Islands, Poole and Chichester Harbours and the Blackwater River. Cruises typically find somewhere to stop for coffee or fish and chips en-route. Largely the same group sail around the cans at Datchet Water the weeks when the 10/10 rule holds (minimum 10 knots, 10 °C.) or go cycling if too cold or no wind. Social sailing events are organised in Poole Harbour, Calshot, Weymouth and Mersea Island. Full details are on our website: www.seavets.co.uk.
Many of our members come to events in motorhomes, and we often gather for a meal or barbecue together in the evenings. It may sometimes appear that the social side of our events is at least as important as the windsurfing! One member's granddaughter tried to teach us all to dance the 'Floss' one sunny evening at Carsington! The coordination required defeated some of us, especially after a good BBQ and a glass or two of wine.
Seavets roots go back to 1983 when the UKBSA (now the UKWA) organised an event for youths and the over 50s at Northney to celebrate the National Year of Sport. '12 Omegas', as they were called, participated and four of them became founder members of a club whose offspring was to become Seavets.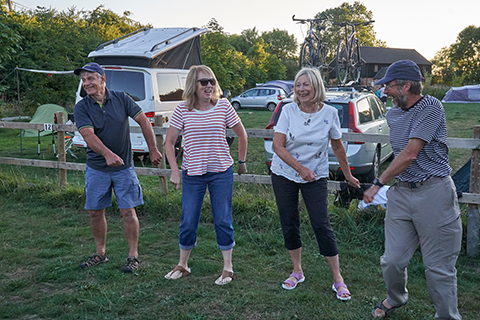 The charity "Foundation for Age Research" was looking round for sponsorship by older people who were taking part in sport. Windsurfing was regarded as a relatively safe sport and was considered medically good exercise for the 'not-so-young'. The charity believed that mature windsurfers would attract press attention which could be a useful peg on which to hang publicity for their own general fundraising efforts. They would also provide an example of a healthy active lifestyle in later years. We still raise money for our supported charity, now the 'British Society for Research into Ageing', and over the years have raised well over £80,000.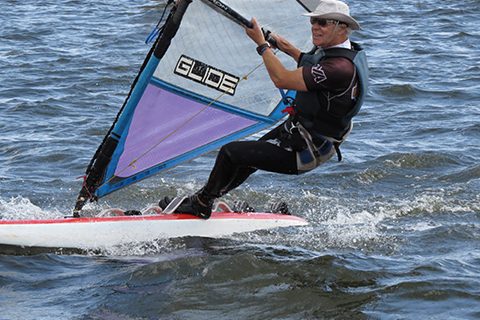 If you are interested in the racing or social side and are looking for an opportunity to get that old board out of the garage you are very welcome to contact us via e-mail (Steve Fletcher on [email protected],uk or myself, Ruth Tracey, on [email protected] ). We can probably find kit to borrow if your old board is not still fully functional! For more information on Seavets, see www.seavets.co.uk
"It may sometimes appear that the social side of our events is at least as important as the windsurfing!"