Tweet
SEVERNE REDWING 2021 TEST REVIEW
From our May 2021 issue our test team review the Severne Redwing.
---
THEY SAY
"Our foil equipment has been designed to get people up and flying easily, safely and with as much fun as possible. By directly understanding all the variables ourselves, we have made the design choices to deliver a foiling experience that will expand your windsurfing world."
WE SAY
The Redwing is Severne's first foray into the ever-growing foiling sphere, with the clear objective to increase time on the water for their customers. Some would say they're late to the party, yet they've taken time to consider their foil's makeup and geometry, with several key features worthy of mention. Firstly, the Redwing has several safety features, such as each winglet being rounded and curved downwards, away from the rider and their limbs. The wings themselves are supplied with covers, to help mitigate any damage or injury on land and the bolts supplied to fix the foil together (and into the board) are all 8 mm, using a single 5 mm Hex tool for all. The process of assembling the Redwing is straightforward, using the minimum number of bolts possible and only two bolt sizes throughout to mitigate any confusion. And lastly, Severne are keen to state they've taken great consideration in ensuring the Redwing's rigidity and reliability, claiming their mast is "stiffer both longitudinally and torsionally than most carbon masts", whilst the long straight-sectioned fuselage maximises the strength to weight ratio possible.
Fitting the Redwing together initially is clean and uncomplicated, the Deep Tuttle aluminium head then slotting easily into all the boxes we tried. Just be sure that the fin bolt holes in the board are wide enough to cater for the 8 mm fin bolts used by the Redwing. If it's a very tight fit, Severne claim that, "Filing the fin bolt holes on your board gently fixes this." With easily the lowest aspect front wing here on test, the Redwing had a very distinct character on the water. It is by far the easiest here to get foiling initially, gathering speed subtly and fluidly and requiring little input from the rider. Incredibly passive, you glide upwards and fly clear of the water's surface before you even realise, making it a wonderful foil for those looking to experience their first flights. For those with a little more know-how, it is also incredibly responsive to pumping, and will maintain flight at such slow speeds, it's as if you're almost hovering! It makes the act of wind foiling nigh on effortless and very attainable for even the most novice or nervous rider. Stable and balanced underfoot, it can be used to cover distance effortlessly, cruising at a comfortable speed, whilst feeling responsive and playful enough to inspire the rider into some carving tricks or transitions. There is certainly a limit to its speed, not really responding to being loaded or pushed and preferring a more relaxed upright riding style. And nor did it like to be partnered with a wide-tailed foil-specific board (140 litres +) where the leverage of the tail width seemed to over-exert unnecessary pressure on the narrow front wing. Instead, the Redwing is a great partner for smaller foil specific boards or hybrid platforms with narrower tail widths. It worked particularly well with compact freeride designs that are foil-ready, whilst in transitions, the Redwing is so stable and dependable at slow speeds, it makes quick work of full foiling manoeuvres. In fact, you'd be hard pressed to make too many faults to stop the Redwing flying! Fun, supremely easy and stable, the Redwing represents superb value at just £899.00 and oozes the quality in design and construction we have come to expect from Severne. We understand that the 1400 is the first of a family of front wing options due to be released in the future, yet all future developments stop short of presenting any crossover into wing foiling. Severne are very clear – they are a windsurfing brand and have no interest in any possible crossover, no matter how good their product could potentially perform with a wing.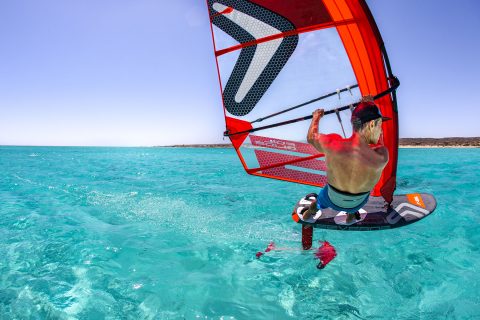 SEVERNE REDWING 2021 TEST REVIEW
---
VITAL STATS
FOIL
Head: Deep Tuttle
Mast Length: 90 cm
Mast Material: Aluminium
Fuselage Length: 95 cm
Fuselage Material: Aluminium
Front Wing Span: 76.0 cm
Front Wing Chord: 25.0 cm
Front Wing Area (Quoted): 1400 cm2
Tail Wing Span: 48.0 cm
Tail Wing Area: 350 cm2
Tail Wing Shims: None
Wing Material: Carbon
Weight: 5.12 kg
PRICE: £899.00
---
OTHER FOILS IN THIS TEST
---