Tweet
Fanatic have just released their new Sky Air Premium inflatable wing foiling board, perfect for travelling!
---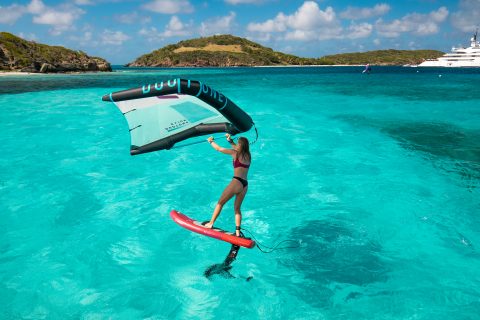 The Sky Air Premium – our travel friendly version of our popular Sky Wing models – no compromise on comfort and riding sensations, in a compact package! It comes in 3 sizes from 5'4″ to 5'10" and offers an incredibly stable flight. Our extra rigid Carbon plate directly under the riders feet, makes sure the foil follows every command instantly. The shape features a pronounced nose rocker making sure touchdowns won't stop the fun.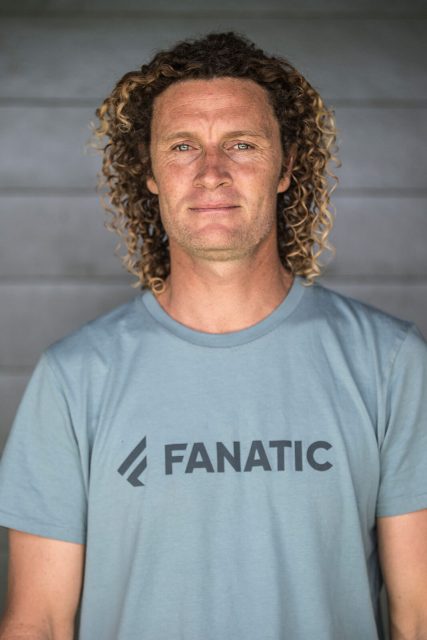 SKY SOLBACH
"Of course the bottom shape and the rails aren't comparable to a composite board. But there's several things you can do to bring the behavior as close as possible to that of the solid Sky Wing shapes.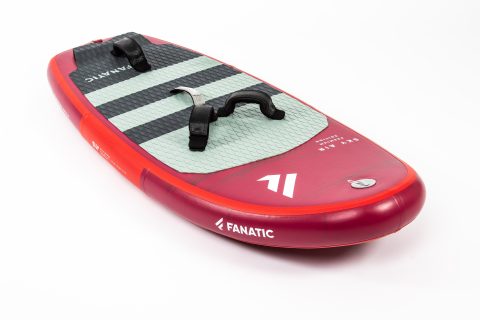 We've tuned the rocker line and added many features to give the Sky Air an easy take off and to make them feel very rigid and responsive under your feet and at the same time make them forgiving for touch downs, which saves entry level riders from falling off and re-starting all the time.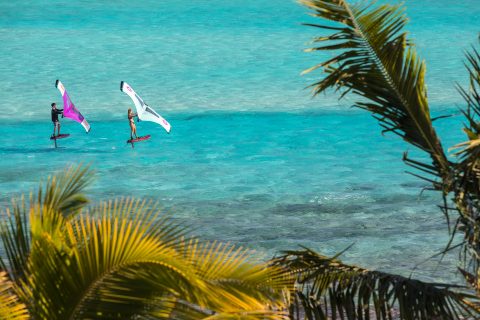 Ultimately the benefit of these boards is that you can fold them in half and pack your entire setup in a nice compact bag for traveling – which is something the composite boards cannot compete with. Of course the iSUP material itself is super durable and perfect for beginners/intermediates, keeping damages to a minimum whilst offering a soft and safe surface vs a more fragile composite board".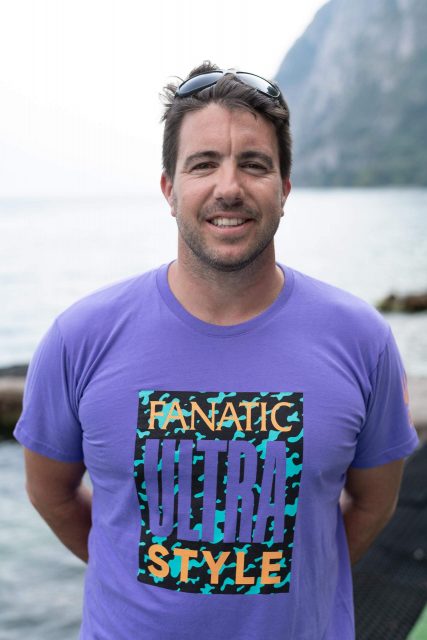 DANIEL AEBERLI 
"The team and I tested quite a few inflatable boards for foiling and our conclusion was, if we do it for Fanatic, we need to do it properly and not just make an iSUP with a foil box, as our impression of simple designs with a box or tracks only in the tail wasn't really satisfying to say the least. Designing a really solid carbon plate that stabilizes the entire area between the foil and the front foot was a game changer in the process.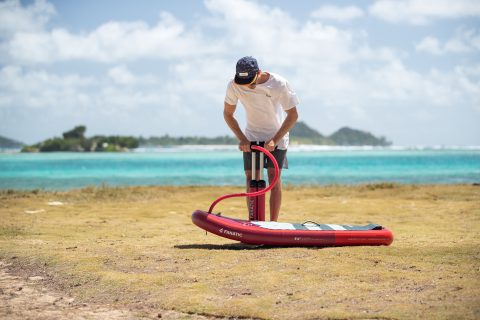 We combined this with our most rigid inflatable technology and Sky's latest outlines plus extra nose rocker. Still, we were missing the easy release, so we've added silicon rails to reduce the drag around the tail of the board. Footstrap inserts for 3 straps and last but not least the essential feature of a bottom handle, round off the riding sensation on the water and the comfort on land".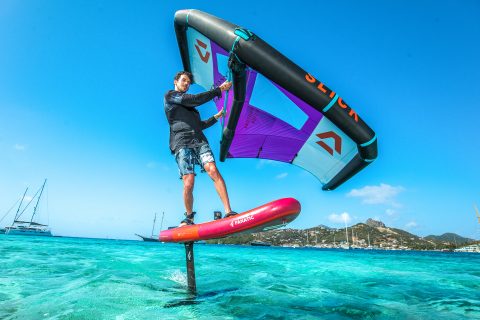 More details here: https://www.fanatic.com/foil/our-world/about-us/news/detail/out-now-sky-wing-inflatable-wing-foiling-board