Tweet
Be like the birds and prepare to fly south, but don't rely on the earth's magnetic field to navigate, use our handy travel guide instead! From travel tips from the pros to Sportif and Planet Windsurf's top 5 spots for 2017 and our convenient micro guides, we have gathered the information to let you dream of and plan your next adventure in the sun and wind. Your winter blues cure starts here!
TRAVEL TIPS
Robby Swift, John Skye and Ricardo Campello give us the considerable benefit of their travel knowledge.
---

ROBBY SWIFT

"Windsurfing is the most enjoyable sport in the world, at least for me. Travelling with windsurf gear however takes almost all of that joy away and makes you wish you liked playing golf instead!
Having travelled on the world tour for 16 years now, generally with around 200-300 kgs of gear accompanying me, you would think that I would know all sorts of tricks but the honest truth is that I still sweat on the way to the airport. You never know what they might do. Sometimes you get a check in agent who is kind and lets you on for nothing, sometimes they charge you a fortune and sometimes they just flat out tell you that you can't take that on the plane with you and you have to buy another ticket with another airline, even though you have flown dozens of times on that airline with the same amount of gear before.
If I'm going to events, I take all 5 of the boards I use (RTQ 75-94) and backups of them all, plus all my sails from 3.3-5.6 and a mast to rig all the sails, plus 1 extra in each size (15 masts total) plus 6 booms so I can rig all the sails. Hence why I have so many bags!! If I'm travelling to Chile from Maui I usually just take 3 boards plus a surfboard and sails from 4.2-5.3. It's a little lighter but still 3 heavy windsurf bags! My wife does love coming with me on those trips with all that gear plus the baby 🙂
Other essential things I always take are my camera gear, drone, yoga mat, foam roller (yes, I am starting to feel the need to stretch and roll out my muscles a lot more now I'm in my 30s!).
As far as cheap tickets go, I like to check expedia.com and momondo.com. I really like momondo because it has a graph of the prices all the days around the day you want to fly so you can see if there is a cheaper ticket a few days before or after when you planned to leave. You can usually get much cheaper tickets by buying separate parts of tickets on separate reservations but sometimes that comes back to bite you as you might have to check in with your gear again (if they don't have an interline agreement with the other airline, and sometimes even if they do have an interline agreement). Also, if your first flight is delayed and you are travelling on with another airline under a different reservation, they don't have to re-book you and you can end up having to buy a whole new ticket. That one can sting. Basically, if I am travelling far away, I try to book 1 ticket with all the flights I need. I rarely book separate reservations anymore because it's just not worth the stress and extra money when it goes wrong.
As far as upgrades go, you can always ask at the check in counter if they are doing last minute upgrades. Sometimes they let you buy up to business for around $500. That's nice if you are on an 11 hour flight. Other than that, you generally have to fly a lot with an airline to get free international upgrades. I have flown over 100k miles a year with united for the past 13 years and I get 6 free upgrades every year, but they run out fast and you have to buy slightly more expensive tickets to be able to use them. I think American airlines let you use those free upgrades on even the cheapest tickets but they only give you 4 of them now, so if you are thinking of choosing an airline to start building miles with, you have to take that into consideration.
Now, United and American airlines have both made a base monetary spending level of $12,000 USD per year to be able to get to their highest level of frequent flyer card, so not only do you have to fly 100,000 miles in the calendar year to qualify but you also have to spend $12,000 on base fares (not including taxes) so it's pretty hard to squeeze those upgrades out of them!! If you reside outside the US though, United does waive that $12,000 base spending requirement, so it's probably best to start up with United/Star Alliance if you live in England. Also, British Airways don't take windsurf gear at all, so it's quite hard to leave the UK with One World carriers."
---

JOHN SKYE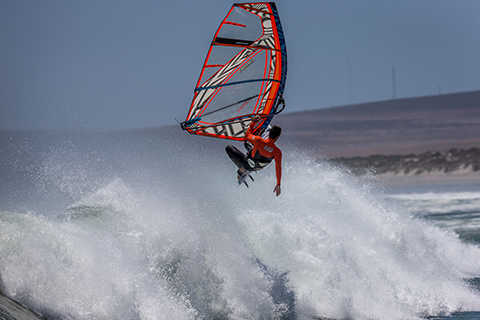 "Travelling with windsurf gear is both an art and a science and seems to be getting harder as time goes on. Virgin for example, who once made a huge deal about taking gear at great prices, have now backtracked and no longer take anything over 2m, thus ruling out windsurfers. My top tips are:
• Have a decent scale, so you know if you are under or over your allowance and can adjust your tactics accordingly. If overweight, I always carry an additional lightweight quiver bag to be able to separate things if needed.
• Choose your airline carefully, it's sometimes worth paying more for a flight if their gear policy is better.
• On long haul flights make use of your hand luggage. All my clothes for a 3 week trip to Maui fit in a wheelie bag, plus I can carry my backpack with computer etc, therefore leaving my baggage allowance for gear.
• Each airline and airport is different. Learn which ones weigh everything and which don't, and adjust your packing accordingly.
• Don't go too crazy with the gear. I remember an early trip I made to OZ and I took spare everything. In the end it was so much I had to ship it, half of it by cargo, which took 3 weeks. When it finally arrived I realised it was basically a bag full of stuff I didn't actually need at all!
• If you have kids, get bags for the pushchairs and car seats. My fin stash/extensions/wetsuits all go for free packed into the car seat bag!
For cheap flights I always start with Skyscanner.com, it's often a good way to check if the prices are better 1 day forward or back if you are flexible. However I then nearly always book it through the actual airline websites."
---

RICARDO CAMPELLO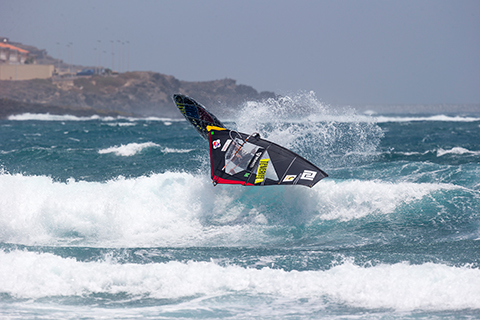 "For packing tips, if I go to Maui for example, the packing weight can be really strict. You cannot have a bag over 70lbs / 32 kgs with American Airlines. If you do you have to pay a lot of money. I try and keep my bags just below the weight limit. I put a little protection on my boards so they don't get scratched and I put my accessories and extensions inside the boom bags. I try to pack everything dry because if it is wet then it weighs more.
For seats, When I check in my first question is if the flight is full. If it is full then there is not too much you can do. If it is empty then I normally like to ask for a window exit row seat. If it is a long flight then I try and make sure I am the last one on the plane and then look around for an empty row so I can lie down. Normally the rows at the back of the plane are the empty ones. If I score an empty row then I will put my bag and shoes on the empty seat to try and block anybody coming into my area! I also check seatguru.com, which tells you the best seats on every flight. This way you can work out the best seats on the plane. Exit rows are my favourite though.
Travel essentials, I normally take my drone, my camera as well in case I find somebody to film me. I take my apple computer, my iPad, a spare jacket and one of those head pillows that you blow up.
For cheap tickets, I always look at Kayak.com to find the best price and then maybe try a travel agent to see if they can beat it. I fly with American Airlines most of the time so I build up air miles with their group of carriers. After a few years the miles can add up to free flights, extra baggage, lounge access or upgrades. I don't fly with British Airways as they don't take windsurf gear. They don't accept bags that are bigger than two metres long."
TOP 5 ACCOMODATION RECOMMENDATIONS

JANE FAUGHNAN
SPORTIF WINDSURF HOLIDAYS WORLDWIDE
www.sportif.travel | 01273 844 919
1. Mediterranean
Rhodes – Greek Islands
Blue Horizon Hotel
Rhodes is best from June to September with a choice of budget apartments to luxury hotels, right on the spot. The best spots are Ialyssos and Ixia Bay in the North and Prasonisi in the South. Conditions range from flat water, sheltered bays ideal for beginners, slalom and freestyle spots to small to larger swells/small waves during spring and autumn. The centres offer a wide range of the latest 2017 F2 and JP equipment. Rhodes is best for all levels with mixed ability groups easily catered for. Sportif Clinics: Peter Hart Ialyssos, N Rhodes (June 2017) and Jem Hall, Prasonisi, S Rhodes (June 2017). Early booking offers from £449pp including flights.
2. Canary Islands
Sotavento – Fuerteventura
Melia Gorriones Hotel
You can windsurf in Fuerteventura 365 days a year. The best conditions are from April to September with peak season seeing the PWA compete in Sotavento. The 4km long tidal lagoon provides shallow, sheltered training areas with sandy beaches, turquoise water and world class slalom and freestyle conditions offshore. There is a choice of beginner to advanced spots, free shuttles and a large number of 2017 Fanatic, Starboard and JP boards and rigs. The 4* luxury Melia Gorriones overlooks the lagoon and is ideal for families and non-windsurfers. Sportif Clinics: Simon Bornhoft (July 2017). Early booking offers from £499pp including flights.
3. Caribbean
Pidgeon Point – Tobago
Kariwak Village
Tobago in the southern Caribbean is just outside the hurricane belt, with trade winds starting in December through to June. Beginners and intermediates can enjoy learning from July to November. The sailing spot is at Pidgeon Point National Heritage Park, a flat water lagoon protected by the offshore breakwater with unspoilt beaches. The island offers many activities including  SUP, kayaking, rainforest tours and surfing. Tobago is a laid back, inexpensive island with many festivals and carnival week a highlight. Sportif Clinics: Jem Hall (Feb 2017), Peter Hart (March 2017). Early booking offers from £849pp including flights.
4. Americas
Jericoacoara – Brazil
Hurricane Hotel
Jericoacoara, Icaraizinho and Gostoso are home to world champion windsurfers and for good reason. From August and through to January expect F4 bft+ wind for 95% days +.  Explore the best spots on 4×4 buggies, staying in laid back fishing village Icaraizinho before heading onto windsurfing Mecca Jeri with its sunset dune parties. Conditions vary during the season from intermediate slalom to advanced wave and freestyle with Gostoso offering a longer season. There are full service centres with JP/Neil Pryde kit around 10 minutes walk from budget pousadas, boutique or luxury hotels. Sportif Clinics: Peter Hart (Jan 2017) & Jem Hall (Nov 2017). Early booking offers from £1,149pp including flights.
5. Indian Ocean
Le Morne – Mauritius
Creole Resort
Le Morne is known for the widest range of world class conditions in one spot. The best time to go is from May to December. Exotic, palm lined, sandy beaches give way to turquoise lagoons, flat water and fringing reefs. Wave conditions vary from entry level to the professional only barrels at 'One Eye'.  The 4* luxury Creole Spa Resort is directly on Le Morne beach with onsite windsurf centre also offering kitesurfing, surfing and SUP multisport rental and instruction packages. Sportif Clinics: Jem Hall (Sept 2017), Simon Bornhoft (Oct 2017), Peter Hart (Nov 2017). Early booking offers from £1,349pp all Inclusive including flights.
Sportif Travel offer ATOL Protected flight, hotel, transfers & multi sport discounted packages to 60+ worldwide destinations. www.sportif.travel

1. St Regis Resort
Le Morne, Mauritius (Jun to Dec)
There are few locations in the world where you get that perfect storm of a stunning luxury hotel, right next to a world class windsurf spot. The St Regis Resort is perfectly located at one of the planet's very best windsurf spots – Le Morne. This is the ultimate in luxury windsurf holidays. A wind shadow at the resort is great for your family or partner, but walk to the end of the beach, turn a corner and you're right onto the windsurf beach, just perfect! Whether a total beginner or advanced down the line wave rider, it's all here.
2. Sorobon Hotel
Lac Bay, Bonaire (all year)
Located on the shores of the stunning windsurf lagoon of Lac Bay, on the Caribbean Island of Bonaire, the Sorobon hotel offers a good quality 'beachy' feel. The views across the bay are stunning, and the windsurf centre is just next door. This is Caribbean with 'character', with more 'European' prices than the inflated general 'Caribbean' prices. You could comfortably travel here as a single traveller, as well as with your family or partner. There are very few, if any, other quality Caribbean hotels that offer such a perfect windsurf holiday location.
3. Gostoso Luxury Boutique Hotel
Gostoso, Brazil (Sept to Mar)
This is a real hidden gem, one of those special places you really have to 'discover'. This property is a small boutique style, totally renovated in 2015, right next to a superb windsurf centre in Gostoso, just over an hour from Natal airport in Brazil. A family business, with an Italian chef now at the helm, offering amazing food and bare foot luxury at ridiculously cheap prices! You can windsurf right in front of the hotel's massive beach, using the latest RRD equipment on uncrowded waters.
4. Langebaan Beach Guesthouse
Langebaan, South Africa (Nov to April)
During the winter South Africa is THE place to be for wind, value for money, wind, stunning scenery, wind, world-class food and… wind… Set right on the shores of the huge Langebaan Lagoon, looking out over a nature reserve across the water, this property offers simple but elegant accommodation with a relaxed fun atmosphere. There is a superb windsurf centre right next door with the latest Tabou and Gaastra equipment and a great instruction programme. For a genuine warm South African welcome, with windsurfing right on your doorstep, this is our top choice.
5. Ocean Vagabond
Dakhla Lagoon, Morocco (all year)
Dakhla lagoon in the Sahara desert of Morocco has become a kitesurf mecca in recent years, but there is really only one accommodation here that still has a strong focus on Windsurfing, Ocean Vagabond. Built by a successful hotelier and windsurf enthusiast, this is a windsurf camp yet run like a professional small luxury hotel. Of all the camps here on the Dakhla lagoon this the only one you could consider sending a non-windsurfer to, armed with a book and laptop. Planet now offer same day connecting flights to Dakhla, (previously requiring overnights each way), making this amazing location very accessible.
For more on Planet Windsurf Holiday's hand picked and personally vetted hotels and holidays see their innovative website (www.planetwindsurfholidys.com) for an immediate on-line quotation, or call for expert impartial advice on +44 (0)1273 921001
---
MICRO GUIDES

  Flag Beach, Corralejo, Fuerteventura

  René Egli, Sotavento, Fuerteventura

  Tenerife Windsurf Solution, El Medano, Tenerife

  Surf Club Keros, Keros beach, Limnos, Greece

  Club Vass, Vassiliki, Lefkas, Greece
  Ocean Elements, Vassiliki, Lefkas, Greece

  Pro Center Rhodos, Ialyssos, Greece

  Reef Retreat Resort & Funboard Center, Boracay, Philippines