Tweet
FREEING RADICALS
85L WAVE BOARD TEST 2017
Test Editor Tris Best // Second Testers Joe North, Dan Linton, Becky Ellis & Will Rogers
Photos Alex Best // Test location Gwithian, Rhosneigr and Overcombe
This month we bring you the last of our wave equipment tests for 2017 … and we've saved the best 'til last. Well, okay, we saved the reviews of the 'go-to' sizes – the 85L board and 4.7m sail. When the conditions are on for these items to come out of the quiver, it's likely that you're in your element as a wave sailor. You've got the perfect mix of power and control in your hands to charge at the ramps and go for those aerial antics; enough drive and feel through your feet to fully tear the wave apart. If the conditions are such that you need to use a larger board or sail, it may be that you don't quite have that perfect blend of power and control. The wind might be fluky; the waves small … or maybe you are venturing out for a float and ride. 
This test was originally published in the November/December 2016 issue.
At the other end of the scale, if you're using a smaller board or sail, it may be that the conditions are firing and that everything is happening that little bit faster. The fact is that it's all about being in your comfort zone. And depending on your weight, your regular windsurfing environment and your riding style / ability, your comfort zone may be skewed towards one of the extremes of the scale. But for most riders of average weight, 85L and 4.7m conditions will undoubtedly be right up there as their vision of wave sailing utopia.
FINDINGS
So what's new in the 85L board market for the new season? Well … design wise … in truth – not a great deal! Four of the six boards on review here are at least one season old. So why buy new, especially when the boards retail at the prices they do today? I was pointedly asked this question by a discerning wave sailor on the beach in Rhosneigr, whilst testing these exact boards. It's a hard question to answer on one level … after all, even if you're on a ten year old board, you're still going to have fun on a wave face. But take a step back and think about other items you use day to day and how their designs have altered over the years. The function of your car, for example, is to get you from A to B. And yet, I would have a guess that your car today fulfils that purpose in a much more comfortable fashion than the car you owned 10 years ago. It's the little incremental changes that make the difference. The changes that sometimes get overlooked … that are sometimes hidden from the naked eye … that make the experience of using the item that much more enjoyable. Your new iPhone looks identical to its predecessor … and yet its processing chip is much faster, the camera is capable of taking images of a higher resolution and if you happen to drop it into the toilet pan accidentally it wont give up the ghost. (Notice I didn't open Pandora's Box and mention the new operating system…) To say that these boards are exactly the same as last years (save for a new paint job) is actually a little unfair to the brands. There have certainly been some noticeable improvements in construction and fittings for the new season. Technologies used continue to become lighter and more durable, with clever uses and layups of materials. Deckpads are thicker and more absorbent of unwanted feedback. All boards are now supplied with fins and footstraps of excellent quality, and attention to detail is there, such as double screw inserts for the back strap to eliminate any twist.
On the design front, a closer look for any correlation between brands to see if there is a trend emerging and you'll notice that a lot of the brands are using deeply defined concaves in their hulls. Four incorporate mono-concaves in their hull, the two remaining opting for double. All the boards possess tail kick but to less of a degree than you may expect, the most amongst the group being 5mm. And in addition, many of the boards boast a good amount of rocker flat. So what can we glean from this? Well, it's a given that turning on the rail will always be a necessity for a board of this nature. But then so is early planing and ease of use … factors of performance that will undoubtedly be enhanced by reduced tail kick and extended rocker flat. Which leads us on to fins and fin boxes. In this test group we have one dedicated quad, two thrusters and three boards with five fin boxes to offer any fin permutation you desire. And as we discussed at length in the 90L wave board test last month, having the ability to tune and refine a board according to your riding style or the conditions cannot be underestimated. Being able to do so through fin adjustment has also meant that the rocker-lines of boards have been altered to make them more user-friendly and accessible. And that can only be a good thing.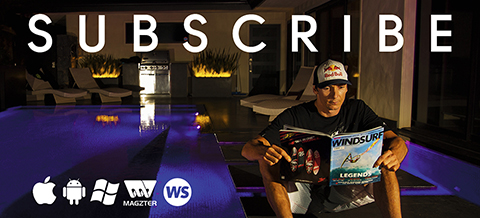 SUMMARY
Amongst the six boards there is a real melting pot of cutting edge design concepts – something to match every riding style. An obvious place to start is with the Goya Custom – a super aggressive and business like specimen with so many defining features. Capable of being pushed as hard as you dare, if its teeth are too sharp, it can always be throttled back and remains surprisingly easy to use and accessible. There's the JP with its mesmerising and seamless flow from rail to rail, thriving in idyllic cross-offshore conditions. The RRD is a cross-off master as well, a touch more technical to master, but with release to punch aerials off nothing. The Tabou has a raw wave board feel, being super confident on its rails and the capacity to be tuned to excel in cross on as well as cross-off. Then there's the Starboard – the feat of engineering, it is so light. Playful and inspiring underfoot, they also offer it as a 5-box option. That leaves the Fanatic – a thruster through and through. With large fin boxes, it can be tuned and dabbled with for the optimum balance. And yet its true calling card is its incredible plug and play ease – a go anywhere board that anyone can get on and enjoy.
THE LINE UP
---
---