Tweet
GOYA BOLT PRO 127 2020 TEST REVIEW
VERDICT
From easy, accessible performance, to a dramatically improved foiling capacity, the Bolt has been brought right up to date for 2020, establishing itself as a fantastic all-rounder in this freeride/blasting class. And at £1699.00 it represents excellent value for money.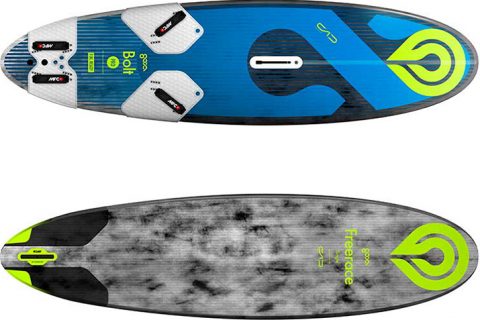 THE LOWDOWN
Described by the brand as their "user-friendly race board" the Bolt Pro range has been completely revised for 2020, encompassing five sizes from 97 to 137 litres. All are produced in the brand's Pro construction, boasting a full carbon deck and what Goya are calling a Hyper Skin HD – a full covering of a high density sandwich around the fused cell core, said to be a third stronger, stiffer and lighter than the foam used in conventional boards. It comes supplied with thick diamond-grooved deckpads, MFC straps and a quality MFC H1 fin. Looking at the 127 in detail, its outline is full bodied, its rounded nose and tail disguising the fact that the tail and shoulders retain a good deal of width, making the board's rails decidedly parallel. The deck shape is scooped out around the track and into the nose, intended to plant the sail's power low and forward, whilst the footstrap plug placements for the front strap are spaced wider to account for varying stances. On the underside there's a hard edge running along the length of the Bolt's rails, which exhibit relatively little tuck compared to others in the group, and finish in two tier cutouts, which themselves creep up along the rail and beyond the 1ft off mark. Dressed in bold and eye-catching graphics, with neon yellow markings set against a blue and dark charcoal base colour, this 127 is one of the three larger size Bolts that are also compatible with a foil, thanks to their reinforced Deep Tuttle boxes.
BRAND CLAIM
"With its 10 mm of V, it naturally softens the ride over chop on rougher seas. As in our dedicated race board, the Bolt Pro comes with tail cut-outs in combination with a light tail release that helps reduce the wetted surface, providing you with sensational acceleration."

Goya Windsurfing 2020 Bolt from Forward Maui LLC on Vimeo.
 PERFORMANCE
This is the first opportunity we've had to try the new Bolt, and we have to say, what an upgrade this new version represents! At a quoted volume of 127 litres it feels big and stable underfoot, capable of carrying large sails. As the wind fills and power is applied, it gathers pace smoothly and progressively, allowing the rider time to move towards the tail at their pace. The wide voluminous tail feels corky and provides plenty of buoyancy and stability, sitting high on the water's surface and keeping the rider's heels high and dry. But the Bolt's true talents are realised when you compare your speed to your peers. The ride feels easy and comfortable, as if the board is cruising well within its capacity, yet when in a drag race, you realise you're also travelling at an impressive speed. Requiring little technical rider input, it is incredibly well mannered, flattering the rider and letting them enjoy the ride. This sense that the board is championing your success is carried into transition as well, with plenty of volume and support through the tack, whilst in the gybe the rails bite easily, holding a smooth tactile radius, that can be adjusted and tightened at will. The MFC fin supplied is excellent and compliments the Bolt well; we did try it with a high performance carbon fin also, yet the gains were marginal. Used with a foil, the new Bolt has also improved immeasurably, providing true hybrid performance, rather than simply being 'foil-readied'. The strap position and deck shape has been optimised, so that there is plenty of connection through the back foot, enabling the Bolt to be compatible with everything from low to high aspect foils. It was one of the stand out foiling boards in this group – a real boost from past generation Bolts. Back in fin mode, when properly powered the 127 sits high and clear of any violent chop, without ever presenting any control issues or becoming flighty on the fin. Fast on all points of sail, there is plenty of traction through the tail, with an emphasis on easy trim and control at all times.
VITAL STATS
Volume (Quoted): 127L
Length: 239.8 cm
Width: 74.8 cm
1ft off: 51.2 cm
Bottom shape: Pronounced vee in the nose and mid-section, washed with subtle double concave, both fading out towards the rear, becoming subtle flat vee in the tail.
Weight ('Naked'): 7.40kg
Fins: MFC H1 42 cm (Deep Tuttle)
Sail Range (Quoted): 6.0-9.0m
Sizes Available: 97, 107, 117, 127, 137
PRICE £1699.00
GOYA BOLT PRO 127 2020 TEST REVIEW
---
Other boards in this test:
THE LINE UP
STARBOARD FUTURA FLAX BALSA 117 
Return to test overview page..