Tweet
JP MAGIC RIDE 119 PRO 2020 TEST REVIEW
Plug and play blasting pleasure doesn't come better packaged than the Magic Ride! For those that want to simply get out there and maximise their enjoyment on the water, whether it be blasting in comfort, carving the water up in transition or cruising, hassle-free on a low aspect foil.
---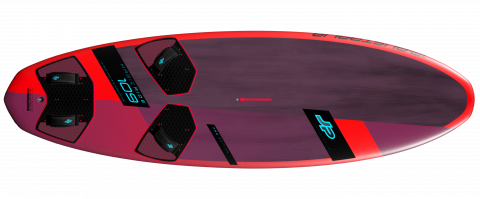 THE LOWDOWN
This is the third generation of Magic Ride – a board range targeted since its inception to provide "a magic combination of ease, stability and good performance." Whilst still focussing on the principles of the wide/thin freeride movement, the new designs have seen their outlines stretched slightly with a narrower overall width and longer length, intended for easier planing, upwind potential and directional stability. The volume is distributed evenly throughout, with wider shoulders to help stability and weight carrying off the plane. The board then retains plenty of width in the rear as well, before finishing in a large diamond tail. It is certainly a thin board in profile compared to others in the group, with a shallow dome to the deck (said to provide easy access to the footstraps, whatever their position), before tapering to its thin rails. The straps themselves are JP's new design with incorporated size indicators, and sit on top of the brand's tactile diamond grooved dual density pads. Available in three constructions to suit every budget, there is the added bonus of a foil-ready Powerbox in the PRO model tested here, which is a unique feature to JP and certainly worth considering to dramatically increase its wind range and scope.
BRAND CLAIM
"The true freerider: What is astonishing about the new board line is its ease and smoothness. You'll step on it and everything will happen naturally and predictably. The feel is "familiar" – like putting on an old pair of shoes: it just fits!"

PERFORMANCE
With the introduction of the Super Ride in the JP range, it has enabled Werner Gnigler to evolve the Magic Ride brief and create greater distinction between the brand's offerings. This new Magic Ride has in essence become the true 'plug and play' performer in the series. Longer and narrower than most here, it is balanced and easy in the water at rest, and accelerates smoothly underfoot as a gust hits. It requires little to no input from the rider, rising up as if on autopilot and feeling very directionally stable. The straps are easy to locate, combining with the dual density pads to provide a secure and comfortable connection with the board. The fin supplied has a large surface area and is in part responsible for just how dependable the board feels. It provides plenty of low down drive and masses of traction to push against for cruising confidently on all points of sail, albeit keeping the board planted and grounded through its tail. Comfortably cruising for long periods through turbulent waters, its actually only when we compared the Magic Ride's speed with others in the group that we realised its straight line performance is actually very respectable as well. Such is its ease and relaxed temperament that it belies its innate velocity. And if this raised our eyebrows – more was to come, as in transition the Magic Ride is a wonder to use for a board of this size. A fantastic tutor for the progressing rider, its thin rails bite effortlessly as the board is banked into the turn, holding it into the arc and retaining a consistent speed. It indulges the rider with the confidence to push harder, and even in choppy seas the rails grip and hold in a fashion that a board 20 litres its junior would be proud of. It seamlessly opens the door to the world of classic carving manoeuvres, and what is more, has JP's unique foil specific Powerbox incorporated for the new world of low aspect freeride foiling too.
VITAL STATS
Volume (Quoted): 119L
Length: 241 cm
Width: 74 cm
1ft off: 49.8 cm
Bottom shape: Vee with subtle double concave throughout, the vee pronounced in the shoulders and mid-section, before finishing with rounded vee behind the fin.
Weight ('Naked'): 7.72 kg
Fins: JP Australia Ride 38 cm G10 (Power)
Sail Range (Quoted): 5.0-8.0m
Sizes Available: 99, 109, 119, 129, 139, 149, 159
PRICE ES: £1299.00 FWS: £1649.00 PRO: £1849.00
JP MAGIC RIDE 119 PRO 2020 TEST REVIEW
---
Other boards in this test:
THE LINE UP
STARBOARD FUTURA FLAX BALSA 117 
Return to test overview page..