Tweet
---
WINDSURF MAGAZINE #363 MARCH ISSUE ON SALE NOW
The March 2017 Issue of the world's only monthly English-language windsurfing magazine is out now!
---
Subscribe or buy your copy here in either Digital or Print versions!
(Prices include delivery anywhere globally 10 times a year.)

Fresh – Racecraft: Racing Secrets, Kevin Pritchard's Motivation, Lancelin Classic 2017, Peter Hart's Forward Loop Technique, Tested: Freeride Special – 2017 105 Litre Boards & 6.5 Sails, Lake Garda Guide, Jem Hall's Chop Hop Tips, The Pleasure And Pain Of Jaws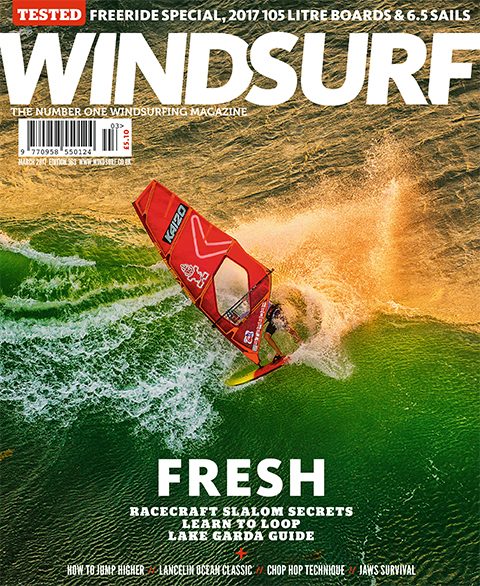 BIG JUICY READS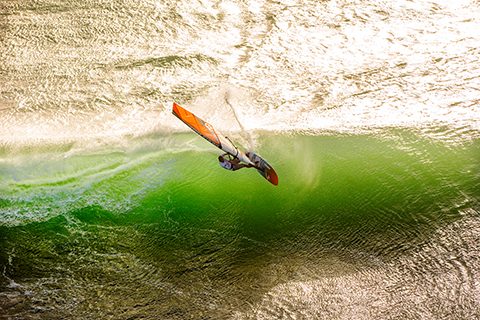 RACE, RIDE, RAGE, REPEAT
Combining competition with a healthy social scene, the Lancelin Ocean Classic kicks off the windsurf event season in style. Read the lowdown on the action on and off the water.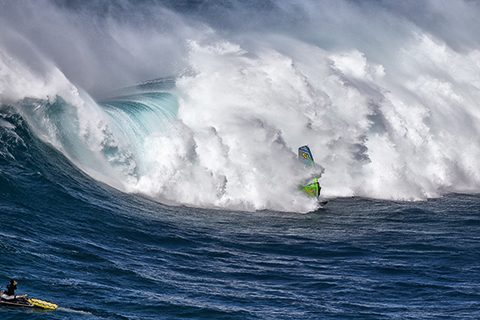 PLEASURE AND PAIN
For every great gybe, jump or reach comes the inevitable crash, splash and fail. Antoine Martin and Marcilio Browne tell how they balance pleasure and pain when sailing and surviving at Pe'ahi / Jaws in Maui.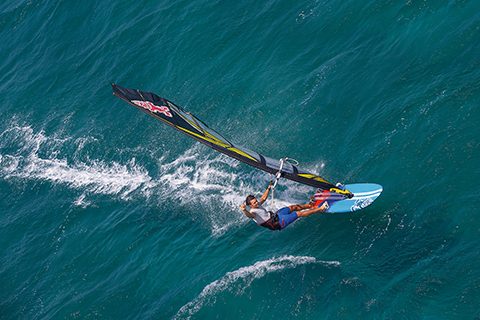 RACECRAFT
A selection of the world's elite windsurfers share their insights on best practice for the race course, covering everything from training to start line, gybing, overtaking and the all important podium.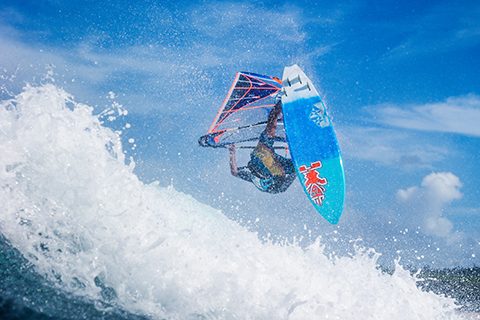 FRESH LINES
When Kevin Pritchard won the Aloha Classic in 2016, he surprised everyone but himself. So how in his 40s does he do it? Read on as Pritchdog explains his motivational tools.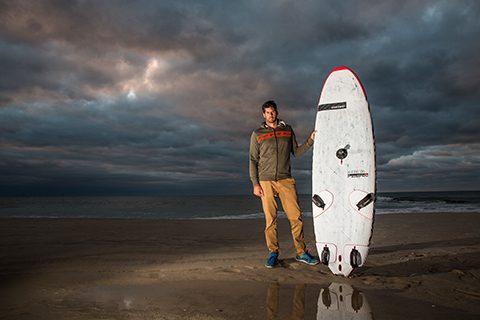 INSIDE ARNON
Arnon Dagan from Israel has been a stalwart of the PWA scene for well over a decade and a tester for both RRD and Neil Pryde. JC gives an insight into one of the professional tour's most interesting characters.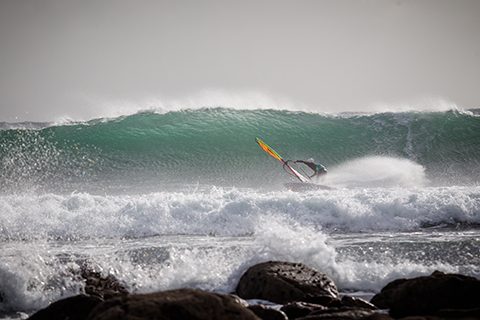 ÎLE AUX VACHES
West Brittany has a reputation for world class windsurfing. On hand for a day at one of its best breaks, Île Aux Vaches, was photographer Loïc Olivier and Thomas Traversa, they tell us more about one of France's premier wave sailing spots.
FRESH WATER
Italy's largest lake, Lake Garda, is a home away from home for Italian freestyle young gun Riccardo Marca. Read on as Riccardo gives us his guide to Europe's most popular freshwater windsurfing venue.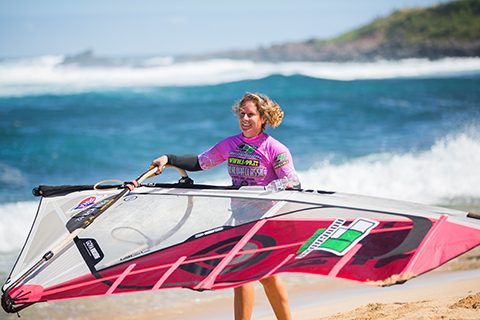 FRESH START
Vickey Abbott tells us about her adventurous journey to follow her dreams of becoming the first British women to sail Jaws and making a fresh start on her newly adopted homeland in Maui.

GEAR SHED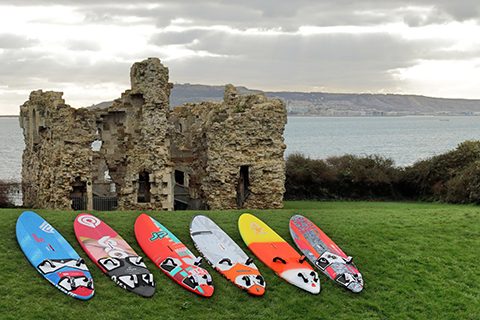 105 LITRE FREERIDE BOARDS
The test team report on the latest 2017 105 litre freeride hulls.
FANATIC GECKO LTD 105,
GOYA VOLAR 105,
JP MAGIC RIDE PRO 103,
RRD FIREMOVE 100 LTD,
STARBOARD ATOM IQ 104 CARBON,
TABOU ROCKET WIDE LTD 100,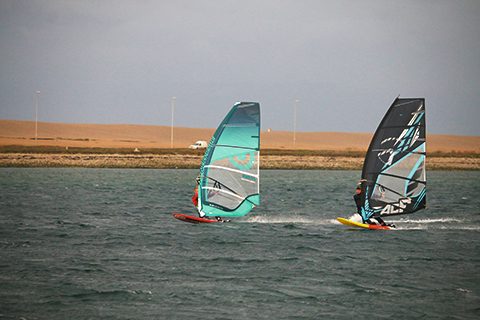 6.5 FREERIDE SAILS
2017's 6.5 freeride designs are put to the test on UK waters.
EZZY LEGACY 6.5M,
GA SAILS HYBRID 6.2M,
GOYA NEXUS 6.4M,
NEIL PRYDE RYDE 6.5M,
NORTH SAILS E_TYPE 6.6M,
POINT-7 AC-F 6.4M,
RRD EVOLUTION MKVIII 6.8M,
SEVERNE CONVERT 6.7M,

TEKKERS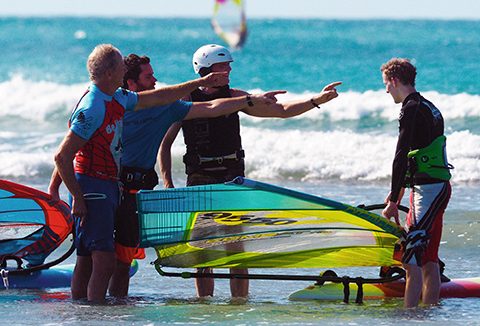 PETER HART – OPERATION ROTATION
If you've spent a lifetime talking about the forward loop, make 2017 the year that you do it, Peter Hart strips bare the move and tells you what it really takes to get looping.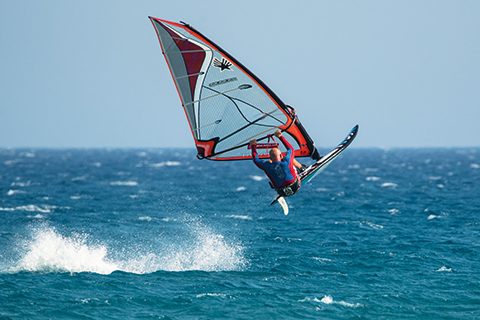 MOVE ON UP WITH JEM HALL – JUMP THE BUMP
Jem Hall focuses on the chop hop and how to start getting air under your board.
HOW TO JUMP HIGHER
Want to get increase your altitude? Pozo high flyer, Alessio Stillrich tells us how to fly higher.

BOARDSHORTS
LATEST & GREATEST  
No 'Alternative facts' or 'Fake news' here, we have analysed every possible leak, tweet and trending hashtag to bring you windsurfing news so fresh, even the Russians haven't hacked it..yet!
RYA KNOWLEDGE   
Whether you are a beginner or just wishing to improve your level, there's a training course and centre to get you up to speed. Sam Ross explains the various RYA windsurf coaching options available.

SITTIN' ON THE DUNNY
EDITORIAL -FRESH
The editor gives inspiration for keeping your windsurfing fresh.
AFFAIRS OF THE HART – COME THE REVOLUTION     
Harty takes a sideways look at the challenge of looping and its role and relevance within windsurfing.
Get your Print or Digital copy now!