Tweet
Naish have just released lots of exciting editions to their line up… which include new windsurf wave sails, wave boards, and custom boards.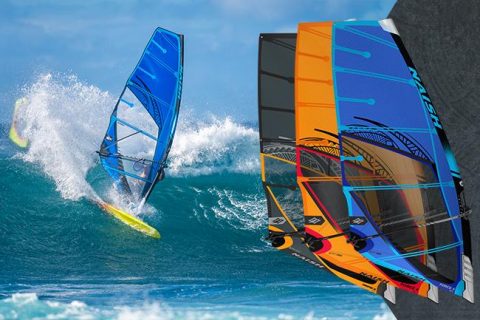 WAVE SAILS:  FORCE 4, FORCE 5 AND CHOPPER 3X
Striking the perfect balance between wave riding, aerial maneuvers, and power the Naish wave sail lineup offers performance for everyone. The Force 4, developed with Ricardo Campello has been designed to be versatile enough to win in all conditions, making it the ultimate ride for anyone serious about their wave riding regardless of their skill level.
The Force 5 is our 5 batten power wave sail that is also ideal for bump and jump freeride action due to its incredibly stable power and wide range. And last, but not least the Chopper 3X is our compact wave sail that delivers power and performance, making it the perfect lightweight crossover sail.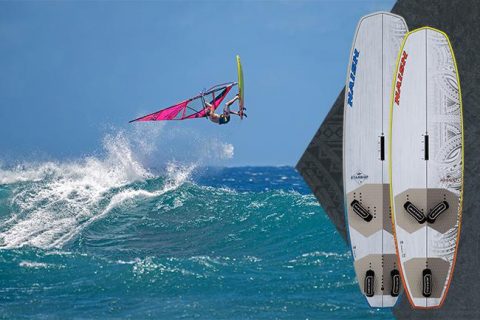 WAVE BOARDS: ASSAULT AND STARSHIP
The Assault is a versatile wave board for any condition ranging from sideshore to onshore winds, that even performs well for high wind freeride sailing. Stable, early planing, and fast, the Assault allows you to choose a smaller board than you might normally consider.
Featuring the same compact outline and wide nose DNA as the rest of our boards, the Starship is a freeride board that can adapt to a variety of riding styles and conditions. The Starship provides great stability and acceleration and its fast rocker and refined tail cutouts deliver blistering top speeds.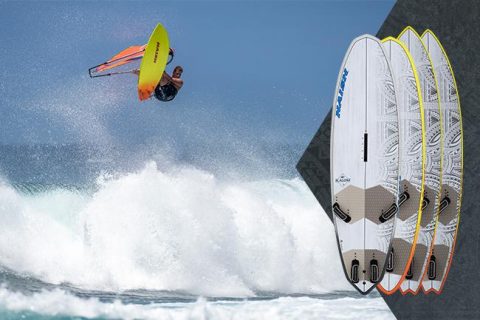 CUSTOM BOARDS: ASSAULT CUSTOM THRUSTER, ASSAULT CUSTOM QUAD AND CUSTOM FREESTYLE
After originally making the Assault Customer Thruster boards available as exclusive custom boards, our R&D team has made further improvements with the feedback of riders from around the world creating the ultimate combination of planing, speed, and grip. Developed with and for Ricardo Campello, the Assault Custom Quad custom boards are targeted towards 100% surfing performance.
They allow you to ride as aggressively as Ricardo in whatever conditions you want to take them in. We have also been working with former Freestyle World Champion Ricardo Campello and our European team riders to fine-tune our small range of dedicated Custom Freestyle Boards and gave them a new twist by adding our foil track boxes so the boards can also double as windsurf foil boards. You will find these boards being used by young riders working on their next freestyle move, as well as riders who competed at the peak of the PWA Freestyle Tour.
More info at: