Tweet
POSTCARDS FROM THE PROS
One of the benefits of working here at Windsurf towers is receiving, on a daily basis, updates from Pros from around the world. Even if it's cold, raining and the footpath is covered in doggie doo, we can still rely on our thoughtful windsurf pros to send us postcards from their sun drenched training hideouts just to let us know what a great time they have been having; even when we tell them to 'shut up, go away, we hate you, hope you get sunburnt' they still keep sending them. Anyways, we don't hold a grudge here at Windsurf, so before we put them in a large bonfire, cremate and bury them in a hole 10 feet underground we thought you might like a look at them too…sorry office emergency, got to go here readers, ''Nooo, JC wait a minute, we can probably get 10 quid for that Dunkerbeck one on ebay !''

Words & Photos JOHN CARTER

(This feature originally appeared in the May 2015 issue of Windsurf Magazine. To read more features like this first, Print and Digital subscriptions are available. Prices include delivery globally for 10 x issues a year!)

Kevin Pritchard
What's up Windsurf ? I just wanted to send you a postcard from Cabo Verde so you can see what you have been missing! I heard the water in the UK is extra brown right now and you been scoring some cold gusty winds and mushy south coast waves. Well never mind that, I finally scored Punta Preta really going off. Punta Preta is still the best wave in the world that I have ever been to and I nailed a couple of airs like one of my favourite ever shots that JC took of me back in 2007. I have been waiting a long time for an air like this! I don't want to make JC jealous or anything but maybe it was even better this time. The conditions were epic; I was on a 5.0 Ezzy Elite and my 90 litre Starboard Proto, still curing the Thailand resin. It was amazing and I am not sure if it was as high as the 2007 air but definitely made my knees quiver. I haven't been going out to any bars but with this air, I had to celebrate! Hope you guys are doing well in the freezing cold UK. All the best from Cabo Verde!  The Pritch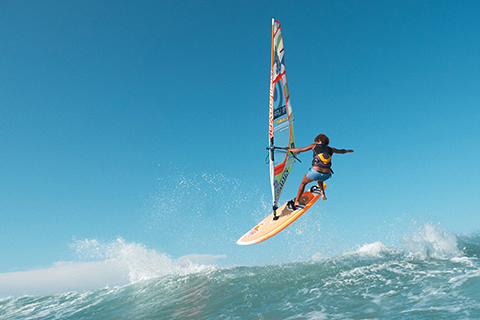 Sarah Quita Offringa
I'm having a sabbatical now and I decided it was time for a proper windsurfing adventure, destination: Australia! Together with my friend Julian, we bought a badass 4×4 and drove up and down the Westcoast chasing the best conditions. I heard JC was there just before I arrived but when he went to Geraldton it was the one cloudy day of the season and the pubs all closed early!  I managed to sail my new NeilPryde gear in some of the most famous wave spots in the world, Gnaraloo, Margaret River and Geraldton. It was a crash course in camping and living outdoors. Although I do prefer to have showers daily and a bed to sleep in, I have to admit it was amazing sleeping under such a starry sky and waking up to breathtaking sunrises! Geraldton is a freestyle playground. Freestyling with the likes of Tilo Eber, Dieter van Der Eyken and Marco Lufen is really motivating! I finally landed some of my first pasko's and got some backloops down. One day I attended the freestyle contest at Woodman's point. I had a blast with the local freestylers, absolutely loved the spot and finished 2nd with the boys. Gnaraloo was a great spot for waves, but one day we ended up having to endure 46 degrees heat before driving back to civilization at the end of the day. Of course I was cranky, and then right before sunset we decided to go on a dirt road for a film shoot. Just our luck, it had been raining and we bogged ourselves into a metre of mud. As the sun was setting we were frantically trying to dig ourselves out. Two hours later, one car finally drove past and stopped and the two guys inside helped us out. Thank the lord! Didn't feel like spending the night there! We slept under the stars, couchsurfed, saw bushfires, kangaroos, drove hours and hours along the coast, got pulled over by the cops, windsurfed remote beaches and ate scrambled eggs every single morning for 30 days. All in all, the perfect adventure! Now I'm back home in Aruba to work on a new film project. I was looking forward to some proper freestyling, but instead I scored some amazing wavesailing days. Can you believe it ? , this Island has it all ! After Aruba I'm headed to Maui for some more wave training. I'm not sure this sabbatical is long enough for me. There are so many more places I want to go to. Maybe I should take a second year off! Anyway, I'm gonna go sticker up my smaller sails. It's windier than I expected it to be!
Wish you were here! Sarah Quita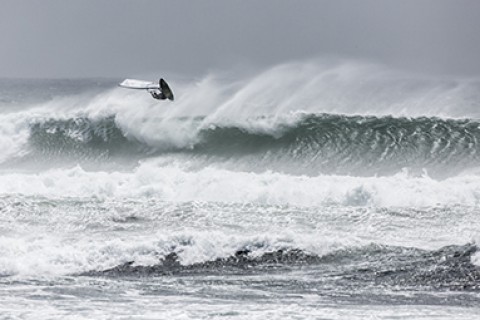 Victor Fernandez
I heard there have been some good conditions in the UK but I can assure you Chile has been really good too ! 🙂 It has been a windy season down here in South America. I have been training hard here since the middle of January. This is the land of the lefts and I have been scoring port tack conditions nearly every day, side onshore in Pupuya, side off shore in Topocalma and side shore in Matanzas with waves from 1.5m up to over mast high. I have been sailing a lot, surfing in between and visiting the city of Santiago with my girlfriend and my parents at the end of the trip. My best session was my last windy day at Topocalma in the morning and also the evening session at Matanzas the same day was epic. So many turns, perfect blue sky and all to myself! I have been riding anything from 4.2 up to 5.6 Hero´s and 81 up to 89 Quads. There are not many bars around Matanzas area but there is an amazing restaurant and some other local places to eat healthy food. Last night we had Corvina (local fish) with quinoa salad on the side plus a Coulant de Chocolate for dessert, it was amazing. Apart from sailing, my dad and I had some fun sessions at the house cutting some trees with the chainsaw to prepare the wood for the hot tub! If you fancy a trip out to Chile, best season is October through until April. October and November are a safer bet to score wind. I usually pack sails from 4.2 up to 5.6, 81 and 89 Quad and don't forget a surf board.
Adios Victor Fernandez!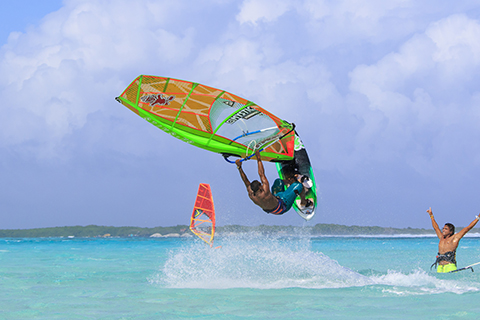 Taty Frans
Spending my winter time at my home, 'Bonaire', has been amazing! The season for wind has begun and it is blowing everyday.Can you imagine sailing for weeks almost every day with 20 plus knots wind, warm sunny weather in your board shorts in shallow crystal clear water! I reckon even JC could improve out here although we heard he is scared when he puts his feet in the straps! The best thing about sailing here is when I watch my favourite animal; the 'turtle', stick its head out of that warm blue water and quickly dive back down. Man I love it! I have been busy combining my training in fitness and at the same time slalom and freestyle on the water, so pretty busy but life is treating me good. I enjoy each session, either slalom or freestyle, but till now I had some of my best sessions with Amado Vrieswijk in the waves out at Lac Cai training the pasko, push loops and backies. The double loop is still something Amado and I are deliberating about but the one who does is first will get a present from the other so the race is on! Freestyle gear I have used has been the Flare 91 and Pure 5.0 while on slalom I have been mostly on 7.9 and 120l Isonic. I have been eating a lot of rice and my main dish is Fish with rice with baked banana. The best moment of the winter so far was to win the St Barth fun cup and luckily I have avoided any disasters. If you are planning a vacation and you choose to come to Bonaire it's best to come from November to December when the wind blows around 15-20 knots and then when it steps up from January until August when the wind can be average 18-25 knots. Renting gear is a piece of cake as there are two windsurfing centres; Jibe City, stocking JP, Fanatic and F2 Boards and Severne, NeilPryde and MauiSails and Bonaire Windsurf Place which has RRD, Starboard, Naish boards and Hotsails Maui. Hope to see you all here soon. The water is blue, wind is blowing and life is good here in Bonaire!
Taty Frans NB-9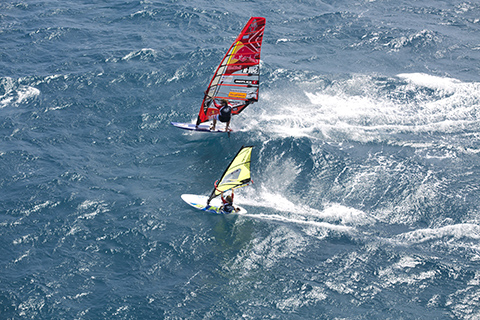 Bjorn Dunkerbeck
Hola Windsurf, I have spent a lot of time on the water here on Gran Canaria between Slalom, Speed, SUP, wave sailing and also some long boarding. Yep it has been nice and warm unlike the UK! We have had strong winds and some pretty good waves as well, stay tuned on my Facebook www.facebook.com/Bjoern.Dunkerbeck and
www.dunkerbeck.com. The biggest sail I have used since I can remember has to be a 7.8m and smallest 4.2m. I did do one mission to St Bart in the Caribbean and used my 8.6m; I almost forgot I was at the St Bart fun cup as there has been so many sessions at home. Since my father turned 70 in December I have taken over the Dunkerbeck windsurfing school, making it part of my surf and sup school and I promised him I would keep the windsurfing centre going forever! Aside from all the sailing I have been biking, spending lots of time with my family and even scored a few sessions in Siam Park. I also have the Dunkerbeck speed challenge coming up at the end of June, check it out at www.facebook.com/DunkerbeckGPSspeedchallenge. I had some amazing speed sessions at Arinaga, a few decent wave days down the coast and every time I freeride with my Son Liam and my Father in front of Side Shore is a pleasure. I have mostly been on my 7.0 reflex Severne and 54 cm Starboard speed board or my blades with Kodes in the waves. I have had a few drinks in the Drop in Bar and Restaurant at Side Shore, right next to our Bungalows and windsurf, sup centre here on Gran Canaria, check it out
www.sideshore-es.com. You should send Carter down here sometime, he would love the Drop in bar and I could thrash him on my favourite mountain bike route. Last night we had a great Barbecue at Drop inn and I can tell you there has never been a dull moment over here taking care of our four kids with my wife Maria. The only real bad news has been Alberto Meneggati; RIP, I still can't believe what has happened to him! We are very sorry for him and his family and friends! If you fancy coming here then summer on Gran Canaria is the time. The wind blows from 20 to 40 knots depending where you go. Pozo, Vargas, Castillo, Side Shore and Burrero are the spots. Winter winds from10 to 25 are normal whenever there is a High Pressure over the Azores we have great wind here! Hope it's not too icy back in the UK!
Saluda's Bjorn!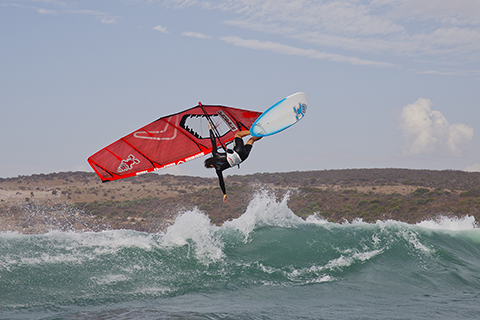 Dieter Van Der Eyken
It's been a really windy season in Western-Australia this year with plenty of waves which was really great to practice my wave sailing for next year on the tour. I've been sailing mostly on my Nuevo 73 and S-1 PRO 4.4 this season for waves and my Freek 4.8 with my Flare 91 for Freestyle. Best session this trip was for sure in Gnaraloo, so good. Imagine yourself on a 2 – 3 metre wave, 22 knots side to side-off wind and around 8 turns a wave from 10.00 in the morning till sunset at 20.00 at night ! Besides epic waves up north, Coronation has been great as well with plenty of chances to improve my jumping, the goal was to land a double before I left for Christmas but feeling ready for it I saw Jaeger make such a horrible crash I decided to put that thought on hold for a bit. The crash looked so bad that I was almost sure he broke something, after his first forward he was still at least 6 metres high and with the second one going more like a cheese roll. You could see he had no control. In the end it wasn't too bad as he just slammed his chin on the boom and didn't break anything; I do have to say it took another month before I saw him try another double. For my part I made my goal and managed to land my first double just 2 days before I would go home but there is still a lot of work to do on making them look nice! We had an epic night out in Esperance, this bar offered the biggest burger you can imagine for 10 $ and tricked everyone in to singing karaoke. How? Well imagine a beer costs you at least 8 $ and you get a free one for every song you sing. Throw in a few extra friends who write your name up without you knowing and before you know it you're singing in a bar on the other side of the world !. The most scary/exciting moment of the trip was seeing a 4 meter shark pass in front of my board! Yep we will get JC down there for water shots next time! Best time to come to W.A. is for sure December and January for some reason you have almost wind every single day in this period! See you next year?
G'Day mate! Dieter Van Der Eyken!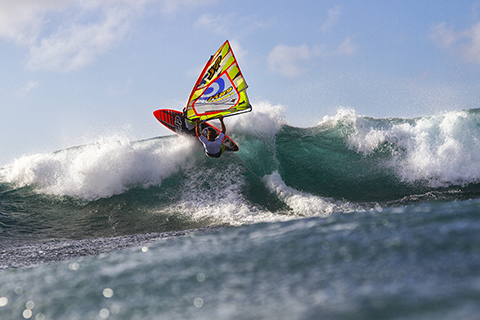 Robby Swift
We have had one of the best winters I can ever remember on Maui. We haven't had the usual steady stream of trade winds and nice weather, but rather stormy unsettled weather coming over from the south of the Hawaiian islands, known to the locals here as "Kona Storms". The North Shore of Maui transforms into a surfer's paradise when the winds switch Kona. SW winds are cross offshore from the left, rather than the usual E-NE trade winds which are side shore from the right. Waves which usually kind of close out and don't offer any good riding potential become long, peeling, heavy left handers which offer some amazingly clean, steep and hollow rides. Lanes is the best spot on the North Shore when the winds switch to Kona and the bigger it gets, the better. Until the waves reach well over double mast high, the Kona winds hold the waves up so that they don't close out and when they hit the reef, they clean up and, depending on the state of the tide, sometimes offer some incredible barrelling pits. That's not to mention the epic Jaws swell we had in January, it has been quite a few years since I have scored a good Jaws swell, for whatever reason the wind, waves and my presence have not coincided since 2012 for a decent Jaws day but this January 20th made up for it. The weather forecasters were calling for one of the biggest swells of all time. The waves were hitting the NW buoy at 27feet and 21 seconds which is almost the biggest I have ever seen on the buoy readings. I showed up with Jason just for the peak of the swell and had some of the most memorable rides of my life up there, and then came back the next morning to surf on my paddle-in board for the first time ever. I caught 6 waves before getting pounded by a massive set and breaking my board, leaving me to have to swim in over the rocks to rescue the other half of my destroyed board and climb up the cliff to call my wife Heidy to ask her to come and pick me up. They were truly two of the most memorable days of my life and the steady stream of Kona winds timed perfectly with massive swells over the next few weeks gave me some of the best windsurfing conditions I have ever had. I have been riding my 83L 2015 JP Radical Quad the whole time, coupled with either the Fly 5.1 or Combat 4.7 or 4.5. Maui is pretty good like that. You can generally get away with 1 or 2 sails and 1 board. The best season in Maui is September – November or March-May. That will give you the most solid chance of wind and waves. All summer there is good wind here but it goes pretty flat in June-August. There really isn't really much to do on Maui in the way of nightlife, Maui is just a surfers/windsurfer's paradise where you go to bed by 9pm and are up by 6am to enjoy all the fun activities that the day can offer you 🙂 Aloha, Robby Swift!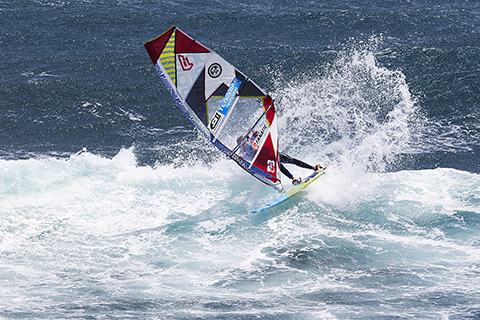 Adam Lewis
I've been travelling all over the place this winter but probably the windiest place I visited has been Tenerife, it's not normally as consistent in the winter but the waves are better. This winter however I've had two months in total here and I don't think I've even used my 5.0 or my 88ltr. It has been 4.0 or less almost the whole time, I am a broken man! Weirdly it's been all about the dawn patrol sessions, it's really rare but the wind is a lot more side shore so you can get a really good belt on the Cabezo bowl! JC would have loved the early morning light here in Tenerife, amazing for photos! This has had its negative points as we've all been total party poopers, Manfred's is the place to be but I haven't even been yet! I think the best restaurant and the one I probably go to the most is Danny Bruch's terrace! He's always up for a rad BBQ, there is a really good butcher nearby so it is all about ribs, steak, salad and obviously the local Tenerife beer Dorada, yep that is Carters favourite tipple! It's been so windy I don't think I've even got any good gossip although the launch and landing in Cabezo is covered in pretty gnarly seaweed at the moment and recently Alex Mussolini, Danny Bruch and I were all trying to come in and all fell over and all broke our boards with the full peanut gallery watching on the beach, pretty embarrassing, we all got a lot of grief about that, but you've got to pay your reef tax at some point right! I remember during the world cup last summer Carter falling on his arse in front of the whole crowd, it was hilarious. All in all a pretty epic winter season here! All the best.
Adam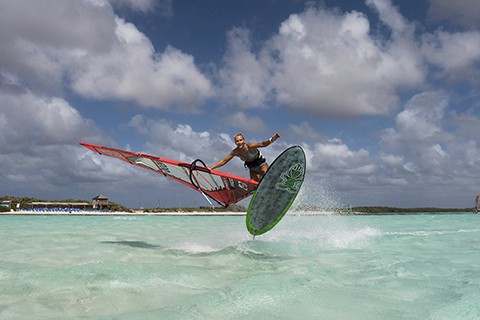 Oda Johanne Stokstad Brødholt
It has been a windy season here on Bonaire in the Caribbean! I decided to book a three month trip to Bonaire for some serious freestyle training. It's my 3rd time on Bonaire and for the first time, I arrived to no wind! I had to wait a whole week before Bonaire showed me how good it can be. A week of being desperate for windsurfing made me really motivated as soon as the wind picked up. And the wind just never stopped! The first month I sailed a lot on my Severne Freek 5.2 and my 91 Starboard Flare. Later in February the wind increased and I sailed a lot on my 4.8 overpowered. These sessions on 4.8 were so amazing. The new moves I had been practicing in the lighter winds with 5.2 are just so much cooler when I am powered up. For me the first weeks were all about spinloops, air funnels and learning my port tack sliding moves on my dark side – starboard tack. For progression, Bonaire is the best. Stable conditions and you can choose between a lot of different conditions of flat water, chop and monster chop. For shaka's it is a paradise coming out of the mangrove with flat water – a lot of speed and then hit a steep chop and fly away. When it comes to windsurfing gear and travel plans with flights, it can be quite frustrating bringing a lot of different gear. But traveling to Bonaire you only need one freestyle board and two sails; 5.2 and 4.8. Doesn't get easier than that! Bonaire has a long wind season. The best months the last three years have been from mid January till August. Last year it blew nonstop here, so fingers crossed that the same will happen this year! Forecast right now looks epic! On the days of no wind I have been going to the gym, doing some running and just being a tourist on this island, driving around filming and taking some photos. The sunsets here on Bonaire are magical; your guy Carter would be scoring some amazing shots! After a session I like to hang out with friends at Sorobon Beach Resort. They have a beach bar with nice drinks and good food. It is located right at the spot, so no need to go far to fill up the energy for your next session! Last night we had delicious Ribs at Bobbe Jans, a local restaurant in Kralendijk on Bonaire! A few days ago we had a great evening session with my boyfriend. The wind was so strong and we had such a crazy session. Everything was perfect, until he crashed really hard trying a ponch and broke his rib! It was bad, but at the same time a bit funny when he was walking around trying not to laugh as that is the most painful thing ever with a broken rib. Two times my big laugh ended up making him laugh and then in tears with pain ! I just can't help it – when I am laughing, I can't stop it! Cheers from Bonaire!
Oda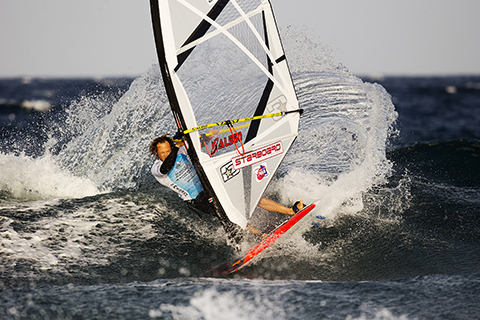 Danny Bruch
We have been having an awesome winter at home in Tenerife in terms of wind and waves, non-stop! Especially at the end of February, I had two days sailing on a 3.2! I can't even remember when I have used a sail that small! Waves were pumping too! I have been training lots on and off the water. The best session has been on the 25th of February, my birthday! What a present! 50 knots and insane waves! I sailed for more than 5 hours! I have mostly sailed on my 4.5, 4.2, 3.7 DB 3G 3 batten sail from Challenger sails and my Kode 77L from Starboard. I don't really go out much anymore; bars don't really fit together with the training. Last night I ate some insane Spanish ham and a massive T-bone steak, I heard JC has been on a diet but he would have loved this meal! I have not had meat for a while so needed to catch up!  Those windy days are full of funny moments; 360 degree catapults are heaps of fun to do! One guy lost all his gear in the rocks at the entrance though, his gear was stuck in there for ages and he could not get it until the tide dropped. He then picked up the little pieces, we call that reef taxes! Best season is normally Summer, but every year we have got some good storms during winter. Tenerife is good from 5.0 down to 3.2, so depending on forecast I would pack as much as possible to have the choice, 3.7/4.2/4.7/5.3 is normally a good quiver. Lighter guys could even leave the 5.3 behind; boards, one small one big one would be best.  All the best Danny

Scott Mckercher
It has been a cracking season over in WA with many sessions reminiscent of a week of mast high cross off ground-hog days Windsurf's editor had the pleasure to experience far too long ago now. Summer days are always a premium commodity and even more treasured when I'm not in the vicinity of my happy hunting ground. Any other time of the year I'm not too worried about being away from home, but in summer it almost drives me insane and I can't stand missing days that are on. One particular time I shouldn't have checked the web cam while working in the Starboard office in Thailand. I saw a few red sails out at Boaties, a break near to Margaret River and could just tell it was an all-time epic day. This was torture. Later speaking to Ben Severne he said ah, you were looking at me sailing which made it even worse. Sickening in fact! But not long after that I was on a flight home to another good looking pattern. There was a series of events lining up that were looking particularly cherry. One was the Annual Margies comp which I was forced to miss last year and the second was the cleanest groundswell of the season according to some. Twenty minutes of gold with only four guys out was bullshit good as the point gets quite busy these days, so it was the hugest pleasure ever just to be out there. Perfect wind for me, 5.0 Blade on the Quad 79, it was super clean allowing auto pilot to go on and just start whacking it. Carter would have loved it, the wind was in early and the light was awesome, unlike that messy day he came over here in February! Not much bar action for me in the old Margaret river town especially after Carter was here and drunk me dry of beer and wine! Quite a fair bit of home brewed beer has been consumed however; I have been literally knee deep in the stuff, with the occasional stop off every now and again to the ever growing boutique brewing companies around the region. Next time Carter is here I am saving a barrel of slops, he won't notice the difference! The meal of the summer was some food that goes 'Baaaa' in the slow cooker with some Moroccan Seasoning. Truly unbelievable! Back in Thailand again now though however where we fine dined at the Longtable with some particularly fiery drinks. So now feeling a little under the weather with more windguru stars and ground hog days underway back at home. But not looking at that webcam anymore.
Laters Snotty!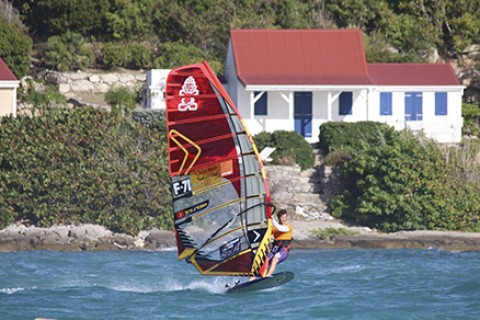 Cyril Moussilmani
Bonjour. I have had an awesome winter so far! In between two training sessions in Vietnam and my home town Marseille, I went to St Barts in the Caribbean for a promotional event.  It was not the windiest conditions, but I did score three beautiful days of slalom sailing. I could have sailed one extra day in waves but I didn't bring my wave gear. I didn't know waves could even happen in the Caribbean. On this small but stunning island the food was amazing, French cuisine of course, just like home. Côté Port on the sleepy side of the harbour was divine!, it had a very nice spirit and atmosphere. I mostly rode my 130 Starboard Isonic Carbon with either 9.5m or 8.6m. I should have brought my big wave gear, a 5.7 blade with 100 litre Kode which would have been perfect. St Barts usually has trade winds blowing anything from 10 to 25 knots all winter time until the beginning of spring and the water is crystal clear too and pretty flat on the inside. You should bring a surfboard as well for when the wind isn't blowing and definitely no need for a wetsuit!
Au Revoir Cyril!!!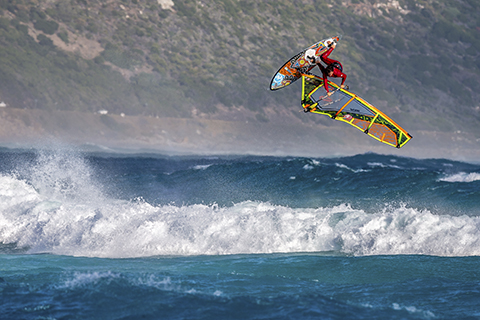 John Skye
Hi Windsurf, how is the UK, you really should have been in Cape Town. I was only there for three whole weeks but scored some of the best waves ever. We dialled into at least five big and heavy swells which came through and we sailed epic spots that I didn't even think could be so sick. The wind was a bit strange so we ended up driving thousands of miles, but the journeys were all worth it. I have been busy testing the new Wave Cults and they are feeling awesome in all conditions while the new sails are looking and working amazing too. We spent most evenings eating Morituri pizza's at Colcacchio's and drinking thirst quenching Peroni from iced glasses. I have to admit that has been it for night life, as I have been too punished from all the sailing. Whitey messed up the trip a bit by snapping his Achilles, but that just meant I didn't have to listen to all his stories again.  I am back in Gran Canaria now where it's even better! I have only sailed on 3.7m for the last two weeks, with at least five days of mast high and sailing in a summer suit. Hope it warms up for you a bit over there in Blighty !
Skyeboy!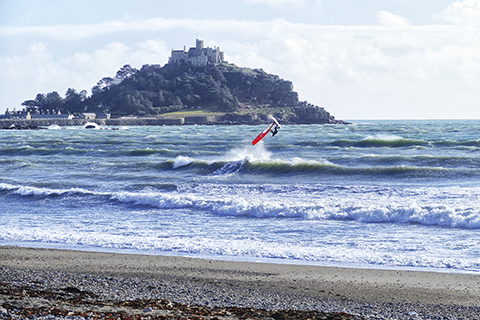 Timo Mullen
I really wish I was sending you a postcard from somewhere warm and tropical but the only postage mark you are going to find on my postcard is from right here in the U.K.  Not that I'm complaining as it has been a pretty good winter season, not the windiest but plenty of memorable moments!  I'm now working in Cornwall and building a house 100m from the beach at Gwithian so hopefully that means I won't have to spend half my life driving around the UK in search of waves!  Cornwall hasn't been mega for wind but the days that have been good have been pretty special. I scored some mega days at Praa Sands, Porthleven and Marazion, but only really a handful of Gwithian sessions.  The story of the winter has to be the non stop swell. KBay has seen some great surfing days but back home in Ireland it has been huge!!  This has meant quite a few Easyjet missions to the West of Ireland; those sessions are probably the highlight of my winter, glassy mast high waves with just my brothers and my dad for company.  I keep a set of gear in Ireland to try and keep the excess baggage charges down, I'm pretty much always on my Starboard 94 Quad and my set of Severne Blades. The good days in Ireland are when the wind is light not the usual 50 knots! No nightlife to speak of, I've been off the beer for quite a while now, hangovers equate to lost time in the water and as I'm constantly balancing on the family/windsurfing tightrope. I value my time with both my passions in life way more than a few beers. Hope you like the pic, I thought it was relevant as it depicts the family/windsurf balance I'm striving for, me out sailing while my wife takes photos!
Wish you were here, Timo