Tweet
SIMMER ENDURO 7.1M TEST REVIEW
THE VERDICT  
Hassle free enjoyment for the lighter airs, the Enduro has a manoeuvre-oriented nature, yet impresses with its natural range and straight-line performance return for a five-batten structure.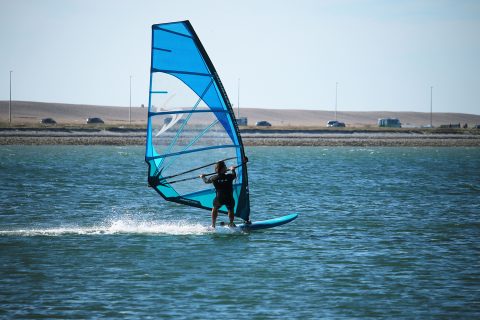 OVERVIEW 
The Enduro is designed by Simmer to embody the "pure essence of windsurfing – no fuss, just fun!" Capable of being used on either RDM or SDM, all bar the largest size in the range (the 7.8m) can be used on a 430cm mast, including this 7.1m, meaning you can achieve an impressive quiver of sails (5.4m to 7.1m) with just one mast. Tested here on a 430cm SX10 RDM, it is straightforward to downhaul and set, the two lower battens retaining contact and rotation with the mast, whilst the leech falls away progressively. And whilst the Enduro's sound bite is all about simplicity, its build quality, reassuringly, hasn't been simplified too. X-ply luff, foot and clew panels surround the monofilm window and upper panels, and there's the familiar Kevlar stretch control tendons radiating from the clew. 

BRAND CLAIM  
"The Enduro combines bump n' jump wave–sailing and freeride performance into one sail. We have designed the Enduro to get you up and planing earlier, and when the wind picks up it keeps you in control longer."

PERFORMANCE  
Light and easy in the hands at rest, there is a good deal of movement in the luff sleeve, which combines with the Enduro's flexible nature, allowing its profile to breathe into a deeper shape as a gust hits. It will certainly find favour with the more nervous or timid rider, the sail taking a lead and behaving predictably, providing a soft progressive power delivery that is ideally balanced between both hands. A more pro-active rider will also enjoy the Enduro's pumpability, the sail's moderate luff curve meaning there is still plenty of connection with the mast, making the forwards power surge tangible with every pump cycle. Once planing, the Enduro settles into a comfortable cruising stance, a sort of halfway–house between locked-in blasting and a more upright manoeuvre-orientation. This is largely a factor of the sail's centre of effort position being a little further back, around the rider's stance and relatively high. It's a high pull position, making the power more obvious, yet with the sail's soft delivery and stable structure, it is both useable and manageable over a wide natural wind range. Happy to be used for cruising over long distances, the Enduro delivers an impressive turn of speed for a five battened sail, but its real speciality can be felt around the corners. Light in the hands for a 7.0m, it can be thrown into transitions as if it's a 6.0m, de-powering smoothly and easy to move around the rider mid-transition. A great addition to a quiver for those wanting a dependable and enjoyable powerhouse for the lighter airs, the fact that it sets and performs on a 430cm mast provides it with plenty of appeal and practicality. 
SPECS 
Size: 7.1m 
Luff: 456cm 
Boom: 210cm 
Battens: 5 
Ideal Mast: Simmer 430cm RDM / SDM 
Available Sizes: 5.4, 5.9, 6.5, 7.1, 7.8 
Price: £609
---
OTHER SAILS IN THIS TEST:
---