Tweet
GOYA AIRBOLT PRO 105 TEST REVIEW
THE VERDICT
Feisty, engaging and exciting to use, the Airbolt 105 is not for the foiling novice or faint-hearted, yet it has a life and energy about it that keeps you coming back for more. If you're looking to push your wind foiling prowess into unchartered freestyle territories, this is the board to do it on!
THE LOWDOWN
Goya's Airbolt arrived on the scene last summer and we were lucky enough to try the 120 then, stating back in our October 2020 issue that it represented, "a new and exciting take on how a foil-specific windsurf board should feel and behave." The range of three remains current for 2021, so we took the opportunity to try the 105 this season, the smallest sibling in the three-board lineup. Like its larger siblings, it is only available in the brand's Pro 'full carbon deck construction' and the similarities don't end there. It also proudly displays an attention-grabbing bottom shape, with a scooped chamfer extending the length of the rail, from nose to tail, producing a raised 'pronounced double concave to vee' central section along the board's centre line. The theory is that the central section promotes early flight, whilst the raised rails mitigate any stick or stall in touchdowns. Unlike the larger two siblings though, this 105 only comes with the extended twin Futures track boxes for use with a plate-mounted foil – something to bear in mind, to ensure your foil is compatible. Supplied with four of MFC's excellent Velcro straps, mounted on an extended diamond grooved deckpad, it's certainly compact, with a flat deck and forward positioned rider stance.
BRAND CLAIM
"The Airbolt Pro range is the perfect solution for any bump & jump / wave / freestyle oriented windsurfer looking to increase their water time."
PERFORMANCE
At under two metres in length, the Airbolt 105 feels very small and compact underfoot and takes a good 'snatch and grab' from most to uphaul. Deliver the power though and it tracks well, with stability in the tail to reach for the front strap early. There are two front strap options available, both of them relatively outboard, whilst the back straps are inset enough to ensure the heel of even the largest foot remains flat on the deck of the board. As such, the rider is forced to adopt a more open stance, their hips facing forward and de-powering the sail as they stand upright over the board in a manoeuvre-oriented position. Pump the foil and the board releases in an instant, feeling sharp and reactive underfoot. There is a real connection felt, in part due to the 105's small size, but also largely down to the forward geometry of the foil's placement underneath. This is one responsive setup! There's plenty of tinkering and playing with the foil's position to be had, thanks to the length of the boxes, and we certainly found the 105 more compatible with lower aspect front wings and foil setups.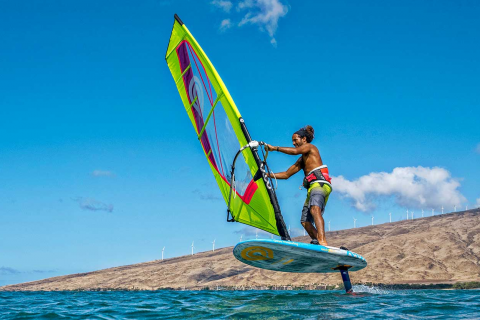 The footstrap fittings themselves (and by default the rider's stance), are moved significantly forwards, towards the mast track and centrepoint of the board, meaning there's relatively little distance between rider and rig. It makes it hard for us to recommend sails much larger than 5.3m for use on the Airbolt 105, as it comes into its own the smaller the rig is. Much like in wave sailing or freestyle, the question to be asked when using the 105 is, "What's the smallest rig I can get away with using!" And that's where the 105's niche is – manoeuvre-oriented foiling. Its crisp response and involving riding style doesn't take any prisoners and is not for the novice foiler. But for those that are into transitions, it's incredible. Full foiling downwind 360s come easily … and that's about as far as we could take it, but if you're into pushing foiling freestyle, we can think of few more appropriate platforms. And what about winging I hear you ask? Well, its size and foil track placement make it a perfect crossover contender, albeit the deckpad could be extended further to make it even more compatible, something Goya have addressed themselves, advising 2022 Airbolts will have an extended pad for winging.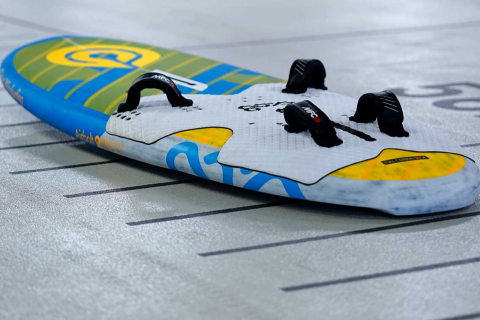 GOYA AIRBOLT PRO 105 TEST REVIEW
VITAL STATS
Volume (Quoted): 105 L.
Length: 199.5 cm
Width: 66 cm
Weight ('Naked'): 7.52 kg
Box: 2 x 14" US boxes
Sail Range (Quoted): <7.0m
Sizes Available: 105, 120, 155.
Price: £1949
---
OTHER FOIL BOARDS IN THIS TEST:
STARBOARD FOIL FREERIDE 150 WOOD SANDWICH
RRD POCKET ROCKET E-TECH Y26 180
---