Tweet
BUYER'S GUIDE 2017
Words  Finn Mullen  Photo  NP/Christian Black
Does your winter wetsuit smell like a biohazard or has it more leaks than Edward Snowden's laptop? Fear not, you can put away the right guard and tiger balm as we have assembled a guide to some of the very finest bits of rubber on the market to withstand winter windsurfing and hear also from West Wittering warrior, Simon Bassett of 2XS, as he gives us his tips for winter wetsuits and sailing.
"The best advice for buying winter wetsuits is to try the suits on with someone who knows how to fit a wetsuit. If suits are too small they 'overstretch', stress seams and the thickness of the neoprene reduces, resulting in less warmth. Make sure the neck isn't too high also to avoid chafing. The more you pay the more technology and features you will get such as drain holes in the legs/ankles and rubber grippers at the wrists and ankles. External piping is great for insulation but be aware that it does restrict movement. The more expensive suits have panels with a reflective fur at the chest and back so there is no need for under layers. Chest zips are becoming a lot more popular, they are harder to get in and out of but you do get used to them and with no gaps are warmer. Look for a suit with great flex, which makes it comfortable to wear and negates the need for the baggy forearms of older windsurfing suits. 
More than boots and gloves I prefer head insulation, specifically neoprene beanies or 'neoprene surf hats with a chin strap' – they are easy to take on or off and stuff down your suit if not needed. 
For boots I find the 'latex' style best and only use a 3mm version for more feel, even in winter. Gloves I use the 'mitt' style and go up a size so I can wear them over my wetsuit. A great bit of kit is a rigging jacket to stay warm before and after sessions. For winter windsurfing it's best not to stop, if you hang around talking you'll get cold, get out, keep moving and rig and derig as quick as possible. It might not be sociable but keep the chit chat for the fire in the pub afterwards!"
Simon Bassett, 2xs.co.uk
This guide first appeared in the October 2016 issue. 
---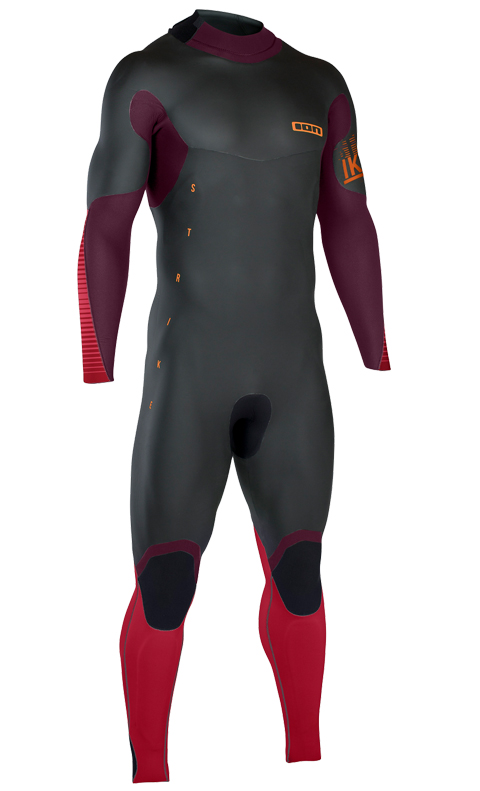 Ion Strike Amp Skin 
SRP: £289.00
Info: www.ion-products.com
The new Strike Amp Skin is for true wind worshippers wanting a high performance suit that withstands even the gnarliest of conditions. Offering optimum wind chill protection thanks to wind and water repellent materials like the new Smooth_Skin, which is commonly seen in Triathlon or Vintage Surf suits where the slick surface allows water drops to run off immediately. This keeps the suit light and prevents evaporative heat loss. Our version has a PU coating on the top, which makes it more durable in comparison to most of the retro styles. Embrace the elements with a suit that delivers all-round performance.
---

Mormaii Windsurf 5/4/3 
SRP: £249.00
Info: www.zerogravitydistribution.co.uk
The Mormaii Windsurf is one of the few suits on the market specifically designed around windsurfing. With smooth skin on the body, arms and calves to reduce wind chill and reinforced high wear areas such as knees. The suit also has super stretch X3 material in key movement areas to reduce fatigue and increase range of movement. It has an internal waistcoat to minimize any flush and is made out of superlight foam to keep the weight of the suit to a minimum. Other features include blind stitched, anatomic design, Zipper® with handle of inoxidable steel and powertex kneepads.
---

NP Combat Amor-skin Front Zip 5/4 
SRP: £399.00
Info: www.npsurf.com
Packing serious heat for the wind sport adventurer, this hybrid wetsuit is engineered for the best combination of warmth, flexibility and durability. Armor-Skin neoprene fights wind like nothing else, exclusive neoprene combining warmth and wind chill protection. While strategically placed Apex-Plus panels allow for unrestricted freedom of movement. Also featuring ultra-warm and quick drying Fireline lining and a combination of P-skin tape, double-wrist cuffs and griplock seals for minimal water entry. Combat comes in a 5/4 version, which protects like a 6mm suit, and a 3.5mm version, which protects like a 5mm suit due to the wind-chill-resistant nature of Armor-Skin material.
---

O'Shea Stealth Hooded 5/4/3 
SRP: £299.00
Info: www.osheasurf.com
The Stealth 5/4/3 hooded is our top of the range winter suit. Performance, progression and precision, it's a no compromise design, a perfect 360˚ anatomical fit combined with the best limestone based neoprene money can buy. This makes the stealth super stretchy whilst maintaining higher insulation value than most other suits on the market. We are one of very few companies using this material and combining it with water tight "Mitsu" tape technology in the global wetsuit market. The "Hooded Stealth" is one of the best wetsuits to sail in, getting you through even the coldest part of British winters!
---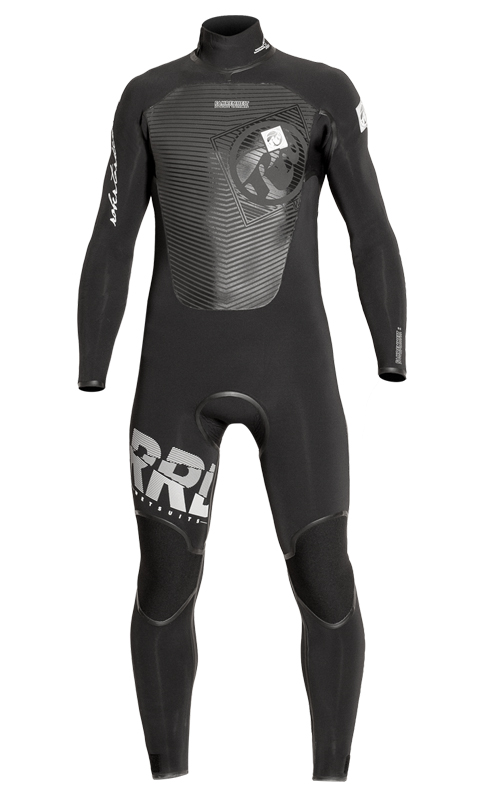 RRD Fahrenheit 5/3
SRP: £TBC
Info: www.robertoriccidesigns.com
The Fahrenheit is the latest development available for a super quick drying wetsuit combined with extra durability and stretch. Quickdry is not only about a lining that dries quickly, at least as important is how much water the lining takes up when wetted. Our Quickdry takes up 20% less water and therefore dries quicker. The whole wetsuit is made without any stitches, it's fully liquid taped on the outside and fabric taped on the inside to offer superior stretch and a longer lifetime. Now also available in a hooded version of 6/4 thick neoprene to be used in real winter waters.
---