Tweet
THE WINDSURFER'S CHRISTMAS LIST 2017
Christmas is coming and we have bypassed the whole subtle hints thing and devised this handy list of gifts to maximise your windsurfing pleasure! Now feel free to also add any of the 2018 wave boards and sails on test in this issue but just in case your chimney isn't big enough for them, here's a few other alternatives for under the tree.
1. AQUAPAC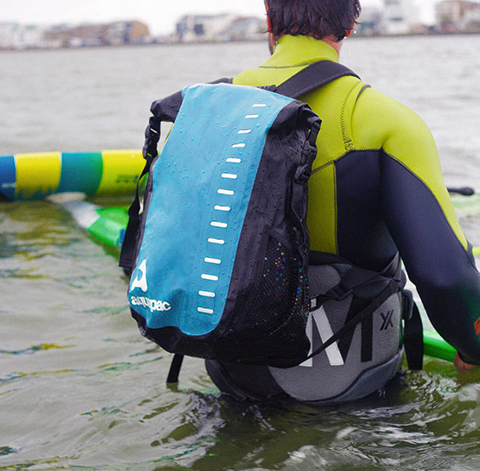 If you don't want one of Santa's homemade sacks, then check out Aquapac's TrailProof Daysack, a super-affordable, 100%-waterproof backpack. It's stylish but super-tough (built from 500D polyester-reinforced PVC tarpaulin). It has a roomy 28-litre capacity and features mesh side pockets, a grab handle, and comfortable, breathable shoulder straps and padding. You'll find it great for days at the beach, but just as good for biking in the rain. This is tough waterproof protection at a price you can afford. Available in a choice of Cool Blue, Acid Green or – new to the range this season – Matt Black.
RRP £50.00 
---
2. TRICKTIONARY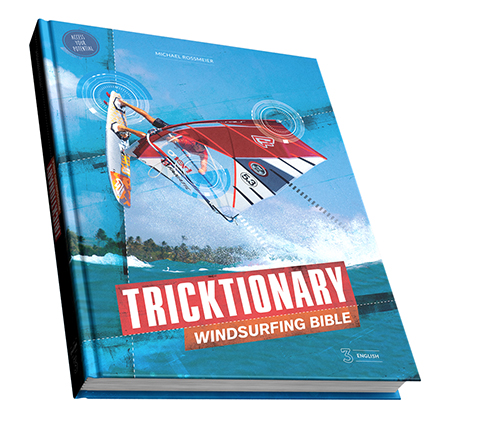 Forget the Beano Annual, get this brand new third generation of the Tricktionary for Xmas instead! With 480 pages (188 pages more than Tricktionary 2) in 7 main categories, it never gets boring! Light Wind Freestyle as well as focus-moves such as the Fast Tack, Power Jibe, 360, Chop Hop, Air Jibe, Speed Loop as well as Wave basics and riding were expanded in particular, while of course the latest Power Moves as well as a Slalom chapter are included. The book also works perfectly hand in hand with the fully renewed Windsurfing Tricktionary app! Access your potential with the brand new Tricktionary!
RRP from €49.90 Euro
---
3. FLYMOUNT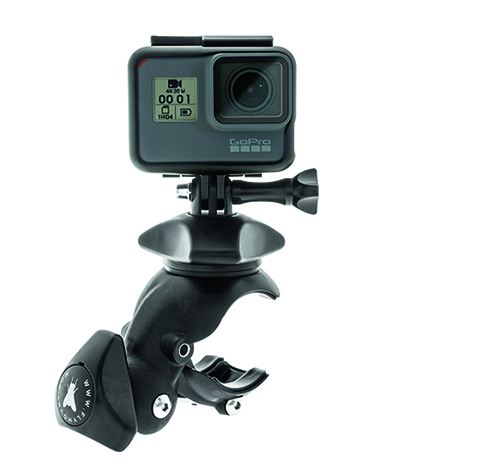 This is the perfect gift for anyone who windsurfs and owns an action camera and needs to get the ultimate selfie! The latest 4th generation Flymounts are lighter and stronger than they've ever been, weighing 143g and capable of holding an incredible 80kg of hanging weight. Flymounts are designed specifically for using in seawater and harsh outdoor environments, when weight needs to be kept to a minimum, making them the first choice for the PWA and many of the world's top sailors. Endlessly versatile, adaptable to work with any camera and engineered in Great Britain to last a lifetime.
RRP £54.99 
---
4. THE DRY BAG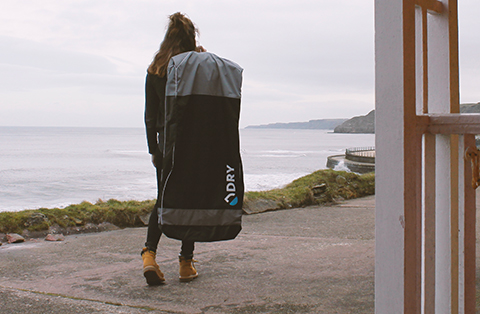 Other half frustrated with mess in the bathroom from your wetsuit? The Dry Bag offers a solution to your problems. It's a full length, showerproof zip up bag with a water reservoir at the bottom to collect any dripping water and bung that releases it. Comes with optional heavy duty hanger, lanyard and carabiner which easily takes the weight of your drenched gear and the wide arm of the hanger lets you hang your stuff from the waist avoiding putting stress on the shoulders of garments. Get 20% off The Dry Bag this October using code "windsurf20".
RRP from £60
---
5. ION NEO CRUISE JACKET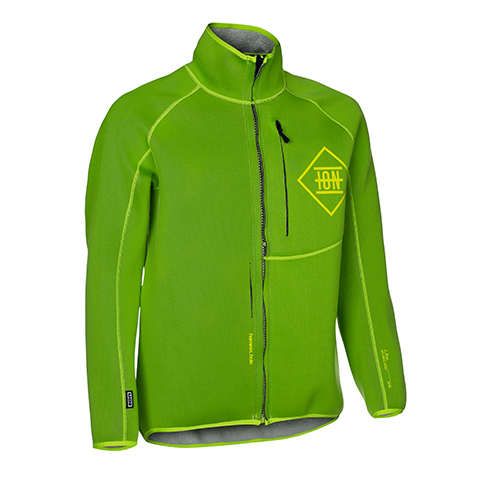 Don't get caught opening up your presents and finding socks, socks and more socks, instead put the ION Neo Cruise Jacket on the Xmas list! Whether you have a great day on the water or you go home in deep frustration, one thing is for sure, the ION Neo Cruise Jacket will protect you from the elements and keep you warm. With Pre-curved arms,
solid front zip and with versatile neoprene the Neo Cruise jacket looks great while offering extra warmth and wind protection. Comes with chest pocket and key loop. Also available in black and blue.
RRP £104.95
---
6. EZZY PRO NAUTICAL DUFFLE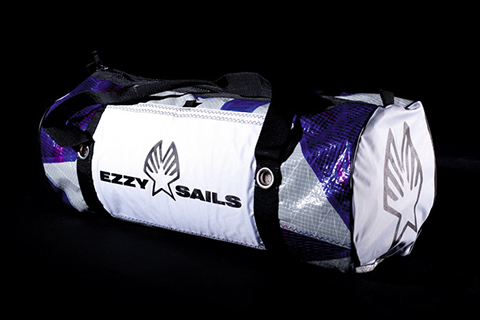 Presents are for life not just for Xmas and if you want something that lasts, then who better to turn to than Ezzy and their Pro Nautical Duffle bag. Don't be fooled by its light weight, this duffel's material is ballistic-grade and water-resistant. Jam a wet wetsuit or harness into the bag and the water will drain from the grommet vents. There's no worry of water damage. And if you spill something particularly nasty inside, don't worry; throw Pro Nautical (inside out) in the washing machine and it will be back to perfect. And of course, it's Ezzy strong.
RRP £27.99
---
7. ZHIK'S KIAMA COAT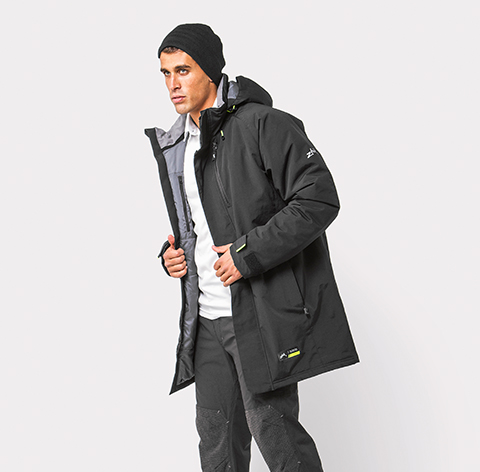 Zhik's Kiama® Coat is designed for keeping warm in cold and wet conditions, especially when you are already wet. Practical and versatile, Kiama® Coat is a cosy, insulated long-fitting jacket that is waterproof inside and out.  For rigging or de-rigging your board in cold weather or taking a break between sessions in the waves, this coat is for you. The waterproof, breathable, lightweight shell fabric, on both the inside and outside, means the jacket can go straight on over wetsuits preventing chilling before going afloat, and as soon as you come in off the water soaking wet.
RRP £245.00,
Euro €299.00, AUS $429.00, NZ$499.00
---
8. WINDSURF MAGAZINE GIFT SUBSCRIPTION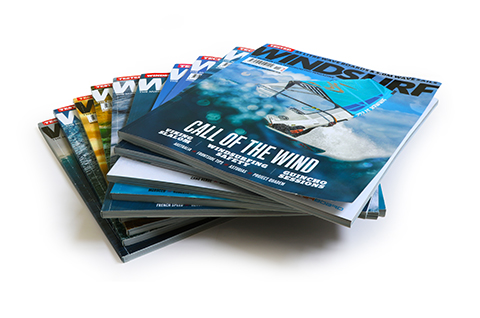 Don't get stuck just reading the TV guide all Xmas, or worse, all year. Subscribe to the world's number one windsurf magazine for the best features, test reports and technique articles all delivered to your door ten times a year. Digital version also available for tablet, mobile and desktop users. Is there any better magazine you could wish for coming through your letter box other than maybe 'Winning lottery ticket numbers weekly'? We have it on good authority that dogs don't like chewing on it either so no excuses, don't delay, subscribe today, it's the only way!
RRP £47 for UK postage, Europe £67,
Rest of world £77
www.windsurf.co.uk/subscriptions/
---
9. FLYMOUNT T-SHIRT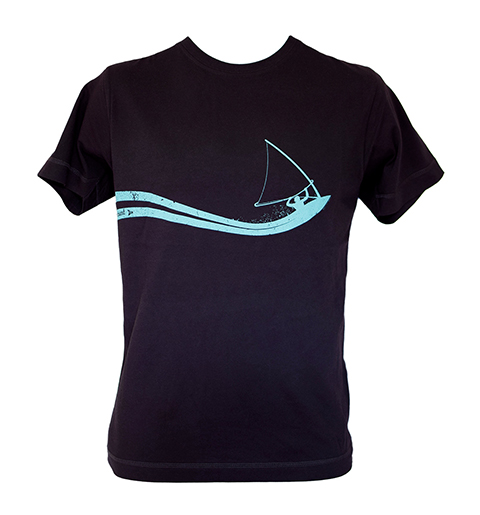 Flymount have released a Vintage windsurfing screen printed t-shirt using Darrell Wong's iconic image of Pete Cabrinha wavesailing in 1981. Locally screen printed using traditional methods, onto high quality Continental N-03 t-shirts, they say – "Pete Cabrinha and Darrell Wong were pioneering members of windsurfing, who helped to turn the sport into something cool. We wanted to celebrate the roots of windsurfing and raise a bit of money for causes that are important to all water users, so for every t-shirt sold we'll be passing on £5 to either the Royal National Lifeboat Institution or Surfers Against Sewage."
RRP £15
---
10. ONEWHEEL 
Need some new wheels for Xmas? There is only one! Developed and produced in Santa Cruz, California, the revolutionary boardsport, OneWheel, is an electric skateboard with a difference. As capable off road as it is on tarmac. As close to a surfing/snowboarding sensation as you will find whilst still in your normal clothes, its control is intuitive, leaning forward to go and back to slow, made possible by the OneWheel Plus' unique Hypercore motor combined with its dynamic stabilisation. Available in the UK from The Official Test Centre.
RRP £1649.00.
---
11. BLAWESOME WETSUIT DRYER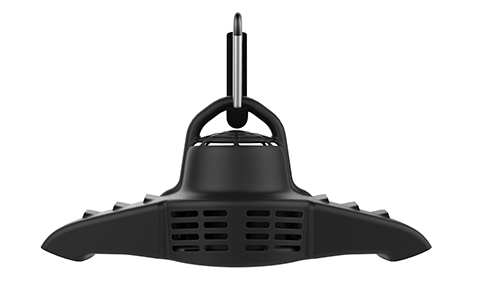 How many times you slipped into a cold wet wetsuit on a gray winter morning and regretted the day you started with Windsurf? Durable, portable and silent, Blawesome is able to dry a 3mm wetsuit in just 20 minutes. It carries a powerful fan inside which blows 290 m3/h in 360º while its 1000w resistance gently warms the air. The airflow temperature is controlled to protect your equipment. The result: your wetsuit will be perfectly dry in the morning and for the evening dip too, even in freezing winter days!
RRP £106.00, €119.00 Euro