Tweet
RRD WIND WING W 5.0 2021 TEST REVIEW
THE VERDICT
A real all-rounder with soft power delivery and excellent manners, RRD's Wind Wing W has some lovely detailing and is a great companion for freeride winging enjoyment.
THEY SAY
"The WIND WING is on another level because it leads you to progress without limits. Its performance is not comparable to any other wing we have tried on the market. The main advantage is its extremely rigid structure given by a large leading edge and solid central strut combined with a relatively flat – V design providing an incredible boost of controllable power."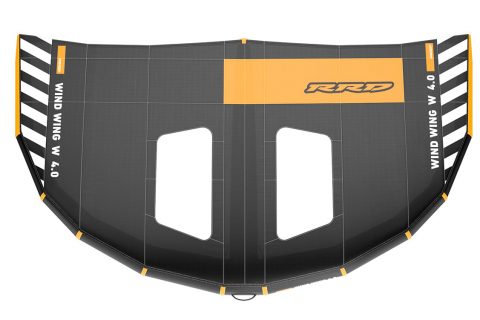 WE SAY
The Wind Wing W is RRD's 'All Terrain' wing offering according to their website, with the W standing for 'windows', the previous version being without windows. It is attractively dressed in contrasting black-orange livery, bringing attention to plenty of attributes and detailing. For example, there are Kevlar reinforcements along every seam intersection on the outside of the leading edge, and larger patches on the wingtips. There are also two neatly finished harness line attachment points either side of the middle handle, with a total of five "semi-rigid" handles along the central strut. Supplied in a ripstop nylon rucksack, it is inflated via a single airlock valve, the central strut self-inflating quickly through a couple of hoses located on either side. The recommended maximum pressure is 6 PSI, the leading-edge diameter being medium to thick and adopting a soft vee profile, with flatter wing tips. There is also a differing central strut profile between sizes, the 3.0m and 4.0m with an inverted beam to provide control in stronger conditions, whilst the three larger sizes have a central strut profile that kinks away from the canopy, to maximise pull in lighter airs. The canopy itself is loose at rest, being produced in a Techno Force double ripstop material, and has an interesting 'chequered' stitch pattern across its whole area. It's a smart looking wing, being relatively low aspect in outline with the wingtips extending all the way back, almost in line with the central strut tip. And the after session pack down is also well considered, the Wind Wing W collapsing quickly to fit back in its bag, thanks to the inclusion of a dump valve on the middle strut. One point worth noting though – there's a warning printed clearly on the leading edge, stating that the PVC window is vulnerable in temperatures below 5 degrees – something to bear in mind if using the wing during the winter months.
Boxy in outline and built robustly, the Wind Wing W feels poised and ready in the hands. The fact that its wingtips extend a long way back does mean that the lowest one tends to drop and catch as you pump to get going, if you're not careful. Instead, refine the extent and position of your pumping cycle, and you soon learn to make the most of the Wind Wing W's power. It has a relatively soft delivery, the looseness and movement in the canopy tempering any sharpness, yet the handles are excellent and provide a real sense of connection. Move your hands to the secondary handles, extending the wing forward and up to maximise exposure and leverage, and you soon learn to make the most of the energy provided. Once going, the Wind Wing W feels balanced and stable, working admirably across a wide wind range. The handles, again, are excellent, although we did feel there was almost one missing at the location of the second harness line point; maybe it's a strong enough hint for us to start using a harness! The windows are well placed and provide good visibility downwind, the wing naturally tucking into quite a low position whilst cruising, siting the windows opposite the rider. It's a comfortable wing to use for long periods and through varying conditions, cruising smoothly rather than forcing any agenda. In transition the RRD is compact and agile, rotating quickly as the handles remain easy and intuitive to find without looking. It also parks in a neutral position really well, flying evenly as it's held by its neutral handle, free from distracting the rider as they ride a wave or swell line.
RRD WIND WING W 5.0 2021 TEST REVIEW
SPECS
Size: 5.0m
Weight: 2.94 kg
Canopy Style: Loose.
Recommended PSI: 6
Centre Strut Inflation: Double tube.
Handles: 5 small.
Supplied with: Bag, leash.
Available Sizes: 3.0, 4.0, 5.0, 6.0, 7.0.
PRICE: £879.00
---
OTHER WINGS IN THIS TEST
AIRUSH STARBOARD FREEWING V2 5.0
---