Stats
Size (m2)
7.9
Luff (cm)
483
Boom (cm)
219
Battens
8
Ideal Mast
460/25 Gaastra 100 SDM
Extension Req (cm)
25
Price
£823
Tweet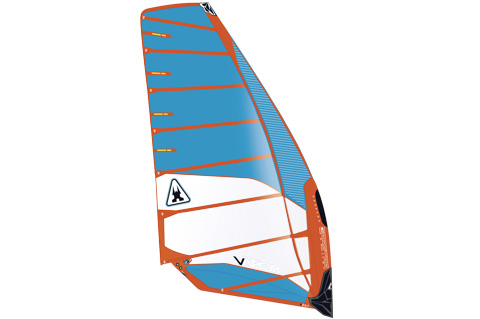 GAASTRA VAPOR 7.9M 2014 TEST REVIEW REPORT
OVERVIEW
The Vapor is Gaastra's flagship slalom and Formula racing sail that sits alongside the Phantom twin cam freerace and Cosmic no-cam freerace models in their line.
BRAND POSITIONING
'The Vapor is our no compromise racing sail. It's R&D process develops throughout the whole year … [this 2014] season we changed many things, the main being the new masts, we developed a new line of 100% carbon masts with a new Constant bend curve … what we achieved is a sail which is much more effortless and less tiring to sail fast. And much better and effective to pump.'
PERFORMANCE
After initially using the original Gaastra (not the new curve) mast we used a Unifiber constant curve SDM and found a radically enhanced behaviour with a really nice and stable draft resulting in a more settled rig that was a million times less physically demanding to sail. The first thing you notice is that the Vapor demands a nice upright stance over the board that helps visibility and control and is particularly useful when approaching and avoiding obstacles or entering gybes. This is true 'tractor', that most of the testers found to be the most powerful in the group – yet, in a straight line at least, gaining control is not out of reach of the committed, steadfast sailor. The drive is nice and balanced with ample acceleration to get you out of trouble and back up-and-running again, particularly after gybes. In pure speed terms, both across and off the wind, the Vapor is unmistakably fast with a super competitive, electric top speed. There's a real mix of power bands and aspect ratios in this group that throw the general rules of high/low aspect behaviour out of the window and the Vapor is pretty much in the middle outline-wise, but is for sure one of the more demanding profiles to gybe and does require a higher skill level – in rougher water at least – to get the best from in terms of making turns and being able to initially kill the back hand on initiating gybes. At full chat this foil pins all types of boards down beautifully and allows the pilot to really let fly and attack even the roughest water states with bucket loads of confidence. A rewarding sail that asks for a fair bit of input and/or skill, but is still attainable by those who really want the rewards!
THE VERDICT
A true no-compromise professional level race product that both demands and rewards committed sailors.  A perfect pairing for the latest slalom boards that truly fly across the water, the Vapor will pin the most lively hulls down and deliver great security to those who dare explore the upper limits of its high-speed potential.
READ THE OTHER REPORTS 
NEILPRYDE RS: SLALOM 7.8
NORTH WARP 7.8
POINT-7 7.8 AC-1
RRD FIRE 7.8
SIMMER SCR 7.8
SEVERNE REFLEX 7.8