Stats
Size (m2)
7.8
Luff (cm)
492
Boom (cm)
215
Battens
7
Ideal Mast
FX100 SDM or Matrix X65 SDM
Extension Req (cm)
32
Price
£TBC
Tweet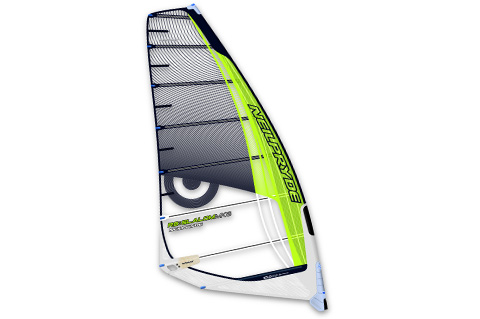 NEIL PRYDE RSS SLALOM MK6 7.8M 2014 TEST REPORT REVIEW
OVERVIEW
Sitting alongside Pryde's title-winning EVO6, the RS:Slalom has 7 battens/3 cams to the EVO's 8 and 4. Targeted at national and club-level racers of a wider range of body types the RS:Slalom also has a narrower sleeve and stronger, composite battens.
BRAND POSITIONING
'The RS:Slalom MK6 is designed on the concept of real world racing. With long distance and GPS sailing trends continuing and the resurgence in slalom racing, the MK6 brings World Cup winning RS:Racing technology to a wide range of performance minded sailors. RS:Slalom MK6 takes the design pedigree of NeilPryde's RS:Racing sail and builds it into a high performance yet user-friendly slalom package. It features a combination of enhanced bottom end power, excellent top end speed, stability and exceptional rotation at every gybe.'
PERFORMANCE
First up we have to say that, due to snapping the ideal 460 mast supplied, we did the remainder of the testing of this 7.8 on non-Pryde masts with similar bend curves after a few sessions on a Pryde 490. Our first impressions were of a sail that's smooth and not overly physical to sail. A 460 is crucial however, lending vital softness and allowing the leech venting to work much better and the C of E to be further back and the ride way more comfortable. (We noticed it was also then less sensitive to line placement than some.)  Generally stable and steady, the RS:Slalom pushes a fair amount of power through turns, but most who tried it, once off the 490, found it easy to kill the backhand and flick through gybes compared to some of the dedicated racing models in this test. There's an obvious and refined level of acceleration and the speed is pretty full-on for a 'de-tuned' product too – especially deep downwind – so it's more than just a 'reach-back-and-forth' freerace sail. Overall this size sits on the board well with a super easy handling sensation that's quite similar to a freeride sail. There is grunt, but it's not a low-end-focused 'tractor' at all and needs to be fully bagged-out to maximise the drive. The physical weight and handling are both also quite impressive, as is the nice high skin tension. Without trying the latest model, who knows whether Antoine Albeau's EVO6 is for monsters only or surprisingly easy to handle? One thing's for sure, the RS:Slalom 6 will suit juniors, ladies and lightweights well and still provide ample challenge to those stepping-up to genuine downwind racing.
THE VERDICT
A prime pick for those undecided on whether to choose a full-on racing sail or a more freeride-oriented model. The RS:Slalom fills that gap well with a strong mix of forgiveness – but enough of an element of challenge left for ambitious racers. With accessible speed that's actually not too far off the pace – and easy handling – this 7.8 will suit a good range of rider weights too.
READ THE OTHER REPORTS 
GAASTRA VAPOR 7.9
NORTH WARP 7.8
POINT-7 7.8 AC-1
RRD FIRE 7.8
SIMMER SCR 7.8
SEVERNE REFLEX 7.8