Stats
Size (m2)
7.9
Luff (cm)
498
Boom (cm)
204
Battens
8
Ideal Mast
Point-7 460 SDM C100+
Extension Req (cm)
40
Price
£670
Tweet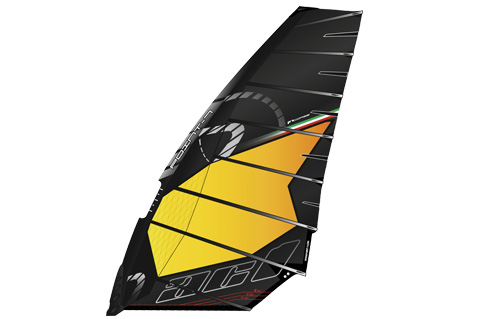 POINT-7 AC-1 ZERO14 7.9M 2014 TEST REVIEW REPORT
OVERVIEW
The Italian 'Black team' brand's iconic dark sails have grown in popularity in recent seasons, but they've also grown in stature, securing second place on the 2013 slalom racing overall rankings. Named after owner Andrea Cucchi, the 'AC-1' flagship sail sits above an exciting 3-cam (AC-K) and the fun-to-sail AC-X no-cam freerace sail (as tested in the April 2014 issue).
BRAND POSITIONING
'We put a lot of much passion and time into this winner, and yes, we did win the PWA in Korea and many other international events. The great thing that made us most proud, was the fact that each single person who had the 2013 AC-1 has improved their results. With the new changes it will be more friendly for a general use and developed all his details. Those who will try it first time will be breathless, and those who will go on this upgrade will enjoy the new rotation, and batten work done to the structure.' (Sic.)
PERFORMANCE
Approaching any Point-7 sail always has you feeling both a little scared and excited about what's about to happen! And the feeling is amplified tenfold when you launch their deep-drafted, scary-looking, podium-placing race sail. Leaving the beach though you think 'this is quite easy actually' and then dare to crank up the throttle and see how you get on. Seems fine, let's get into 6th gear. Hmm. Still okay – and we're absolutely flying! Why? Downforce! The AC-1 pushes the deck down, eliminating any unwanted nose-lift from lively boards and absolutely charges through – or rather over – chop and swell. (In fact you might even want your mast track further back than normal!) Yes, it's unbelievably powerful. In fact it's mega, turbo powerful. The acceleration is insane. But the force pins down the hull and leaves you in a nice, high position of control over the thumping V12 at the end of your arms. Don't be fooled into thinking it's all easy though. The AC-1 is still super physical to sail. Yes, the low-end is amazing, but it's challenging to gybe and even more technical to access the unquestioned performance it contains. If you can kill the backhand, which might involve some quite serious adjustments to your body position/habits/technique approaching gybes  – and make it around corners – then you'll feel instant acceleration out of turns and messed-up air. Deep downwind you'll need some fitness to cope with any extended periods of time at full tilt, but the good news is that reaching and upwind are much more relaxing affairs.
THE VERDICT
The ultimate tractor! The AC-1 delivers the ultimate in acceleration and power – with welcome downforce to pin down the latest slalom boards. However, gybing is a challenge and muscles are almost mandatory. So, what will it be? Something easy to sail that gets you around the course – or the ultimate beast that will demand some work and technique to maximise the proven potential?
READ THE OTHER REPORTS 
GAASTRA VAPOR 7.9
NEILPRYDE RS: SLALOM 7.8
NORTH WARP 7.8
RRD FIRE 7.8
SIMMER SCR 7.8
SEVERNE REFLEX 7.8