Stats
Size (m2)
7.8
Luff (cm)
480
Boom (cm)
224
Battens
7
Ideal Mast
Platinum 460 SDM
Extension Req (cm)
20
Price
£889
Tweet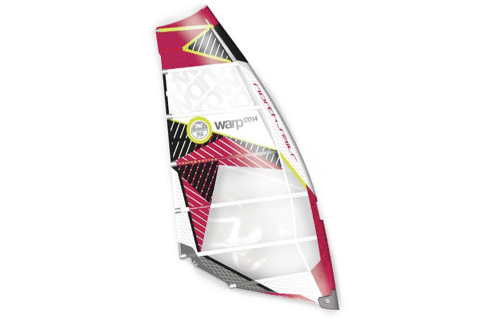 NORTH WARP F2014 7.8M 2014 TEST REVIEW REPORT
OVERVIEW
To avoid 'scaling' sizes, North have split the performance emphasis of their top-end product above and below 6.3 and the 7.0 sizes.
BRAND POSITIONING
'Everyone thinks on a World-Cup Slalom sail it's all about top-speed no matter what size you use. But if you closely follow PWA Slalom races you will realize that when using large sizes in low/gusty winds it is ALL about a perfect start and acceleration after the jibes… in 30/40 knots though that's a different story: in these wind-speeds you need a much shorter distance to get into top-speed. Therefore top-speed and control are the major criteria for small sizes.' (Sic.)
PERFORMANCE
The Warp F2014 was definitely one of the least physical of this group to sail. There's a marked, forgiving, 'fingertip control' sensation that makes it feels like a twin-cam or freeride sail in terms of handling – but with a max speed that's right up there with its more aggressive rivals. The low swing weight and friendly profile also make it excellent to gybe and, in terms of manoeuvrability, is really light and easy to position. The profile is somewhere between a 'balloon' sail and a 'blade' foil with finer, flatter entry and we'd say somewhere towards the middle and 'friendlier' end of the power scale on offer within this group. Most of the time the Warp was pretty stable in terms of draft – in fact it's quite stiff considering the 7-batten profile while it's rivals all opt for 8 or 9 – but at the extreme top-end there was a little instability up high that acts as a sign to change down. Regarding the wind range we have to say that, with the rough water and high wind conditions experienced, we had few opportunities to test the low-end of this product. Acceleration-wise it's not a 'tractor'  – this is a sail for winning through guile and control rather than brute force – but a product that will see you cutting a path and making slyer, more cunning turns in control rather than relying on pure unadulterated grunt to get you out of dirty air. Although the Warp feels easy to use compared to some more 'full-on' sails, remember it is still very much a dedicated racing product, so is best used well powered anyway.  If you're locked into a chase down, comfort at speed can be vital, especially if you're not a monstrous 110 kg. beast, so consider this one thoroughly if you're looking for something highly energy efficient to sail.
THE VERDICT
The perfect balance between an all-out deep-profiled machine and a more detuned product, the Warp F2014 is for the smarter sailor wanting to preserve energy and concentrate on the job at hand. An ideal choice for the lighter sailor or those mainly sailing in rougher water.
READ THE OTHER REPORTS 
GAASTRA VAPOR 7.9
NEILPRYDE RS: SLALOM 7.8
POINT-7 7.8 AC-1
RRD FIRE 7.8
SIMMER SCR 7.8
SEVERNE REFLEX 7.8