Stats
Size (m2)
7.5
Luff (cm)
477 - 480
Boom (cm)
206 - 213
Battens
7
Ideal Mast
460 Ezzy RDM 91% Carbon
Extension Req (cm)
20
Price
£580
Tweet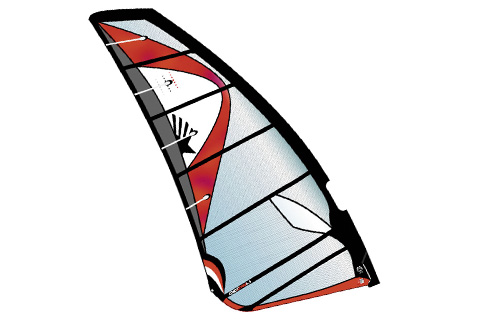 EZZY CHEETAH 7.5M 2014 TEST REVIEW
OVERVIEW
Outline  Tall, short-boomed appearance. 7-batten layout. Deep draft forward entry foil shape. Wide luff tube. RDM mast as standard. (Also fits SDM.)
Build Quality  All X-Ply sail with special material in leech and small vinyl window. Very tough, high-spec materials.
Rigging and Tuning  Easiest sail to sleeve and downhaul on test. No downhaul tool required. Unique downhaul and outhaul indicators make correct tensioning error free. Dimensions exactly as printed. Ezzy has done something different to everyone else to make sure the sail is rigged as he intended. Hats off to them. Well done.
BRAND POSITIONING
'The Cheetah is a ripping camless Freeride model that balances excellent performance and speed with the absolute best construction of any sail in its class.'
PERFORMANCE
A nice, light-feeling sail with a sensation that surprises you since the build looks so bulky and heavy-duty. We found the Cheetah to be quite 'subservient' in nature, which will appeal to all levels of sailor looking for a simple, fun experience. Gybing and manoevering is super easy as the foil generally does what it's told and is easy to chuck about with a fantastic flickable nature. Unlike some other 'taller' sails, we found the Cheetah at home on all types of board and water states, pinning the board down and driving it from the bottom-end like a much shorter, compact sail that belies the higher aspect profile. (The luff length is amongst the shortest in this selection although the boom is one of the shortest too). There are more physical-to-sail, 'faster-feeling' rivals in this group, but few as easy to control – and we all know that comfy is often quickest. There's incredible wind range too, especially at the low end for even the heaviest riders on both the potentially power-sapping 80-centimetre-wide boards and the slimmer 105 FSWs we paired it with on test. That wind range is wide because the tuning range is vast. And on that note, the simple – yet ingenious – colour-coded outhaul cords in the cringle are incredibly effective. All you do is set your boom length to match one of the three lengths of string quoting light, medium or higher wind conditions – and it just works, although, surprisingly, we found extra extreme lower end power by actually increasing outhaul levels from negative/neutral settings. Features such as this and the similarly failsafe downhaul indicators prove the overriding attention to detail and accuracy here that speaks volumes about how absolutely everything has been checked and tested thoroughly.
THE VERDICT
Super well-built and effortless to sail and tune, the Ezzy Cheetah 7.5 is a joy to rig and ride. A wide wind range (even for heavyweights), reasonably-priced mast and solid re-sale prices increases the value-for-money factor to make for an attractive package all-round. The devil is in the detail and the levels of development work by David Ezzy here shine through incredibly brightly with an obedient, fun-to-sail product.
NOW READ THE OTHER REPORTS
ATTITUDE RPM 7.8
GAASTRA SAVAGE 7.8
GOYA NEXUS 7.5
NEILPRYDE HELLCAT 7.7
NORTH E_TYPE 7.8
POINT-7 AC-X 4G 7.5
RRD FIRE 7.6
SIMMER VMAX 7.9
SEVERNE NCX 7.5
TUSHINGHAM T4 7.5