Stats
Size (m2)
7.5
Luff (cm)
473.5
Boom (cm)
203
Battens
7
Ideal Mast
Point-7 460 SDM C100
Extension Req (cm)
17
Price
£475
Tweet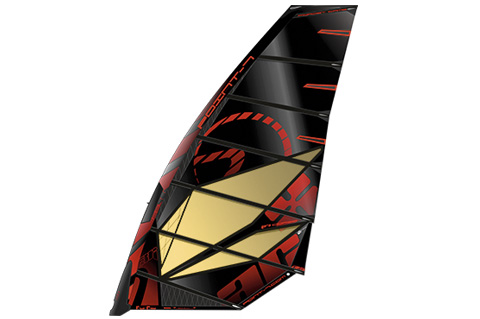 POINT 7 AC-X 4G 7.5M 2014 TEST REVIEW
OVERVIEW
Outline Re-developed from the 3G to improve lightness and high-end performance in overpowered conditions the outline has, since 2013, apparently been reshaped and the entry profile increased to increase drive and stability and reduce drag. There's still a small boom cut-out, narrow head and quite low luff curve with a full and low-cut foot.
Build Quality The familiar black, US manufactured, metallised monofilm is claimed to be 100% UV blocking.
Rigging and Tuning Rigged as specified the AC-X features a nifty printed mast extension-setting graphic and boom-setting dimensions visible on each side of the clew where you need them. Same for downhaul settings. 4 cm. of range from minimum to maximum downhaul and boom settings exactly as quoted, but we found it set best with slightly negative outhaul. (It looked better and 'set' better with more, but performed better with less. 'Better creased than clean!' we say). The AC-X definitely needed a little more 'bedding-in' than some sails  – but the wait to settle is worth it! We found the pulley and P7 extension system a bit fiddly to be honest. Mainly the extension and the tack inhaul webbing, which requires you to be on one side only to fiddle with and unstick – and that was with relatively warm hands … .
BRAND POSITIONING
'Race performance without cams. The AC-X is developed to be the fastest sail on the water, without having a wide mast sleeve and cambers. The high end performance will give you the high speed that you have always dreamed about with minimal effort and easy handling characteristics.' (Sic.)
PERFORMANCE

The first thing to note is that the AC-X feels less grunty than before. And, considering how much power was involved in previous seasons, that's not necessarily a bad thing! There's definitely more of an easier-to-use, freeridey feel to the product now and the gybing and manoeuvring is much more flicky and forgiving. The AC-X pulls upward and puts you in a nice 'on your toes' stance and there's a good rotational 'whump' out of gybes – no sticking or stalling or kicking – and great subsequent acceleration as you get back up to speed, even in dirtier air. The AC-X is definitely better suited to the more racy-oriented freeride or freerace boards on the market rather than more 'drive-sapping' forgiving-to-sail outlines out there. At the top-end the AC-X stayed locked in and easy to hold down in all but the very strongest of gusts. This equates to 30 knots plus in the flatwater conditions. Even so, our heavier testers still found it possible to stay in control at the very limit of the range.
THE VERDICT
The beast has been tamed a little, yet the famous Point-7 acceleration and drive are still there in bucket loads – they're just delivered with a little more refinement. Incredible wind range and much-improved handling make the AC-X a strong proposition for mere mortals to sail like champions – minus the cams. You still have to fasten your seatbelt though. Vroom vroom…
NOW READ THE OTHER REPORTS
ATTITUDE RPM 7.8
EZZY CHEETAH 7.5
GAASTRA SAVAGE 7.8
GOYA NEXUS 7.5
NEILPRYDE HELLCAT 7.7
NORTH E_TYPE 7.8
RRD FIRE 7.6
SIMMER VMAX 7.9
SEVERNE NCX 7.5
TUSHINGHAM T4 7.5