Stats
Size (m2)
7.8
Luff (cm)
482
Boom (cm)
213
Battens
7
Ideal Mast
North Platinum 460 SDM
Extension Req (cm)
22
Price
£1299
Tweet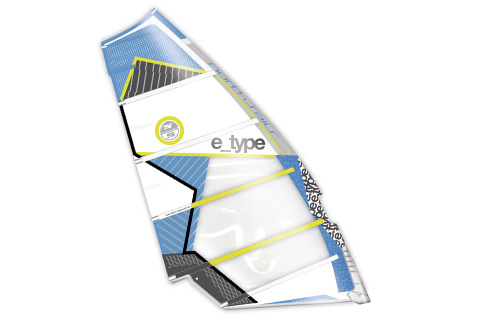 NORTH E-TYPE 7.8M 2014 TEST REVIEW
OVERVIEW
The all-new E_Type is the result of a merger between the Natural and X_Type lines previously in their collection. The whole range is designed to fit on just two mast sizes (430 and 460 as tested here. All sizes fit SDM while 6.6 and below are also compatible with RDMs).
Outline 7-batten frame. Slight scallop in upper leech, 'flat' head, higher aspect profile in top and lower aspect in mid and foot section, radical dropped clew, low cut foot.
Build Quality Good solid film profile, x-ply in clew, silicon rubbing strakes and bumpers, padded tack fairing and usual north trimmings.
Rigging and Tuning Easy and simple to set up (bar a printing error on the downhaul setting required in the usually accurate VTS system).  Good progressive twist in the leech from below batten #4 to the head. Good deep foil, especially up high.
BRAND POSITIONING
'E is for exciting … Rigs without a sweat, takes off and gets going without pumping. This sail boasts the perfect power and acceleration capabilities of our WARP combined with the handling of a Crossover sail … The extremely versatile E_TYPE combines handling and rigging advantages of a NoCam sail with a very lively power delivery and top speed. This sail really wants to get going quickly and also maximises the enjoyment of manoeuvres …' (Sic.)
PERFORMANCE
The first impression from the E_Type is that, physically, the rig feels much smaller than a 7.8, despite not even having a particularly short boom. Obviously this is a bonus in manoeuvres as it's noticeable flicky and easy to direct and manhandle during gybes and moves. That 'feeling smaller than it is' sensation also makes it one to consider for use on smaller boards, as there's no feel of it being a big, wieldy, racy beast, all while the power of a near 8.0 sqm. sail is still driving through. We were hoping for a much-softened batten profile for this new model this season, but the foil is still quite hard and doesn't fill particularly early, yet the low-end is much improved as the pull is higher and lifts you right up on to your toes, helping to drive through the front leg to aid early planing. The upside from the stiff camber is that the trademark North stability and comfort remains, still delivering a smooth and settled ride. The speed was positive but when it came to burn-ups, it was the comfort and control that mostly helped one stay in front in a head-to-head. And at the high–end? Where would you expect a 7.8 to top-out? We'd say mid to high 20s for most people would be reasonable enough  – and the E-Type easily achieved that – but it has to be said a few others in this group far exceeded that mark, but, that said, it'd be unfair to say this 7.8 has a narrow range as we were more than comfortable on it until around the 30-knot mark before any marked change in manners.
THE VERDICT
North's new creation manages to deliver big sail performance while feeling like a much more, throwabout, streamlined rig. High levels of lift from the head complement both modern technique and board outlines and the ride is solid and controlled.
NOW READ THE OTHER REPORTS
ATTITUDE RPM 7.8
EZZY CHEETAH 7.5
GAASTRA SAVAGE 7.8
GOYA NEXUS 7.5
NEILPRYDE HELLCAT 7.7
POINT-7 AC-X 4G 7.5
RRD FIRE 7.6
SIMMER VMAX 7.9
SEVERNE NCX 7.5
TUSHINGHAM T4 7.5